Most of the processes and procedures are completely paperless in the Uttar Pradesh Commercial Tax Department, saving much of the time of dealers and officials, informs Mukesh Mehsram, Commissioner, Commercial Tax, UP, in an interview with Arpit Gupta of Elets News Network (ENN)
What IT-related initiatives have been undertaken by the UP Commercial Tax Department?
Most of the processes and procedures have been made online including downloading and uploading of forms, particularly transit declaration form, registration forms and returnsrefunds. We've become completely paperless by using Information and Communication Technology (ICT) in a big way. Its advantages include dealers interface without officers getting reduced drastically. We feel dealers shouldn't waste their time in dealing with our officers or staff for petty issues. They should get their problems and grievances addressed at their business places only. IT has proved quite advantageous in that term.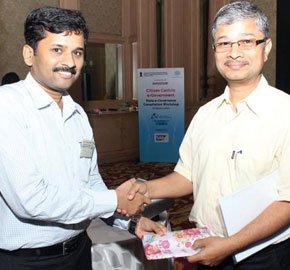 Not that we are shifting from VAT regime to GST regime. It's a transition phase and most of the activities will be online in this module. Gradually, we are also trying to switch over to all those online activities right from the first day when a dealer gets or applies for registration. Everything should be online. Within 24 hours, in non-sensitive goods, he must get Traders Identification Number (TIN) to starts his business. After that, there are periodic returns to be submitted in the department that has also to be done online. And later follow quarterly return, annual return, etc. Now we've also provided digital signatures to our all officers, who are active or functional officers. So that generation of notices, assessment orders and demands should go to the emails of traders without using paper format. This will not only reduce time but also the grievances. We have several online applications to facilitate dealers including e-Registration, e-Amendment, e-Sancharan, Online TDS certificate, Online Annual Return, e-Return, e-Payment and others. Ultimately, IT is a boon for all.
How are you dealing with challenges coming your way in going digital?
We keep providing timely training to our officers. In most of the zones, we have established Commercial Tax Facilitation Centre (CTFC). NSDL e-Governance Infrastructure Limited (NSDL) provides various e-services for VAT, CST and Entry Tax. Commercial Tax Department is integrated with e-District portal to facilitate the dealers. Presently, 332 centres spread over 82 locations provide e-services at the CTFC — e-Registration and e-Return.
We provide all kind of support and facilities to the dealers those who are stakeholders. They are becoming more gadget and tech-savvy. The number of modern gadgets used by the population is much higher than what we can basically perceive. In near future, it is going to be multiplied. By WhatsApp, Facebook and other social media tools, awareness level and usage of technology is rapidly rising. People don't wish to wants time in transportation, visiting government offices and interacting with staff. The reach of gadgets and penetration of technology has its own way though it will take certain time. The digital literacy is very high these days. Our all dealers, advocates, staff, employees, officers are using IT.
Also Read: Smart Cities Mission: Moving Beyond the Rhetoric
Our objective is building capacity and imparting training time to time. To address problems, we have made platforms like Facebook, WhatsApp and 24×7 Call Centre.
e-Sancharan

e-Sancharan has been introduced to ensure hassle-free movement of goods and curb tax evasion optionally since 01-12-2013. Movement of goods is carried out by generating a unique online number called "Vishisht Sancharan Number". Dealers have to enter online details of goods on the Department's website to generate the Number. Form-38 is no more required in physical form. Enforcement officers make online and SMS-based verification of Vishisht Sancharan Number. 70 lakh e-Sancharans forms were downloaded in 2015-16.

Is Uttar Pradesh prepared for adopting GST?
We are already in the process of procurement. As far as data system and other things are concerned, we are in tune with the Government of India. We will get technical support from the SPV constituted by the government's GSTN. It is an agency developing a big network and IT system for the whole country in a big way. We would certainly be a part and parcel of that system. Obviously, the back-end support and hardware will be procured by the state. But software, system and different kinds of changes will be done by GSTN that we will adopt.
e-Payment

Approximately 73 per cent of current year collection is through net payments. Total 16 nationalised banks are authorised for VAT collection, while net banking service has been extended through 17 banks to facilitate hassle-free deposit of taxes. Payment facility is also available through SBI Multi-option payment system (SBI-MOPS)

How has been your experience of implementing IT projects in previous stints in various departments?
With the launch of Intelligence Transport Management System (ITMS), Uttar Pradesh has become the first state to launch ITMS in such a large region. Since its launch, UPSRTC has been constantly making profits. Earlier, it was in losses in terms of revenue. Its source of revenue generation is ticketing and advertisement.
Roughly, Rs 800 cr was used for procurement of diesel excluding expenditure of other services. We installed GPS-based Vehicle Tracking System in almost all buses as there was bogus operation of buses reported. The diesel was being consumed without plying busses on certain routes. Thus, vehicle tracking system helped to detect the route followed by the bus and get real time information of the buses. All this has helped.
Also Read: 'City of Nawabs' Gears Up to Go 'Smart'
We also distributed Electronic Ticketing Machines (ETMs) to all the conductors due to which revenue shot up and simultaneously number of ticketless passengers got reduced. We had also set up a 27×7 control room and launched a mobile app 'UPBUS' for passengers.
In Lucknow Development Authority (LDA), we tried to make city plan, using data from remote sensor with the help of ISRO. We collected information related to properties, land ownership, plot holders etc. The facilities like payments, dues and registration turned online. Information Technology is changing the face of government sector.

Follow and connect with us on Facebook, Twitter, LinkedIn, Elets video