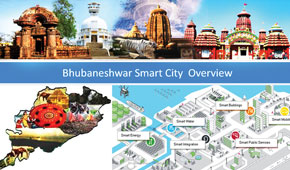 Bhubaneswar city authorities are leaving no stone unturned to ensure a smart future for its denizens. Among some of its visionary plans are initiatives of the Bhubaneswar Urban Knowledge Centre (BUKC) and the Child-friendly Smart City Centre. Namita Panda of Elets News Network (ENN) has more
Having emerged as number one city in the Smart Cities Challenge, the Odisha capital is looking at strengthening its civic infrastructure for better growth. To identify the capacity gaps and structural constraints existing in the city's primary agencies — Bhubaneswar Development Authority (BDA), Bhubaneswar Municipal Corporation (BMC), Bhubaneswar-Puri Transport Services Limited (BPTSL) and Bhubaneswar Smart City Limited (BSCL) — and fulfil the mandate of 'Build Basics', a strategic pillar of the Smart City proposal, BDA is gearing up to set up Bhubaneswar Urban Knowledge Centre (BUKC). To turn Bhubaneswar into the most vibrant and citizen-friendly city on the East Coast, the BDA officials said a systematic approach is being envisioned for continuous and sustained building of internal capabilities for BDA and BMC. "For successful implementation of the vision we are adopting a long-term process of nurturing a sustained, high-quality and cutting-edge knowledge and expertise in the pertinent fields to support the process," said a senior BDA official. Project

To turn Bhubaneswar into the most vibrant and citizen-friendly city on the East Coast, the BDA officials said a systematic approach is being envisioned for continuous and sustained building of internal capabilities for BDA and BMC. "For successful implementation of the vision we are adopting a long-term process of nurturing a sustained, high-quality and cutting-edge knowledge and expertise in the pertinent fields to support the process," said a senior BDA official. Project BUKC — Bhubaneswar Urban Knowledge Centre — is therefore envisioned as a centre, which will be located within BDA premises. It will provide sustained knowledge support, continuous organisational development and capacity building inputs to all city agencies in the first year. Over the two years, BUKC will act as a resource centre providing assistance in various aspects of urban management to other cities of Odisha, the official added. BUKC is being planned to be built with a
BUKC is being planned to be built with a self-financing setup through an Urban Knowledge Fund that draws financing resource from grants through foundations, central government agencies, and resource sharing with other cities on an as-needed basis to support its operations. It will also get support from the National Institute of Urban Affairs and the Bernard van Leer Foundation.
Through the BUKC, some of the five major goals under Build Basics enlisted by BDA will be fulfilled. The five goals are —
(a) Leverage regulatory framework for developing multiple tools for land assemblage like Land Pooling Schemes and Transferable Development Rights
(b) Establish Bhubaneswar Centre for Policy, Planning and Research to address institutional capacity constraints
(c) Leverage tools of open data and new technologies to make government more efficient, effective and transparent
(d) Promote and support engagement of citizens at all levels through Citizens' Connect Initiative; and (e) Collaborate with citizen volunteers for instilling a strong sense of belongingness and active engagement in community life.
(e) Collaborate with citizen volunteers for instilling a strong sense of belongingness and active engagement in community life.
Project BUKC will ensure legal systems strengthening and capacity building efforts to address capacity gaps in BDA and BMC through organisational restructuring. The two bodies will implement various other steps to fulfill the other goals. These steps include Citizen's Connect Initiative, I Support My City – Volunteer Program, Town Centre Online – Online Services and Dashboard, and One Map – Data Visualisation through Thematic Mapping.
Sources said BDA will soon engage a consultant for obtaining Programme Management support services for setting up and operating BUKC for three years. BUKC will be situated in the BDA building as an in-house knowledge resource centre to provide expertise in various domains like:
(a) Integrated Master Planning to provide a coordinated approach of city building by bringing together the disciplines related to spatial, environmental and socio-economic planning.
(b) Transportation Planning including seamless transportation, land development and infrastructure planning with special emphasis on designing 'Complete Streets'.
(c) Urban Design & Placemaking building upon the city's rich heritage, cultural resources, and tourism potential.
(d) Smart Cities and Systems Integration through innovative use of technology as a tool to bring urban planning and development to empower citizens in the city's decision-making process including data visualization through thematic mapping and GIS.
(e) Communications, Capacity Building & Knowledge Management to impart appropriately devised training to planners, municipal officials, staff and citizens that will ultimately help build local capacities and develop effective communication tools to connect with city residents, visitors and investors.
(f) It will serve the dual purpose of constituting the first nucleus of an emerging knowledge-based city, as well as a technical resource centre.
(g) BUKC will act as a place for exchange of experiences and communication at the national and international levels with urban researchers, civic administrators, city stakeholders, citizen volunteers and NGOs.
(h) Networking with other cities and institutions in India and abroad is another component of BUKC's research activity.
(i) Once the BUKC programme matures after the first year, it is envisioned to offer knowledge support to other Odisha cities interested in promoting sustainable growth and creating livable urban areas as part of its self-financing strategy.
(j) BUKC will offer facilities for ongoing training programmes for city staff and citizens on urban management with documentation on subjects related to heritage management, sustainable transportation, green mobility, citizen participation, city branding, low carbon development, diffusion of appropriate technologies, and strengthening institutional relationships.
(k) To ensure capacity building at the larger community level, BUKC will also undertake activities of dissemination through lecture series, conferences, workshops, exhibitions and publications.
Project BUKC — Bhubaneswar Urban Knowledge Centre — is envisioned as a centre that would provide sustained knowledge support, continuous organisational development and capacity building inputs to all city agencies
Building a Child-Friendly Smart City
Bhubaneswar has embarked on a journey to become one of the first cities in India to establish a Child-Friendly Smart City (CFSC) Centre. The centre is envisioned to supplement the capacities of the city agencies and function as an urban planning and design support unit, focusing on outcomes related to children in particular and society in general.
The centre will promote a knowledge-driven, advanced and effective urban management framework that would include children's participation and their perspective in the planning and management of the city. It will provide a vital interface with the CFSC Hub at New Delhi and will specifically focus on planning support for spatial neighbourhood planning and zonal development plans, playground and parks, positioning of important services and infrastructure like schools, public transport and traffic and safety.
The CFSC Centre can contribute to the broader capacity building of department officials and staff in BDA, BMC, BSCL and other local bodies and agencies in Odisha.
Follow and connect with us on Facebook, Twitter, LinkedIn, Elets video