Armed with experience of working in over 40 cities across the globe, we provide end-to-end solutions in areas, like smart lighting, transport, telecom connectivity, environment censors for waste water and smart grid, in Indian cities, says Purushottam Kaushik, Managing Director – Sales, Growth Verticals, Cisco (India & SAARC), in an interview with Poulami Chakraborty of Elets News Network (ENN)
After the announcement of the first 20 cities under the Smart Cities Mission and your four selected cities in the list, what is the next plan of action? the four select cities of our choice are not the only smart city projects that we are working on currently. Navi Mumbai and Lucknow have long been in our list for safe city projects, where we provide them with solutions for city surveillance and safety – both physical and virtual, command control and network part. The same applies to Pune (partially) and Greater Mumbai. Out of the 20 cities on the first list, we have been closely working with 12-13 cities. We had been involved even with the presentation of the proposal, and our technology inputs were evaluated across the globe. We have worked in some 100+ cities across the globe and shared that rich experience for these cities.
Beyond this list, we are also working on six or seven cities, and cumulatively in our funnel, we have 24-25 cities to provide solutions to in the coming few months. A few of them will be coming in the next phase and a few are already there. In cities like Bhubaneswar, Pune, all the three proposed smart cities of MP, Punjab, Ludhiana, NDMC and Jaipur, we are already working closely.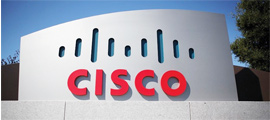 The second list of cities is also getting ready. Are you looking for collaboration with other cities, too?
In the Smart Cities project, we observed that huge traction is coming in. In the coming days, we will witness another 20 cities being announced, besides the current list of 20 cities. this will enhance the competitive spirit between the cities.
At Cisco, we are presently working closely with about 14 cities and will join another 14 cities in the next phase. We have started engaging even with smaller towns, like Kakinada, smaller towns of Tamil Nada etc., with lots of action happening on the ground level. We aim to work in close association with about 30-plus cities providing them with in-depth solutions, including helping them raise funds from PPP initiatives.
Will Cisco provide networking infrastructure for the projects and its partners will offer smart street lighting, traffic management, CCTV surveillance, etc., solutions?
Cisco is one of the oldest and most experienced networking solution providers with prior experience of working in over 40 cities across the globe. Amongst our array of products and services, we have lighting, transport, telecom connectivity, environment censors for waste water and smart grid solutions, among others. We provide here end-to-end solutions to these challenges in Indian cities. In Bangalore, we have almost 13,000-strong work-force, which we deploy for customising our products for varied problems. We also work with the ecosystem players. For example, for lighting, we work in collaboration with Bajaj and Philips. Similarly, we work in association with Reliance and other companies, as they bring in master integration skill-sets. there partners, like L&T and IL&FS, who can provide inclusive infrastructure solutions for waste, water, road management and other related aspects.
Apart from our own financial arm, Cisco Capital, we are also looking for partnership with financial terms, with which we will be able to bring in a different kind of funding solutions for the smart city projects.
CISCO prepared a smart city plan blue print for Bengaluru, which a report says can be implemented across the country. Is it possible to do that?
As far as working on blue print development of smart cities is concerned, our engagement cycle is divided into eight or nine steps. Initially, we make site visit and do a detailed workshop with all relevant stakeholders to spearhead the leadership scope of the project. then, we start working closely with the city-appointed consultant on the processes involved in the entire development procedure. We also work loosely when the Detailed Project Report (DPRs) is written on a particular city. A"er this, we have to look for relevant partners, who will understand our solution and bid for this project. We also have a huge work-force in Bangalore who can also provide operation support, thus, our focus areas remain end-to-end execution.
A major pilot project implemented in a Bangalore mall is local information kiosk, where a citizen can walk in and lodge an FIR. Will this work in smaller cities, where understanding of technology is low?
There are certain things which are extremely useful for Indian cities. Today, nobody has time to stand in queue and wait for hours to avail a government service. So, it is quite useful to learn to live with technology and e-governance solutions. here are domain-centric solutions needed for every city in the country. For Mumbai, there is a need for safety and security centric solutions, while for Jaipur, they would require tourism assistance solution. For similar needs we have been creating innovation centers across the country.
What technologies is Cisco offering in the area of City Infrastructure Management (CIM), including smart parking, CCTV surveillance, smart water management, etc?
Globally, Cisco alone provides over 40 plus solutions. In a city, one of the prime causes of concern is network and the biggest challenge is that they are working in silos. Many think that smart city projects are an old wine in a new bottle, which is actually not so. "e approach today towards the concept is much more integrated: in a smart city world, it's a collaborated effort by all relevant stakeholders with a combined approach to help build a smart city. It is important to develop a network like a city network, not like a silo network, city electrical poles, etc. It's not only wi-fi that makes a city smarter, but a collaborated effort of all other aspects that ensures a city safe, secure, environmentally safe.
Follow and connect with us on Facebook, Twitter, LinkedIn, Elets video