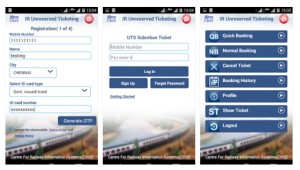 The Indian Railways has launched a mobile app for booking unreserved tickets on a number of suburban lines in select cities and some long distance routes. This app can be used for buying unreserved tickets at several stations, including Delhi, Mumbai, Chennai Secunderabad and Kolkata.
Union Minister for Railways Suresh Prabhu launched the app through remote video link from New Delhi and the function was held at the Secunderabad Railway Station a few days back.
The Android and Windows OS-compatible app is available on Google Play Store and Windows Store. One can download the app and register his mobile number through his smartphone or log onto http://www.utsonmobile.indianrail.gov.in.
Previously, unreserved tickets could not be purchased through mobile and one would carry a printout of the same with him during the journey. But most of the people travelling through trains may not have access to printers always. At the moment one can get unreserved seats booked either at face-to-face UTS counters, Automatic Ticket Vending Machines (ATVM) or get printout of the tickets booked on the app.
Keeping the travellers' inconvenience in mind, the Indian Railways has now come up with a 'UTSOnMobile' app, which has been designed by the Centre for Railway Information Systems (CRIS), through which customers can get unreserved tickets on their smartphones directly without the need for a printout.
The UTSOnMobile has the following features:
Quick Booking – Books tickets fast on frequently travelled routes
Normal Booking – Books journey tickets on just any chosen route
Ticket Cancellation – Can cancel a ticket before taking printout at the kiosk
Booking History – Shows ticket booking history
Profile – Can reflect the passenger information and R-Wallet balance
Shows Ticket – Displays the ticket for the TTE to scan and verify
Once the 'Show Ticket' option is pressed, TTE will be able to see the exact details of the booking including starting and ending point of the journey. He can also scan the QR code of the booking through his/her Ticket Validator Device and confirm the booking.
Currently, the app has some restrictions, like one can book the tickets on the app only from outside the station, but within 5km of the station from where one intends to start the journey. Platform tickets can also be purchased through the app, but it can be done within 2km radious of the station. However, for season tickets, there is no such restriction and those can be renewed up to 10 days in advance.
The rate at which technological advancements are taking place by the Indian Railways, one hopes these limitations would also vanish very soon.
Follow and connect with us on Facebook, Twitter, LinkedIn, Elets video