The financial connect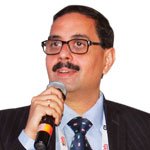 We at Kotak Mahindra really intend to cover smart banking and financial inclusion. We are the fourth largest in India and the bank has acquired a network of 11,261 branches in 27,700 towns in India. We are 30th in position for the year in financial space. We have global footprint, in countries like Dubai, Mauritius. We believe in the theory of 'Why not earn more?'. We are digitally very active. The three pillars of banking are mobility, big data and payment for banking.
We would like to highlight what we provide services for government business solutions. We do lot of work with the Government of Maharashtra and how technology plays a critical role. As discussed in this event earlier, the three pillars of governance are transparency, efficiency and technology. What we offer at Kotak is really based on these three notions for the benefit of the customers. We work on four government banking solution facets: payment, collection, communication and technology. We have a significant expertise in electronic payments platform.
Payment gateway is a key for government body for corporate CMS services, which is cash and collection, and for PSUs, we do trust banking. Our core is eGovernance projects and expertise for state banking. We really focus through banking system to provide last-mile connection, which even the government envisages across states. As part of financial inclusion, we facilitate last mile connectivity.
We are actively involved in projects like Pradhan Mantri Yojana, MNREGA as we at Kotak innovate banking products.
Follow and connect with us on Facebook, Twitter, LinkedIn, Elets video