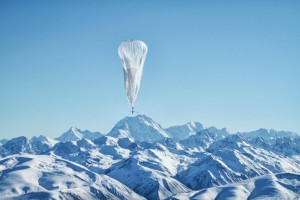 CEO Sundar Pichai manages to obtain govt's in-principle nod for project pilots
A day after the Government of India agreed in principle for pilots of Google's "Project Loon" on December 16, the global tech giant sought to allay the apprehensions centering the project, so that the project is implemented in the right spirit and at the earliest.
Despite the Narendra Modi Government clearing Google's proposal to provide internet connectivity through floating large balloons in early November itself, in some quarters questions have been raised on account of the possible technical glitches, including spectrum sharing, as both aerial balloons as well as domestic telcos will be using the same spectrum.
Addressing the issue, Google has said that network sharing has been solved across other countries in the world, and there should not be a case of impedance showing up in signals. In simple terms, there should not be any distortion or resistance in the signals due to spectrum sharing by the telecom operators and Project Loon, it clarified.
Besides, there are fears that the large balloons, some 20 kms above the surface of the earth, might create disturbances in cellular operations and cause hindrances in air traffic currently monitored by the Air Traffic Control system. It will also call for extra monitoring of over 500 flights every day in major cities, so that their path is completely off the balloons in the air.
The Defence Ministry also has questioned the implementation of the project in military areas where they could be potential obstacles to their aircraft. Such issues are a national level concern related to security and need to be handled extremely carefully. Owing to these factors, the launch of Project Loon is getting delayed.
Google has been working hard to apply solutions in India similar to those implemented in other countries. It plans to lay out the blueprint of the plan in front of the government officials before launching the project. Government officials have been having discussions with the Mountain View-based company and are awaiting a full-fledged response to the potential risks.
Govt nods Project Loon pilots
On December 16, during his maiden visit to India since taking over as the Google CEO, Sundar Pichai managed to secure support for the company's ambitious Project Loon in the government, with Union Minister for Communications and IT Ravi Shankar Prasad saying that the government is in principle agreeable to pilots of the project.
After meeting Pichai in New Delhi, Prasad said he has also proposed a partnership with the state run BSNL for Project Loon. Under the project, Google has proposed to provide internet connectivity in hard to access areas of the country from balloons floating at a height of 20 kms using LTE or 4G technology.
Prasad also said that the telecom ministry would help Google in obtaining clearances from Civil Aviation and Defence ministries for approvals. Earlier in the day, Pichai had said that Google has been testing Loon in other countries such as Indonesia. "We always work with (telecom) carriers… We have tonnes of data to show that it doesn't cause interference."
Marian Croak, vice-president of Access Strategy & Emerging Markets, added that one of the biggest concerns around the project has to do with impedance, whether or not it will interfere with spectrum.
"That's a discussion we've had with telcos around the world and we believe we have an answer to that around spectrum sharing and that we've solved that issue, in terms of sharing spectrum so that it doesn't create impedance," Croak said.
Follow and connect with us on Facebook, Twitter, LinkedIn, Elets video