The Kotak Mahindra Bank believes that digital banking should not be restricted to high-end smartphones alone, and that it should help build an inclusive society by making the facilities available even on low-end, more affordable handsets, says V Swaminathan, Senior Executive Vice President – India, Kotak Mahindra Bank, in an interaction with Manish Arora of Elets News Network (ENN)
How does the Kotak Mahindra Bank perceive the concept of Smart Banking in Smart Cities?
A smart city offers a variety of solutions that simplify various aspects of life – from transport to communication to banking, etc. is enables citizens to engage better with Governments and other public service-oriented bodies for continuous growth and development. One of the critical features of a smart city is cashless and technology-driven payment solutions. The Kotak Mahindra Bank stands committed to offering world-class banking solutions backed by unparalleled service.
What according to you is smart banking?
Smart banking means integrating technology with every aspect of business to increase customer satisfaction, drive operational e"fficiencies and create new business opportunities. Customers get access to more contact points with their banks, wherein every interaction delivers a customised experience, tailored as per their needs.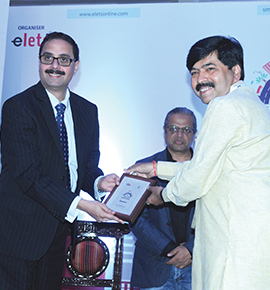 What are the various opportunities that citizens in a smart city can avail out of smarter banking services?
Banking has evolved over the last a few years, with technology playing a vital role in enabling service delivery. Today, customers can perform a wide range of banking services, such as cashless transactions, paying utility bills, tax payments, transfer of funds, etc., in a simple and secure manner, merely at a click of a button.
How can the urban poor be brought in the smart banking network?
Digital banking is not restricted to high-end smartphones alone, rather it can be inclusive for society at large. To cite an example, we have launched Kotak Bharat, a multi-lingual mobile banking app which works on basic Android handsets and does not require internet connectivity. One can do over 23 types of transactions using this app. Further, with zero-balance account, people from different sections, particularly the urban poor, can now avail of facilities like ATM card, phone banking and cheque book free of cost.
What is your message for the participants of eIndia?
India's transformation into a digital economy has started. Penetration of smartphones in India is helping digital adoption in big way. Let's make the most of the opportunities before us to transform the country into a digital India in the true sense of the term.
Follow and connect with us on Facebook, Twitter, LinkedIn, Elets video