With an aim to make Punjab one of the preferred investment destinations for IT and ITeS companies, the State Government has embarked upon an ambitious plan to provide world-class infrastructure and facilities in `IT City Mohali'. Vishwajeet Khanna, Principal Secretary, Urban Development, Government of Punjab, throws light on the initiative in a conversation with Priya Yadav of Elets News Network (ENN)
How is the Punjab Government attracting IT companies to the State?
The Information Technology (IT) Sector has made a remarkable progress in the last few decades. It has transformed the country and the world by enabling innovation, increasing productivity, connecting people and communities, improving standard of living and opportunities across the globe. While changing the way individuals live, interact and work, IT has also proven to be a key precondition for enhanced competitiveness, economic and societal modernisation, as well as an important instrument for bridging economic and social divides and reducing poverty.
The Punjab Government has identified IT and Information Technology-enabled Services (ITeS) industry as an important thrust area. The availability of skilled manpower, good connectivity by rail, road and air, excellent urban infrastructure, improved power situation and world-class communication facilities offer a conducive environment for the growth of IT industry in Punjab's upcoming township, Mohali.
Can you tell us about the `IT City' Mohali project.
The Greater Mohali Development Authority (GMADA) has developed IT City comprising Sectors 82, 83 and 101 of Mohali to encourage investment in IT, ITeS and Bio-technology. The IT City is right in the vicinity of the international airport. The strategic location of the city makes it advantageous for investors.
What kind of IT & ITeS companies are the targets of the State Government?
We are looking at the companies offering IT services, such as software architecture, design and development, software maintenance and implementation, operation of software systems, provision of software services like application service provider, management of databases and data centres, maintenance of computer networks and telecommunication networks, network services, network administration, business process outsourcing (BPO), knowledge process outsourcing (KPO), etc.
In ITeS, we are targeting digital communication services, including digital printing of newspapers, books, digital information content provision, digital database management and updation, remote digital office services, software operation, film animation and other information work that rely primarily and substantially on digital telecommunication.
What arrangements are being made to accommodate and make comfortable the employees of multinational companies setting up base here?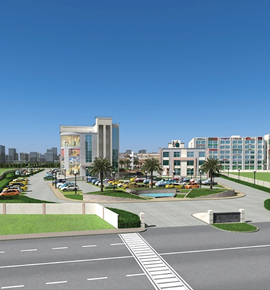 The township is being developed with an international approach. It will have residential houses, group housing facilities, over 28 acres of parks, green belts and excellent road network. Besides, an exclusive township for the employees of multi-national companies, GMADA will also construct an IT Mall stretching over five acres of land for entrepreneurs and start-up companies.
What has been the response to the IT City so far?
GMADA has already allotted industrial plots to 26 companies, including one measuring 50 acres to Infosys Pvt Ltd, which is developing a 25,000-seat facility for its employees. The construction work is about to begin. The State Government is in talks with many companies showing interest in the city.
Follow and connect with us on Facebook, Twitter, LinkedIn, Elets video