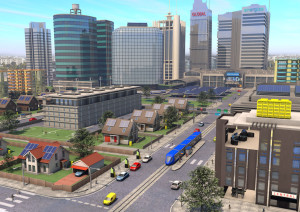 Contributed by- Jitesh Shah, CEO, InterCall

As technologies become more ubiquitous, governments around the world are now also harnessing technology to benefit their citizens.
A number of countries in Asia, notably Singapore and India, have embarked on programmes to tap into the benefits of advanced technologies. According to Navigant Research, annual smart city technology investment in Asia-Pacific will almost quadruple by 2023, reaching US$11.3 billion. Singapore has laid out the Smart Nation Programme and India is embarking on an ambitious plan to build 100 Smart Cities by 2022.
A technology, which can play a significant role in building Smart Nation or Smart Cities, is Unified Communications (UC). UC integrates the varied real-time enterprise communication services such as instant messaging, emails, audio, web and video conferencing, presence information and many more under a single platform. The benefits, which UC brings to corporations, have been established over the past few years.
However, the applications extend beyond the corporate world.
UC can be utilised as a back-end as well as a public-facing solution in the development of a Smart Nation with benefits extending to urban and rural areas.
InterCall sees the following use cases for UC to achieve the vision of building Smart Cities across Asia-Pacific:
Remote diagnostics and patient monitoring
Healthcare is one of the pillars of building a thriving society and economy. The mismatch in demand and supply of healthcare services has led to increased healthcare costs.This issue gets compounded in rural areas of large countries like India as there is a lack of sufficient healthcare infrastructure due to their remote locations. These factors have put quality healthcare services out of the reach of significant sections of society.
Using UC, a wide-range of healthcare services can be delivered through centres based in remote areas. Doctors can fulfil a number of tasks which include diagnosing patients over video and at the same time access patients' past health records for reference.
Similarly, doctors based in rural areas can remotely obtain training and certifications. This improves the quality of healthcare services in the remote towns and villages, while eliminating the need to travel for doctors.
An urban problem which can be resolved through UC is caring for a rapidly ageing society in countries like Singapore and Japan.
Patients can stay in their own houses while being remotely monitored by doctors from their clinics through video. Doctorscan access the digital health records of the patient, diagnose the problem and communicate the required treatment. The on-site healthcare staff can be guided by doctors to administer the treatment. This facilitates hospital beds to patients who require constant monitoring. The patients facing relatively less serious issues can stay at home with their family, while receiving the proper treatment. Hence, UC increases the efficiency of the hospitals and clinics by efficiently utilising doctors' time and allowing them to treat more patients.
Remote education and training
Education is integral for building and training the manpower to drive the country's economy forward. Currently, the reach of education services have been restricted due to the remoteness of rural areas in countries like India, Indonesia and the Philippines.
The use UC allows institutions to have a larger reach. It saves classrooms from the physical constraint of only being able to fit a certain number of students. Moreover, teachers can share study materials with the students while students can submit their assignments using UC. Students in remote areas benefit greatly as they are able to gain access to quality education without leaving their hometowns. Similarly, teachers based in remote areas can utilise UC to secure high-quality training and consequently improve the delivery of education services.
Furthermore, universities can enhance collaboration amongst the faculty and students while promoting remote learning and improving the efficiency of the institutions. For example, with the help of telepresence feature, students can know the availability of their professor or tutor and ask questions directly at their convenience. With the proliferation of smartphones, universities can use special purpose apps for UC to promote collaboration in group projects. Students are better engaged by providing them the flexibility to access video lectures, video tutorials and special class materials remotely.
Improving government processes and delivery of services
Governments are vast machineries with multiple departments and agencies. With the complexity of government operations, delivery of government services can be delayed by the layers of bureaucracy.
UC can facilitate an increase in the efficiency of the coordination between different government agencies and departments through easy communication. The data transmission is secured and encrypted which allows the departments to present and share confidential documents. As government officials are often located in remote areas, UC can be utilised to streamline the training of the staff as well as continued coordination with their superiors located in the cities. With constant communication between departments on a unified platform, government services can be delivered with increased efficiency to benefit the citizens.
The impact of UC on government is not restricted to back-end operations. The application can be extended to filing of taxes, trainings for non-profit organisations and social causes like psychological help for cases of depression and providing legal services through a virtual solicitor for minor cases.
Another area of the government which could benefit from UC is the emergency response for natural disasters. For example, in Australia, UC facilitated coordination between the government and the agencies on the ground to combat forest fires. Live video feeds from helicopters was utilised to facilitate on-ground evacuation and fighting the fires. By combining multiple communication platforms under one solution, the coordinating agencies were able to respond to real-time challenges in a timely manner.
These examples just scratch the surface of the possibilities of using UC. As the plans for Smart Nations gather steam, such technologies are crucial for governments to achieve the objectives set out in their vision. The future is bright as governments tap on these technologies to support better living, create more opportunities, and to support stronger communities.
Follow and connect with us on Facebook, Twitter, LinkedIn, Elets video