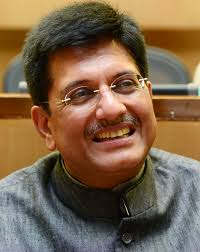 Inaugurating the national DELP dashboard for monitoring LED distribution under 100 City Domestic Efficient Lighting Programme (DELP),  Union Minister Piyush Goyal said the Government is committed to make LED lights a way of life in India.

The programme is managed by Energy Efficiency Service Limited.
"The aim of the government is to completely replace all incandescent bulbs in the country with LED lights in next three years. This will provide huge business opportunity to the lighting industry," said the Union Minister of State (Independent Charge) for Power, Coal and New & Renewable energy.
He expressed hopes that in next 3 years India can rapidly expand LED market.
Urging the whole lighting fraternity to correct the market pricing of LED , Shri Goyal said that it cannot be anomalous situation where government procure LED  bulb at Rs 72/ unit and market continues to price itself very high. "The gap still looks unreasonably huge. Correcting this gap will help them to increase the production in terms of volumes," Goyal added.
He further said that Government is facilitating industry to mature and reach to every home by promoting the LED programme in the country. "The Government is capable of providing LED bulbs to every household at lower rates but it will remove the competitive edge from the industry. At the end of the day market forces have to take over."
National DELP Dashboard : An Overview
National DELP Dashboard is an integrated, real-time, and web-based dashboard which dynamically refreshes at an interval of 15-sec to display in real-time, number of LEDs distributed at national level. This is achieved by aggregating real-time feeds from multiple states where DELP is ongoing.
National Dashboard also offers a DELP state view – allowing the user to view state wise DELP numbers on India's map, thus presenting at an interval of 15 sec the number of LEDs distributed at individual state level. Only the states where DELP is ongoing appear highlighted.
Follow and connect with us on Facebook, Twitter, LinkedIn, Elets video