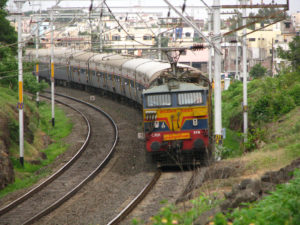 The historical country wide massive public outreach event under the name "Railyatri/Upbhokta Pakhwada" (Passenger and customer Facilitation fortnight) organised all over Indian Railways concluded successfully.
This fortnight long programme was primarily directed towards improvement of passenger amenities and services, customer care, participation of passenger and railway staff in various activities and for creating awareness amongst the public about Railway's initiatives and achievements.
Some of the major highlights of this mega public outreach event include commissioning/opening of 233 projects/works costing approx. Rs. 4000 crore, commencement of work on 73 projects costing apporx. Rs. 550 crore, inspection of over 7000 Railway stations, 4000 road shows, Outreach connecting to over 7 million passenger and public, 27,700 drives/checks/inspections, 1,300 health camps, 176 media briefings etc.
The 'Pakhwada' events were organised on Indian Railways under the directions of Minister of Railways Suresh Prabhakar Prabhu and Minister of State for railways Manoj Sinha.
The fortnight long Railyatri Upbhokta 'Pakhwada' was based on the themes of SEVA (Service), SAMAPRAN (Dedication), SAHYOG (Cooperation/participation),SANKALP(Commitment) and SAMPARK (Outreach).
The events undertaken during this fornight long programme included inauguration/launching of completed projects, signing of MoUs with Railways PSUs for upgrading passenger amenities in certain identified stations, formation of Special Purpose Vehicles (SPVs) with the State Governments for joint development of Infrastructure, Road Shows & Interaction by GMs and DRMs with passengers and other customers by visiting stations and by traveling with public in suburban and other passenger trains, interaction with State Government Authorities, interaction with public seeking their support for Railway's Cleanliness Campaign and Safety Awareness Campaign at unmanned level crossings, inspection of Railway Stations, drive about courtesy programme for the front line staff, health check-up camps, intensive drive to check catering services, vigilance checks, intensive ticket checking drive, drive against touts etc.
During this fortnight long programme emphasis has been given to improve passenger services and amenities by way of commissioning of projects, assigning railway stations for development to PSUs, launching various drives for cleanliness, safety, punctuality, catering services, security and vigilance. This was also an exercise to interact with passenger across the country by officers and staff involving unions, NGOs and other organisations. A large number of other activities with the participation of the passengers were undertaken during this period.
The 'Rail Yatri/Upbhokta Pakhwada' has also been a countrywide attempt of Indian Railways to reach out to its customers and engage them in identified areas of interface. The enthusiasm and response of all stake holders including the railway staff in respect of the programmes conducted during the Pakhwada has been truly overwhelming. The initial response including media coverage, the feedback received on Face book & Twitter, etc. indicates that the 'Pakhwada' has not only encompassed a vast gamut of activities covering nearly all dimensions related to passenger/customer experience, but also engaged the railway staff, unions, senior officers, railway PSUs, NGOs, passenger associations, press and media across the length and breadth of the country at an unprecedented scale. The sheer dimension and reach of this effort makes it a historical event.
Follow and connect with us on Facebook, Twitter, LinkedIn, Elets video