How important is the concept of port-led development?
Ports play a pivotal role in international trade. With steady and consistent growth in international trade, port development and modernisation across the world have assumed a great importance. International trade is recognised as a key driver of economic growth of a nation and port-based economies enjoy the advantage of ease of access to goods from across the world.
It is estimated that around 90 per cent of the world's merchandise and commodity trade is transported by ship. This further strengthens the importance of ports in international trade. Ports not only facilitate movement of goods to the hinterland but also cater to neighboring land–locked countries, thereby spurring a host of economic and infrastructure activities such as roads, railways, telecommunications, power, etc. Ports create jobs and generate large scale employment. Thus, ports support a wide range of economic and infrastructure activities, thereby providing fillip to growth and development of the region it serves. All the mega cities around the world are port cities – a clear example of port-led development.
What measures or steps are being taken by Dighi Port to initiate and enhance the module?
Dighi Port Ltd is setting up the first private port in the public-private space near Mumbai and is also establishing a special economic zone (SEZ) inclusive of a Free Trade and Warehousing Zone (FTWZ) around the port with modern infrastructure. The port is equipped with state–of– the-art facilities and forms an integral part of the Delhi–Mumbai Industrial Corridor (DMIC) and will have access to the Dedicated Freight Corridor (DFC). The company's growth prospects hinges on sound infrastructure policy supported by pragmatic investment policy. The speedy infrastructure development in the country in terms of roads, railways, ports, power and telecommunications will provide the necessary impetus to Dighi Port and enable the company to improve the overall economy of the region. Dighi will, thus, become a key catalyst in the growth and development of a vast stretch of the region it serves.
How do you view the growing competition in the private port sector?
Port development has been opened up to the private sector as well as under public-private partnership (PPP) mode. Several major and minor ports with private sector participation are being set up in the country. In recent times, private sector participation in ports has increased. Port Pipavav, India's first port in the private sector, is situated on the West Coast of the country. The country's biggest private port at Krishna patnam in Nellore district of Andhra Pradesh opened a new gateway to South India through the East Coast. Adani, Essar are among other private ports in the country.
The entry of the private sector into the port space has no doubt intensified competition among the players. Port developers are trying to keep abreast of the dual factors of changing needs of port operations in keeping with the demands of ever-growing international trade. Ports are being equipped with modern and sophisticated equipment in accordance with international standards and there is increasing focus on streamlining port and logistic operations to ensure speedy and smooth movement of goods.
Keeping in mind seamless connectivity, what steps are being taken by Dighi to ensure seamless connectivity for cargo transportation? What kind of investments are being made for the same?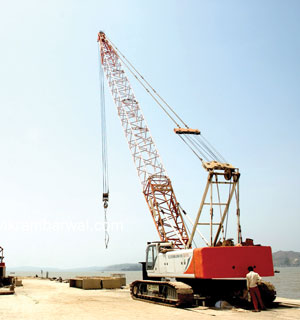 Dighi Port accords great emphasis to the development of infrastructure to ensure seamless connectivity for cargo transportation. With the gateway ports in Mumbai currently working at full capacity and even at stretched capacity, Dighi Port with its strategic location and well-planned infrastructure is geared and ready to handle the cargo generating from North, West and Central India in a hassle free and economically viable manner. Dighi Port offers entire value chain under one umbrella.
International trade is recognised as a key driver of economic growth of a nation and port based economies enjoy the advantage of ease of access to goods from across the world
An investment of approximately `1,500 crore in the road and rail connectivity projects has been envisaged.
What measures are being taken to develop the Port further? How will this ensure progress and development of the State?
The current status of Dighi Port and other related facts are as follows:
Current Status: The Dighi Port recently commissioned longest operational quay length for a non-major port in Maharashtra at an investment of approximately `2,500 crore in Phase-1 encompassing five berths with an installed capacity of 30 million tonnes and 14.5 meters depth across a land bank of 1,600 acres.
Expansion: Dighi Port is being developed in a phased manner to facilitate handling of 100 million tonnes of cargo. It is the only other port to have the permission to build an LNG terminal and also a port-based SEZ inclusive of a FTWZ giving all the characteristics to become a Transshipment Hub.
Rail: The Ministry of Railways approved implementation of Dighi Port-Roha Rail connectivity through JV route between RVNL and DPL in Feb 2015. Estimated cost of the 34 km long Dighi Port-Roha Rail project is `800 crore. It will have provision for running of double stack container trains and heavy freight trains, and will be constructed as a feeder route to DFC linking JN Port to Ludhiana.
Road: An MoU has been signed with the Government of Maharashtra for widening and strengthening of 100 kms of road (SH-92 & 96 and SH-97) connecting both the banks of Dighi Port with NH-17 for smoother movement of port cargo.
Connectivity to Economic Corridors: The development of rail and road connectivity will provide seamless connectivity to all the important economic corridors, such as DMIC, NMIZ, Sagarmala project, Coastal Economic Region, etc, to connect with the Southern, Central and Northern parts of the Country .
Follow and connect with us on Facebook, Twitter, LinkedIn, Elets video