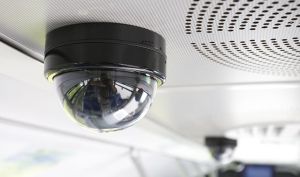 With an eye on safety of women passengers, the Calcutta State Transport Corporation (CSTC) has installed CCTV cameras in 632 buses as part of the JNNURM scheme.
According to a senior CSTC officer, Urban Bus Specification (UBS) II-complied equipment, including three CCTVs, were installed in each bus under the extended JNNURM Project-I.
"CCTV surveillance will make women passengers feel safe to travel in buses even at late hours. The knowledge that the bus is being under CCTV watch will give them confidence to travel," he explained.
Every bus can store up to 100GB, and initially, the footage captured by the CCTVs would be stored for three days. "After three days the footage will be overwritten automatically. So, people with complaint of any theft or pickpocketing, bad behaviour by the ticket-conductor or the bus driver or any other problem, have to register that within three days," he said, adding that the CCTV footage would also help them in accident cases.
Kolkata Police officers have already done an inspection of the buses and were quite satisfied with the camera surveillance.
The CSTC is also working on an IT-based communication and surveillance system to get live feed from a running bus, another officer informed.
The Corporation is also planning to have live footage from a running bus via streaming video using the GRPS, according to him. The streaming will be fed directly to the Control Room monitors in the headquarters before they are archived. "This will be under the Intelligent Transport System project and we are working on it. Hopefully it will be ready in another six months," the officer said.
This would help operate buses on real-time demand. Not only that, the system would also help operators systematically increase or decrease the fleet strength depending on the live footage, he explained.
Follow and connect with us on Facebook, Twitter, LinkedIn, Elets video