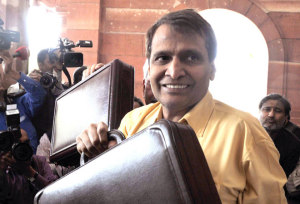 Union Railway Minister Suresh Prabhu has proposed extensive use of Information Technology in his maiden Budget, so as to promote e-Governance in the Indian Railways to bring efficiency and transparency in the world's largest rail network.
Here are the technology initiatives proposed in the Rail Budget 2015:
SMS Alert Service for Arrival/Departure Time
It is proposed to introduce an "SMS Alert" service to inform passengers in advance the updated arrival/departure time of trains at starting or destination stations. Similarly, SMS alerts would be sent 15-30 minutes in advance of arrival of the train at the destination.
"A centrally managed Railway Display Network is expected to be introduced in over 2,000 stations over the next two years which will aid in providing information on train arrival/departure, reservations, general and emergency messages and also any other information of interest to citizens. This facility will promote 'Digital India Campaign' and also unlock huge advertising revenue potential," Prabhu said presenting the Budget.
Digitisation of Land Records Mapping to Counter Encroachment
Digitised mapping of land records has been initiated and responsibility will be fixed on officials for any encroachments.
Mobile Phone Charging Facilities in General Class Coaches & On-Board Entertainment on Shatabdi Trains
The Railway Minister said that Indian Railways' Delhi Division is taking up a project for introducing on-board entertainment on select Shatabdi trains on license fee basis. Also, mobile phone charging facilities would be provided in General Class coaches and the number of charging facilities would be increased in sleeper class coaches.
Provision of Hand-held Terminals for TTEs
Hand-held terminals will be provided to Travelling Ticket Examiners (TTEs), which can be used for verification of passengers and downloading charts. This system will help the Railways move towards paperless ticketing and charting and expedite finalization of refund claims apart from saving of paper.
An integrated customer portal is being put in place, which will be a single interface for the customers to access different services, Prabhu said.
Railways to Integrate Best Food Chains for E-Catering
Minister of Railways Suresh Prabhu has said that to provide freedom to passengers to select their meals from an array of choices including local cuisine, e-catering has been introduced in 108 trains on an experimental basis from January this year. Food can be ordered through the IRCTC website at the time of booking of tickets. He said that the Railways is working to integrate the best food chains of the country into this project. Depending on the response from the customers, the facility will be extended to cover more trains.
Surveillance cameras for Security of Women Passengers
For the safety of women passengers, surveillance cameras will be provided on a pilot basis in select mainline coaches and ladies' compartments of suburban coaches without compromising on privacy.
24×7 Helpline Number to Redress Problems of Passengers
An all-India helpline number – 138 – will become functional to address problems of passengers on a real-time basis. A mobile application to redress Railway-related complaints is also being developed. Further, keeping in mind the criticality of security related issues, the Railways has dedicated a toll-free number – 182 – for receiving security related complaints.
PM Hails 'Technology-focused' Rail Budget
Appreciating the Railway Budget 2015, the Prime Minister Narendra Modi said, "Railway Budget 2015 is a forward looking, futuristic and passenger-centric budget, combining a clear vision and a definite plan to achieve it. I am particularly delighted that for the first time, there is a concrete vision for technology upgradation and modernisation of the Railways."
Follow and connect with us on Facebook, Twitter, LinkedIn, Elets video