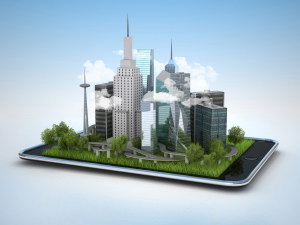 The Narendra Modi Government's proposed ambitious project to create 100 smart cities got a major boost on January 31, with major stakeholders coming out with the criteria for selection and ranking of cities.
As per an official release, there was also a broad agreement among the stakeholders on innovative financing models and urban governance reforms to be implemented as part of the project.
The way forward emerged after intense discussions at a two-day 'Consultation Workshop of States and Stakeholders on Smart Cities'. The final recommendations of states and other stakeholders were presented at the concluding plenary session chaired by the Minister of State for Urban Development, Babul Supriyo, the release said.
Principal Secretaries and Municipal Commissioners from about 25 states took part in the deliberations along with industry representatives and urban experts at the workshop, organised by the Urban Development Ministry upon direction of Prime Minister Narendra Modi to take the states on board before proceeding further with a the launch of the smart city initiative.
Among the basic eligibility conditions suggested by the states and other stakeholders for participation in the 'Smart City Challenge' were the need for a vision and city development strategy, progress under Swachh Bharat Mission, timely payment of salaries to municipal staff, information and grievance redressal mechanism and e-newsletter.
For the further ranking of cities for final selection, the states have suggested the parameters and respective weightages that include self-financing ability (25 percent weightage), institutional systems and capacities (25 percent), existing service levels and committed plan of action for three years (25 percent), past track record in implementing reforms (15 per cent) and quality of vision document (10 percent).
Follow and connect with us on Facebook, Twitter, LinkedIn, Elets video