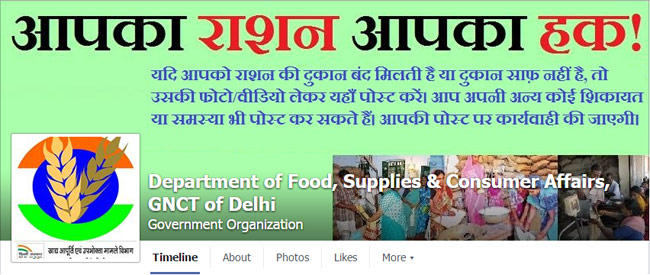 The advantage of social networking sites has now been realised by Food Supplies and Consumer Affairs as it becomes the first department of the Delhi Government to open a Facebook account to address different grievances of customers. The department has received over 4,000 queries/complaints since its launch a month ago. Consumers can give suggestions, file complaints, upload photos and videos of any irregularity in Fair Price Shops and Ration offices on the department's Facebook page.
S S Yadav, Secretary-cum-Commissioner Food Supplies and Consumer Affairs, said "The purpose of the Facebook page is to provide an effective tool for two way communication between the department and lakhs of ration card holders and other people of Delhi." He further added that the department has even given information on its Facebook page about the rates and entitlements of specified food articles supplied by the department under PDS.
The Facebook page also provides information about the activities, new policies and initiatives of the department to the consumers.