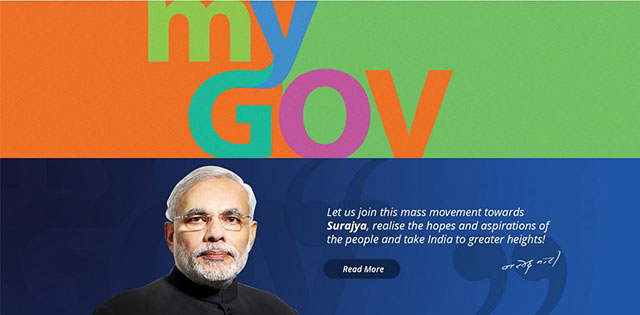 Prime Minister Narendra Modi has launched a new online platform — mygov.nic.in — to crowdsource governance ideas from citizens, especially the youth, and enable them to volunteer for specific tasks and projects at the grassroots level.
Launched to mark the completion of PM Modi's first two months in office recently, the website is an extension of the digital technologies and similar platforms used on a massive scale during electioneering, which had seen participation of apolitical citizens and youth.
Some critics had begun to ask, of late, as to how the pre-polls engagement would be sustained after the formation of the new BJP-led NDA Government. MyGov.nic.in launched by the Prime Minister is the answer to that question.
MyGov has multiple features through which motivated citizens and subject matter experts can voice their opinions on key areas of governance and can also make an impact by taking up tasks that will make a difference on the ground. An innovative feature of the platform is the ability to track time committed to volunteering and the credits earned. This allows for Gamification, thus, making the serious business of volunteering for India also fun.
MyGov is the first of its kind digital platform in India and perhaps even in the world in its scope, ambition and aspiration. It is an important building block towards Narendra Modi's vision of a Digital India. Citizen from every part of India can get a voice and a stake in policy making without having to lobby through Delhi-based special interest groups. MyGov is an equal opportunity platform where everyone gets to contribute and the best ideas stand a real chance to get the attention of the Prime Minister.
The platform has been split it into two halves – Discuss and Do – to enable more focused crowdsourcing and collaboration. Besides allowing users to 'creatively' engage specific government departments, the platform has opened up discussions in six specific areas to begin with — job creation, cleaning the Ganga, boosting girl child education, cleaning India, skill India and digital India. Citizens can even upload documents, case studies, videos and work plans on the platform.
Follow and connect with us on Facebook, Twitter, LinkedIn, Elets video