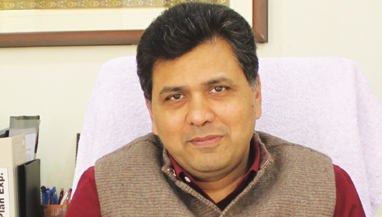 eGovernance is a way forward but there seems to be no unanimity on the framework under which it should be used for governance. "We need an e-governance framework which provides end to end solution, involved everybody and should be able to achieve the outcome of the initiative" says Injeti Srinivas, Development Commissioner and Additional Chief Secretary, Government of Odisha. In conversation with Mohd Ujaley, Elets News Network (ENN)
You have served the Government of Odisha in various capacities and also had a comparatively longer tenure with the Government of India. How has governance evolved over the years? What are your views on e-Governance?
When you look at the governance, earlier the focus was more on the process than on the outcome and therefore quite often outcome suffered on account of the process. And, also process lacked transparency and accountability. With the increasing literacy as part of our socio-economic development efforts, awareness and expectation of the people have grown and patience has come down. So there is a situation where people are demanding more and more and I must say it's a very good development. For example, 25 years ago, when we were district magistrate & collector, visit to a village used to be a big event for the people of the region, they would queued up and mildly put across their grievances and even with the patient hearing they were satisfied. However, today when a magistrate & collector goes, people are ready to gherao with their demands. This is changing India; the old fashion administration will have to learn to respond with minimum gestation. That is why 'e' in e-Governance has become very important because it transcend the limitation of time and space to great extent. Today, there is high emphasis on responsiveness, citizen centric programmes and accountability and transparency.
You have mentioned about responsiveness, accountability and transparency but don't you think discretion is majorly responsible for delays and lack of transparency?
You may be right, but I believe we need a system and the process will automatically remove the discretion. So it will be impossible to have delays in the process and I am sure that will also bring transparency and increase accountability. As a person who has been involved in administration, I find this is how it is going to change.
People say e-Governance is a way forward but there seems to be no unanimity on the framework under which e-Governance should be used for governance. In your opinion what should be the way forward?
e-Governance is neither a magic wand nor a development of software application or hardware and even conducting IT training alone. e-Governance has to be preceded by complete change of the mind-set. We will have to own the technology and new approach. We need an e-Governance framework which provides end to end solution, involved everybody and should be able to achieve the outcome of the initiative. In many cases, we have found that the outcome had been far below than what we have envisaged. The reason is that there is either no e-governance framework or weak framework. Majority of the e-Governance initiatives are becoming a kind of kneejerk reaction or a desperate attempt. In government, we need a framework where we should have 100 percent clarity right from the Request for Proposal (RFP) stage. And, it should have close relationship with delivery mechanism system. Different structure for different things will not yield good results. The e-governance initiative should not become a totally a consultant or a procurement driven exercise, quite often we are getting into such an exercise where the procurement of the hardware and development of the software is becoming an end in itself. The framework should have a holistic view and in overall architecture – interoperability, system design, capacity development must be taken into account and duplication and multiplicity must be avoided.
"e-Governance is not a magic wand, it has to be preceded by complete change of the mindset"
Attracting investment and building infrastructure is key to the inclusive growth, Isn't it infrastructure deficiency seems to be one of the biggest challenge for Odisha?
Partly you may be right, I would still say that Odisha has been reasonably successful in attracting IT industries but we have largely succeeded in bringing the software companies but we also want to get IT hardware industry in the state. Today we export about a billion worth of IT export and we are aiming to increase it further. In our new IT Policy, very clear objective have been kept such as how much employment generation you want etc. At the end, we need both IT hub for the software application and then use of IT application in the governance to empower the people. Infrastructure deficiency is there but lot of investment is happening, we have many areas which are remote and deficient so we are working very hard to see that all the communication and connecting issues and socio-economic development indicator issues are addressed in the time bound manner. In addressing them I think, e-governance will also play important role.
ICT is being be leveraged to bring mass inclusion and provide quality service to the citizens, what role do you see ICT playing in the implementation of key schemes such as Food Security and DBT etc.?
In everything there is a role of ICT, wherever you have to reach out to the cutting edge, the best option is to use IT application because technology alone can solved most of the limitation we face. When you are looking at National Food Security Act and DBT, in my opinion technology is the only way to get the best result. In Odisha, we have little over four crore population and it translate into 80 lakh families and about 82 percent of them are eligible to be covered under this Act. Issuing ration card to 80 lakh families, monitoring their offtakes and inspecting how Fair Price Shop (FPS) are handling the Public Distribution System (PDS) material requires high level of IT engagement. We are using information technology for weed out ineligible people who are holding the ration cards. We have studied the various methods prevailing in the country for ration card enrolment. We have come out with the process wherein we have clearly indicated the criteria for automatic qualification and disqualification, the families can make both offline and online application. Whatever the data come to us, we will collaborate with the various databases for exclusion