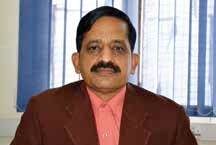 Ghan Shyam Bansal,
Deputy Director General NIC & SIO, Haryana
Haryana State Electronics Development Corporation or HARTRON started working independently with effect from 1st Jan, 1983, after the organisation was bifurcated from Haryana State Industrial & Infrastructure Development Corporation Limited (HSIIDC).
The Corporation has been a pioneer in Information Technology and has a number of prestigious projects to its credit. HARTRON is the first organisation that undertook the Voter Identity Cards Projects in India. The identity cards project was the largest database application in India, wherein the details of voters were to be maintained along with their photographs.
The project was executed with the highest accuracy of 98 percent in India, which is a record. HARTRON draws its efficacy from the fact that we understand the important role that information technology can play in transforming governance and improving the quality of people's lives.
The organisation is powered by a team of highly qualified professionals who have experience in the core technologies like GUI based DevelopmenThe NIC–Haryana State Centre (NIC-HrSC) has been providing Value Added ICT services and implementing key ICT initiatives & e-Governance Projects in Haryana and has been functioning as a technology partner of the Haryana Government Line Departments & Secretariat for Information Technology. The NIC-HrSC is facilitating the line departments and assisting them on all technical aspects.t, Image Processing, Data Ware Housing and Web enabled development.
Value Added e-Services by NIC-HrSC for key ICT initiatives & e-Governance projects in various sectors in Haryana

e-Governance Projects related to Core ICT Infrastructure
• Haryana SWAN & NIC-Haryana NICNET WAN
• Haryana State Data Centre & NICHaryana Data Centre
• CSCs (Common Service Centres)
• Capacity Building – SeMTs & PeMTs
• e-District Mission Mode Project
• State Portal, SSDG & e-Forms Project
• NKN (National Knowledge Network) Project
• Integrated e-Governance Infrastructure Operations & Management Project

State Sector MMPs & Other Mission Critical e-Governance Projects
• NLRMP (National Land Records Modernization Programme) – Integration of Property Registrations, Land Records and Cadastral Maps System
• Treasuries MMP (IFMS)
• Finance Department e-Governance Project
• IntraGov Haryana Portal with Integration of e-Office & HRMS
• Harsamadhan – Centralized Public Grievance Redressal And Monitoring System of Haryana
• Transport (Vahan, Sarathi and National Permits) Regulatory Mission Mode Project
• Panchayats & Rural Development Informatics
• Health Informatics Projects
• Technical Education e-Governance Projects
• Police MMP
• Commercial Taxes MMP
• Government e-Procurement (GePNIC) System
• Haryana Tourism e-Governance Project
• e-Courts MMP
• Social Justice & Empowerment Informatics Project
• Smart Card based Public Distribution System (e-PDS) Project
• PWD's Informatics Projects
• Agriculture & Animal Husbandry Informatics Project
• e-DISHA Centres – Single Window e-Services Delivery System
• Jansahayak – Workflow based MIS for 36 Citizen Services of HaryanaState's Other Importante-Governance Projects
• Elections Informatics Services Project
• DIPR (Department of Information and Public Relations) Informatics Project
• National Food Security Act 2013 (NFSA 2013) Using Merged data of NPR & SECC-2011
• RECORDs (Revenue Court Cases MIS)
• Birth & Deaths Registration andCertificate Issuance System
•BISWAS (Billing Information System or Water & Sewerage)
• Arm Licenses Information System
• Wakf Board Computerization Project
• Environment & Pollution Control Board Informatics
• Chief Minister's Office Informatics
• Haryana Lokayukta Informatics
• State Information Commission – RTI Act 2005 Informatics
• Chief Secretary Office Informatics
• Haryana Vidhan Sabha & Raj Bhawan Informatics
• Secretariat for Information Technology Informatics Support
• Department of Planning & DESA
• Labor & Employment Informatics
• DBT (Direct Benefits Transfer) Schemes Informatics ServicesSpecialized ICT Services Projects
• Video Conferencing Services
• Websites & Portals services
• Management of .gov.in & .nic.in domains
• Security Audit Services
• Establishment of VPN (Virtual Private Network)
• Integration of SMS Gateway
• Integration of On-line Payment Gateway
• Government Official e-Mail Services
• NICCA – Registration Authority
• Cyber Security Services
• Establishment of State's Residents  Identity Data Repository (SRDB)
• GIS Infrastructure & Applications Support
• Technical Consultancy & ICT Advisory Services
• Evaluation of project proposals for IT/Cyber Parks
• On-line Web-casting of identified events over Internet
• ICT Support Services
• IPv6 addressing scheme
• NICSI Sub Office RFD- PMES (Result Framework Documents-Performance Monitoring & Evaluation System)Central Government level MMPs & other Central Projects
• RSBY (Rashtriya Swasthya Bima Yojana) Project
• EPFO (Employees Provident Fund Organization)
• Back-end server side Passport services support
• Customs & Central Excise
• e-Posts Project
• Directorate of Enforcement ICT Project
• Confonet (Consumers Federation Networking) Project,
• IVFRT MMP: (Immigrations Visa, Foreigners Registration & Tracking) Project.
• ICT Support services to other centrally sponsored projects like Agriculture Census, 8th All India Education Survey, and Minor Irrigation Census etc.
Land records have always been an area of concern for a country like India, where land is in limited supply. The NIC has played a seminal role in the development of NLRMP (National Land Records Modernization Programme), which leads to integration of property registrations, land records and cadastral maps system
• HARIS (Haryana Registration Information System): HARIS facilitates Registration of Properties & Land. Biometric and photograph of sub-registrar along with buyer & seller introduced to bring greater transparency. HARIS provide services like Collector Rates of Property, Stamp Duty Calculations, Deeds Writing – Standard deed templates, Buyers/Sellers Photographs Capturing, Registration of Property Deeds, Issuance of Copy of Registered Deed, Issuance of Mutation Notice, Information on Registered Deeds. HARIS is being implemented at all 122 tehsils and sub-tehsils covering 100 percent locations. Web Interface for publishing of Registered Deeds data on Web has been implemented, which pushes the extracted data from Tehsils/Sub-Tehsil servers to NIC-HDC using SWAN/NICNET/BB Internet for on-line access to Revenue department for query based MIS. AMS (Appointments Management System) has been launched at Kurukshetra, Rewari, Jind Yamunanagr, Jhajjar and Rohtak districts.
• HALRIS (Haryana Land Records Information System): A complete Integrated Workflow Automation system of Land Record components. HALRIS provides a single Window Interface for Deed Writing, Registration, all kind of Mutations, Jamabandi and copy of RoR (Record-of-Right). HALRIS provide services like Nakal of RoR (Parat Patwar), Nakal of RoR (Parat Sarkar) e-Record Room, Copy of Khasra Girdawari, Verification of Nakal of RoR, Web based RoR Query Service, Copy of Mutation Order etc. HALRIS is being implemented at all 122 tehsils and sub-tehsils covering 100% locations. Web Interface for publishing of Jamabandi data on Web has also been implemented, which pushes the RoR data to NIC-HMDC. Web enabled Access to Records of Right is made available on the website http:// jamabandi.nic.in , which contains RoR data of more than 6000 villages. Software for Digitally signed Copy of RoR started at Rohtak & Kurukshetra, Copy of RoR with QR Code has also been developed and implementation started. Software for digitally signing of Jamabandi database has also been developed & being tested for providing copy of RoR from digitally signed database.
• Digitization of Mussavies / Cadastral Maps: Cadastral Maps of Ambala & Sirsa Tehsils were got digitized through HARSAC Hisar. Bhu-Naksha Software, which deals with spatial data (digitized Mussavies / Cadastral Maps) for updating the maps of land parcels and incorporation of Mutations & Tatima etc., was got customized as per Haryana requirements. HALRIS was integrated with Bhu- Naksha Software and pilot implementation was taken up for Ambala tehsil. The pilot was launched under NLRMP at Ambala on 20th January, 2011, by then FCR. The work of scanning, digitization, updating, geo-referencing of Mussavies / Cadastral maps of entire states (around 70000 Mussavies) was out-sourced through HARSAC to 04 GIS Vendors.
• Integration of HARIS, HALRIS & Bhu-Naksha under NLRMP (National Land Records Modernization Programme): Haryana is one of very few states, where property registration system and Land Records System and Cadastral Maps have been integrated. Haryana's Project is declared as best practice and a national roll model under NLRMP by DoLR, Ministry of Rural Development, GOI. Road Map: Migration from current client/Server based System to Centralized Web enabled solution (Cloud HALRIS).
Follow and connect with us on Facebook, Twitter, LinkedIn, Elets video