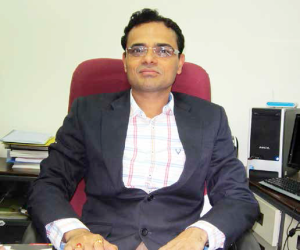 "We want to bring almost 39 lakh farmers of the state under the SMS-based alert system in the next one year," says Nitin Kulkarni. In conversation with Souvik Goswami & Kartik Sharma
Please tell us about the agriculture sector scenario in the state of Jharkhand.
Jharkhand has the total geographical area of 79 lakh hectares. Out of this, only 47 per cent is cultivable. Out of the 47 per cent area, only 32 per cent is the net sown area. Rest is not available for agricultural purposes. In fact, our barren land amounts to 5 lakh plus hectares area. Then there are fallow lands. We have two categories of fallow lands, current and permanent fallow lands. We also have lots of cultivable waste lands. So, our main focus is to bring more and more land under cultivation. Increase of production and productivity, that is also our motto. We are trying to repeatedly increase the coverage area per year and in the last five years, we have been able to achieve good success. In fact, we have done remarkably well in the last 2 to 3 years. There were some problems in 2009- 10 and 2010-11 due to severe drought and in 2013-14 Kharif season, we had damages for erratic rainfall.
Recently, your department has asked for almost Rs. 9000 crore as grant-in-aid from Finance Commission. In which sectors, do you want to spend this amount, if you get it?
We had made a detailed presentation before the Finance Commission, when its members visited Ranchi. There we have raised 3-4 major core funds. Post-harvest management is also a major issue, as our storage capacity is limited. Setting up of 3,000 godowns of 100 MT at Panchayat level is our target to overcome this challenge, and we need funds for this. Also, we have proposed to set up 2,000 water harvesting structures owing to absence of proper irrigation facility, and we have also given impetus to micro-irrigation.
As Jharkhand is conducive and very suitable to horticultural plants, one of the most important aims of our department is to shift states' cereal-based agriculture to horticulture-based agriculture. We have rich bio-diversity of fruits, particularly mango, guava and citrus are our major fruits. On the other hand, medicinal plants, like Aswagandha, Kalmegh, etc., are there. And in spices, turmeric, gingers are produced heavily in the state. So, we are concentrating on these plants, as they give nutrition, security and easy money. Also, we have demanded funds for revamp of 'Birsa Agricultural University.' Apart from these, we aim to set up a Centre for Conservation for Generic Diversity. This will help us in documentation and conservation of variety of plants.
What are the major challenges in agricultural sector in the state?
First and foremost challenge is that we have to promote farm mechanisation in a fast-track mode. Farm mechanisation means availability of good, quality, modern equipment which, sort of, reduces the requirement of manpower in the farms. It also reduces wastage of seeds, fertilizers and water, and increase efficiency to a large extent. For example, equipments like paddy transplanter can make work done in 3 hours, instead of 3 days.
Why it is a challenge?
Problem is not with the availability of these modern equipments, but making farmers aware of these. We have to ensure that farmers use these equipments and we are driving awareness programs for farmers.
Please elaborate on the other challenges.
We have to become self-sufficient in seed production. That is a major challenge. Unless we take care of our seed requirements ourselves, we cannot move ahead and we cannot be dependent on others for this always. We have to shift from paddy-based agriculture to multi and cash-crop agriculture. It can bring good income for farmers. It is a huge task, but we are working relentlessly on this. I can tell you that, today we have got 12,000 hectares of land for cashew production. People of Jharkhand have never thought of this earlier. Raw cashews are now sold for `50-60/Kg. Earlier, it used to be sold for `18/Kg. So, that is the difference. In fact, we got awards for leadership in cashew production in 2013. Also we got award for pulses production both in 2013 and 2014.
See, we are trying our best, but it is taking time. You have to understand, that the problem with agriculture is the absence of proper irrigation system, and it is a major problem. Irrigation department has got its own priority and own ways of working. So, it takes lot of time and we have to look for easy solutions, local answers. After all, it is farmer's initiative. Our farmers are not that enterprising like Punjab, Haryana, Karnataka or Maharashtra farmers. They have got a bit of different type of attitude. In Jharkhand, if one farmer produces 5 quintals and it sustains his family for the year, he is happy with that. So, they have to get out of that kind of mindset. Right now farming is no more that attracting option also. Most of the farmers' next generations do not want to be in farming. So, farming has to be presented as an attractive option before the younger generation.
How can you make farming attractive to younger generation?
It is actually attractive. Only we have to ensure a viable return coming out of it. If the younger generation sees, that his or her farmer parent's earnings have doubled, with just simple manipulation of techniques, they will definitely get attracted to farming. Also, we need new technology in the field.
"I want to see Jharkhand becoming selfsufficient in seed production in the next 10 to 15 years. It will be mainly horticulture-based agriculture"
What kind of ICT initiatives are you taking to improve agricultural scenario in the state?
Under the Government of India's NeGP programme, we are setting up 'Agriculture Technology Information Centre (ATIC)' in each and every 259 block. These centers will have network connection, a person will be manning it, and it will take care of all the data requirements of the farmers. At present, we have got SMS-based alert system. 25,000 plus farmers enrolled in this system. It started in August 2013. When the cyclone Phalin hit the state, we were able to send messages to farmers about the cyclone in advance and they were very prompt enough to ensure that their products were not left out to dry or get destructed, and damages were less. That time almost 16,000 farmers were enrolled with the SMS-based alert system.
We are enrolling the farmers everyday into this system and we are aiming to cover all the farmers of the state. In fact, we have developed a district-based broadcast system. It means specific information will be broadcast to specific districts of Palaumo or Dhanbad, not only general information. Almost 39 lakh farmers are here in Jharkhand and we want to cover them all under SMS-based alert system in the next one year. It is a matter of awareness and mobile density in villages of the state.
We are also having one 'Krishak Mitra' programme. It is basically a farmer's friend. It is supposed to be the hand holders of the farmers in the time of distress. It is supposed to transmit farmers' worries or grievances to the government. It is basically a connection between farmers and government and all happen through mobile phones. There are almost 16,000 'Krishak Mitra's and most of them are really doing a good job.
What is your future roadmap for the development of agriculture in the state of Jharkhand?
I want to see Jharkhand becoming selfsufficient in seed production in the next 10 to 15 years. It will be mainly horticulture-based agriculture, where people would focus more on producing cash crops. Also, want to see more and more food processing units coming up in the state of Jharkhand. If we are able to do this, I think we will be in a very good position in agriculture in a decade.