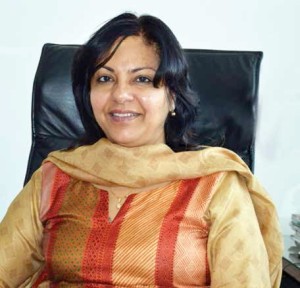 Navraj Sandhu
Principal Secretary, Health & AYUSH
Department, Government of Haryana
"Today the operations of the Department of Healthcare in Haryana have expanded to a very large extent and people expect the health services to be available on a 24X7 basis, so we need Information Technology to manage manpower and other resources for effective delivery of healthcare services," says Navraj Sandhu
That is your view of healthcare infrastructure in Haryana?
Haryana is economically very progressive state and the infrastructure in the healthcare sector is also quite developed. The State Government is taking a very dynamic approach in ensuring that the health related needs of the citizens are fulfilled in an efficient and cost effective manner. We strive to help people improve their productivity and reduce risks of diseases and injury. We keep a close watch on all the health indicators and also on mother and child mortality rates, the sex ratio. Some challenges are there, especially in the rural areas, but we working to improve the situation in every part of the State. NRHM, as you might know, is doing lot of work in the rural areas. The mission runs numerous programmes with the aim of providing universal access to equitable, affordable and quality healthcare.
What are the initiatives that you have taken in healthcare sector?
Several landmark initiatives have been undertaken during the last few years. We now have three government medical colleges, whereas earlier there used to be only one. A women's medical college has come up in Sonipat, another medical college has been started in Mewat and the third medical college is at Karnal. The state has been suffering from shortage of doctors for many years and now we are hopeful that these three medical colleges will provide us with many well trained doctors. Alongside creating these new medi-cal colleges, we have also started the initiative of providing the much needed ambulance facility.
People can dial 102 for ambulance and emergency services. Called the 'Haryana Swasthya Vaahan Sewa No. 102', the service is available in cities, towns and even rural areas. We have also implemented the Indira Bal Swasthya Yojana (IBSY), which aims at providing preventive and curative healthcare to all children from the day of birth up to the age of 18. Another initiative is the Nehru Drishti Yojana (NDY), which seeks to control blindness. Lot of constructive work is being done in many different areas.
What are the ways by which you are using information technology to bring efficiency to your healthcare initiatives and reach out to the targeted population in a transparent manner?
There is acute need for having good Information Technology systems in place for ensuring that healthcare services become available to all in an efficient and transparent manner. Today the operations of the Department of Healthcare have expanded to a very large extent and people expect the health services to be available on a 24X7 basis, so we need Information Technology to manage manpower and resources. Under NRHM, we have started the Health Information Management System to look into all these issues. The management of free and subsidised drugs is also done through a special software. The entire process of procurement, distribution and inventory management is done through software only.
You have said about Mother and child tracking system, so what kind of technology are you using it and what kind of impact it is having?
The Haryana Health Department has developed a 'Mother and Child Tracking' software to curb the menace of female foeticide and ensure timely health check-ups of mothers and children. Health workers have been roped in for the registration of mothers and children through this software. Information collected by the health workers would be fed in the computers of health centres and information would be made available online. Officers of the department regularly monitor the information that is available online regarding pregnant women and children.
In most parts of the country we have scarcity of doctors in rural areas. What is the position in Haryana? Are you having adequate number of doctors serving in rural areas?
This kind of problem is being faced not only in Haryana but in all the states in the country. The scarcity of doctors is not only in the rural areas, but also in the urban and semi-urban areas. We now have very flexible system for recruiting new doctors. At times we even go in for walk in interviews. This process has helped is in recruiting more doctors. So Haryana has mostly managed to eliminate its vacancies with a mix of incentives and simplification of recruitment processes. Doctors serving in backward areas are eligible to receive financial incentives. This is being done as per the policy of the Government of India that allows various measures to provide monetary and non monetary incentives to attract skilled medical and para medical professionals to work in rural areas.
Functions and Duties of the Health department 
Provide preventive, curative and rehabilitative services to the community through primary health care delivery system. u Provide equitable and quality health care at primary, secondary and tertiary level.

Extension, expansion and consolidation of rural health infrastructure.

Respond to the local community health needs and request.

It takes many steps for population stabilization.

Provide Reproductive and Child Health Services with the objective of reducing MMR & IMR.

Provide immunization services against vaccine preventive diseases of childhood as well as pregnant mothers against tetanus during child birth.

Provide Family Welfare Services.

Provide Essential Obstetric Care.

Enforcement of PNDT Act to prevent Sex Determination.

Implement and monitor various National Health Programmes.

Provide emergency obstetric care.

Ensure potable drinking water and basic sanitation facilities.

Prevention and control of communicable and non-communicable diseases through active disease surveillance and timely remedial measures.

Provide treatment for common disease and injuries including emergency medical care.

Provide essential drugs, materials, equipments & modern medical/surgical gadgets for diagnosis and treatment of patients.

Birth and Registration through Civil Registration System.

Work with other sectors in promoting activities and initiatives related to health.

Promotion of proper and bal

anced nutrition – To raise the health status of the community.

Provide in service orientation training to the medical and paramedical personnel's – To update their knowledge and sharpen their skills.

Enforcement of various Acts like Prevention of Food Adulteration Act, Drugs & Cosmetic Act, Human organ Transplant, Mental health Act, Radiation protection, MTP Act, Birth & Registration Act, Human Anatomy Act and implementation Of Bio Medical Waste Management & Handling rules.

Educate community to bring about behavioural change regarding various Health and Family Welfare programmes thereby improving the quality of life – through various mass media activities.

Conduct Medico Legal and Post-mortem examination.

Conduct Medical Examination for first entry into Govt. service, driving license, disability, medical fitness, communication of pension etc.

Issuance of manufacturing, wholesale & retail drug license.
You have started the 'Mukhyamantri Muft Ilaj Yojna' for helping the citizens meet the cost of healthcare. Please tell us about the scheme.
Under the Mukhyamantri Muft Ilaj Yojna, a sum of `300 crore will be spent to provide 600 kinds of medicines and facility of medical tests free of cost in government medical colleges and hospitals. We will be providing free drugs, free surgeries, free indoor services, free transport and free lab investigation services. Why we are doing these? We are doing this because we understand that the cost of out of pocket expense for a common man is pretty high. He needs help in meeting his healthcare costs. The government is duty bound to come forward and help the common man. This service is available in Government hospitals of primary and secondary level.
Follow and connect with us on Facebook, Twitter, LinkedIn, Elets video