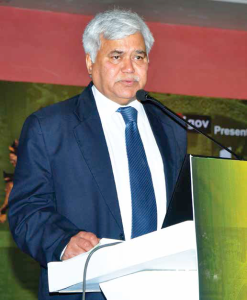 "Objectives of Aadhaar are to create an identity platform in the country which is inclusive, improves governance and service delivery and enables people access to formal systems of service delivery. More than two third of the population in Jharkhand has been enrolled in Aadhaar," says Ram Sewak Sharma
Before serving as Chief Secretary of Jharkhand, you were the Mission Director, UIDAI, where you played a pivotal role in the development of the Aadhaar initiative. In your opinion what are the key objectives of Aadhaar?
Before I delve into its objectives, let me talk a bit on the context. In India, there are a large number of people who do not have any formal proof of their identity. This results in denial of a number of services to them. They cannot open a bank account, they cannot get reservation in a train and they cannot get any mobile connection as some identity documents are necessary to avail these services. In other words, non-possession of any id document denies them the access to many services. Aadhaar fills this gap as it is mandated to provide unique identity to all the residents of the country.
Slowly Aadhaar has also been recognized as a valid document for accessing many services including those mentioned above. Secondly, its uniqueness property is very useful in eliminating duplicates and fakes from many subsidy and benefit delivery domains as multiple and fake identities in domains like PDS, Social Security pensions contribute a lot towards leakages and corruption in these programmes. Lastly, its capability of online authentication anywhere enables delivery of services more accessible, cost effective and transparent. Banking services can now be delivered at the doorstep of customers through business correspondences (BCs) using mobile devices which can authenticate identity using Aadhaar authentication. Hence the objectives of Aadhaar are to create an identity platform in the country which is inclusive, improves governance and service delivery and enables people access to formal systems of service delivery.
Today cyber security is an area of concern. How does UIDAI ensure that the huge database that is collecting on Indians is safeguarded from cyber attacks?
UIDAI, in the last four years that it has been in existence, has created a very robust eco-System which ensures implementation of this project in a time-bound manner. There are many partners in this eco-system like the State Governments, enrolment agencies, certification agencies, device vendors, software companies, printers, India Post, and Banks etc. At the technology level, UIDAI has one of the most sophisticated technology infrastructures in the world as it processes data of residents at a scale never done in the world before. It uses sophisticated algorithms of de-duplication of both demographic and biometric data. It has used open source technologies which are generally more robust and also cheaper. In fact, these technologies are largely free and they are also capable of being customised to meet certain security related criteria.
Some other novel practices which the UIDAI has introduced are keeping only that data online which is needed for functioning of UIDAI and keep the important data off-line. Biometric data, which means the finger prints and the iris scans, are a case in point. After extraction of features from the biometric data, the raw images are kept off-line and are out of bounds for any hacker. Only features are needed for de-duplication. Another principle which has been consistently and strictly adhered to is the encryption of the data. No data in UIDAI data centre remains in unencrypted form. Then there are strict physical controls on access. Given all these techniques and processes, I am very confident to say that the data of the residents of India is fully safe with UIDAI.
Do you think that it makes sense to use Open Source solutions for creation of e-Governance initiatives?
Open Source is defiantly a very attractive solution. We need to adopt open source wherever it exists. In fact, the entire UIDAI scheme is based on Open Source software. We had started with Linux operating system. It is always possible for us to take help of private tools in areas where Open Source technology is not available. For instance, for de-duplication technology private tools were used. My emphasis is to use open source wherever it is possible as it brings down the ownership cost. But where Open Source is not available, or is inconvenient to use, we can always switch to non Open Source.
Today there is lot of talk for using Aadhaar for Direct Benefit Transfer (DBT) to beneficiaries. In what ways can Aadhaar be helpful for executing of DBT projects?
Aadhaar helps in this area in many ways. Firstly, you can use Aadhaar to open a bank account, if you do not have one. Secondly, it uses Aadhaar as the address to transfer money. It ensures that the money goes into your account only. Thirdly, using Aadhaar authentication, you can withdraw your money – thus facilitating banking at your door-step. It also ensures that only you can draw the money – as it requires your presence and finger-prints at the time of withdrawal. Lastly, it provides an end-to-end tracking of the money from the time of crediting into one's account till the withdrawal. This simplifies the utilization certificate (UC) issue as now we do not need any certificate from anybody. The money has been successfully transferred to the beneficiary's account. Government benefits from this in two ways. Firstly, the duplicates and fakes are eliminated, cleaning the delivery system. Government can now benefit more people with these savings.
How are you planning to leverage UIDAI experience in Jharkhand?
Aadhaar is a very important platform that can be used by citizens to access the much needed government services. As I am well acquainted with the benefits that can come from effective Aadhaar deployment, I am looking forward to leveraging this platform for enabling effective service delivery. I am of the view that maximum numbers of government services that are being used by the citizens must be brought under the under the umbrella of Aadhaar. We have successfully enrolled two-third population of the state in Aadhaar. I am hopeful that we will complete 90 percent of enrolment by the year end. The major area where I have already started leveraging services is direct benefit transfer of subsidies. We are now focusing to use it for public distribution system.
You are very closely associated with Information Technology. Please tell us about your vision for IT initiatives in Jharkhand.
Earlier I was associated with IT department in the state of Jharkhand. So I feel that I can still contribute by initiating various schemes related to Information Technology. We are currently focusing on some of the key areas of IT that can bring maximum benefit to the people. These are areas like Financial Management System, Resource Management System, e-Payment, SMS Gateways and e-Procurement. We are also working on some important departmental applications like e-Nibandhan, which is designed to improve the registration related services. In fact registration system of Jharkhand is one of the most advanced systems in India. We have also initiated various departmental schemes like e-Kalyan, which is scholarship distribution programme. e-Kalyan ensures monitoring of online status for awarding scholarships (namely Birsa Munda Technical Scholarship and Ambedkar Technical Scholarship) to the ST students of Jharkhand studying in a Technical College outside the state.
Information Technology is playing a very important role in shaping e-Governance in the country. How do you look at the overall role of IT in governance sector?
Few years back, people were not much aware about IT services. But today I find that scenario has changed and people are more connected with the technology. People realize that they can have lot of benefits if proper IT implementations happen in the government. Earlier technology enhancement needed big machines but today everything can be converged in the data centre. One can now authenticate banking transactions with the help of UIDAI. Now I think we have a very clear vision about the roadmap for implementing e-Governance. Things have really improved when it comes to deploying technology for better governance.
"The State Government of Jharkhand Recognises the Power and Potential of New Technologies"
Many states in southern India have created a large impact in e-Governance. Some of their e-Governance solutions are now being replicated in other states. How do you compare e-Governance initiatives in Jharkhand with what is happening in other states?
There is no doubt that many states in southern India have done exemplary well in the area of e-Governance. Jharkhand too has lot of potential and now it's time that we speed up the deployment of initiatives that will bring efficiency and transparency to the governance in the state. We have to create new systems for improving governance. I am sure that we can build as good systems as any other states in the country. So there is no reason why an e-Governance revolution should not happen in Jharkhand. I am looking forward to taking Jharkhand in the forefront of e-Governance in the country. We have taken several initiatives which have changed IT scenarios in the state. We have completely digitized pension scheme so that people can track their pension online. We are focusing to strengthening our productive tool. Training people who can use such tools can really bring a change. I am looking forward to introducing it in various engineering departments.
Government of Jharkhand has started a landmark project for registration called e-Nibandhan. What impact has this project had in improving the process of registration in the state?
The e-Nibandhan Software was initially developed to automate the Registration Process in the District Sub-Registrar office at Ranchi. After its successful implementation in the Ranchi Registration Office, it was decided that we should replicate the system throughout the state. e-Nibandhan is designed to eliminate the maladies affecting the conventional registration system by introducing electronic delivery of all registration services. The manual System of registration suffers from a number of problems like inordinate delays; people also feel harassed as they have to come all the way to the office for registering their documents. e-Nibandhan eliminates all these deficiencies and difficulties. e-Nibandhan has made it possible to return the original registered document to the persons concerned within a matter of minutes. As soon the process of registration is complete the owner can take his original documents back. It has increased transparency in the system. Now the details of registration, calculation of rates and other details are available freely. So people can be sure that they are paying the correct amount of stamp duty, etc., to the government.
Tell us about some key initiatives which you have taken in the state of Jharkhand.
The State Government of Jharkhand recognises the power and potential of new technologies. We understand how new technologies can lead to improvement in the quality of people's lives. We believe that the developments in the field of Information and Communication Technology (ICT) can be effectively leveraged to deliver a variety of information and services to the citizens effectively and efficiently. Government of Jharkhand is committed to use ICT to transform its functioning and build citizen-centric, inclusive and development oriented information society. We want to provide services to the common man in a cost-effective, transparent and easily accessible manner. Government of Jharkhand plans to set-up 4,562 Common Service Centres (CSC) throughout all the panchayats in the State in first phase and 872 CSCs in the second phase to provide e-Governance services and other value added services. Web based software is being developed to disseminate information on essential Commodities dispatch to PDS Shops from the Food Corporation of India (FCI).
"Developments in the field of ICT can be leveraged to deliver a variety of services to the citizens  effectively and efficiently"
You have also done important work in the treasuries department.
That's right. We have taken up the work of computerising and networking in the State Treasuries and sub-treasuries. The project seeks to computerise the functioning of all the treasuries and link them together and with Accountant General. This will ensure an extremely efficient system of financial management for the Government. It will completely eliminate the possibility of forged withdrawals. It will, in fact, ensure that the GPF accounts of all the Government employees are up-to-date. The GPF and Treasury administration could be integrated in a seamless manner. Every head of office could check the details of the withdrawals done by him head/sub-head wise. He could use this information to plan further office expenditure. He could also check the available allocation to him head/sub-head wise.
We have also embarked upon an ambitious project on computerization and networking of field offices as well as Headquarters of Commercial Taxes Department. It provides an efficient, transparent, responsive and citizen friendly public interface to users of the Department. It has helped in improving the efficiency and affectivity of taxes of administration. We have also initiated some key UIDAI projects in the state. We have launched a micro-ATM device that can enable beneficiaries of projects like MG-NREGA to withdraw money at their doorstep through the BC model. This will certainly help in connecting rural people with the banking service.