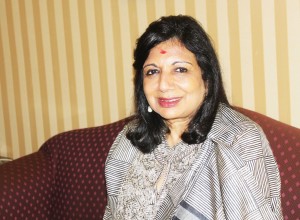 Very recently, Kiran Mazumdar Shaw, Chairman & Managing Director of Biocon Limited met the Chief Minister of Odisha, Naveen Patnaik and discussed the way to create a public-private partnership (PPP) model where diagnostic units can be created at every health location to provide quality healthcare to the people of the state. In an interview with ENN's Mohd Ujaley she says "If doctors are reluctant to serve in rural India then we must use technology to link rural India to advance centres"
Recently you met the chief minister of Odisha, Naveen Patnaik. What kind of potential you see in the state especially in the area of healthcare and poverty alleviation
Odisha is a state that is challenged in many ways because it has very high level of poverty. The state also faces the problems of natural calamity on an annual basis. And, as we all know illness further adds to poverty, it has become the number one cause of rural indebtedness in our country; therefore it is a very serious challenge for the state like Odisha. If state government deliver universal healthcare to its people as one of the poverty alleviation programme, it can improve the life of the people. I believe to be successful in such endeavours; you will have to use technology. Since independence, we have focused on establishing a network of primary healthcare centres which feed into secondary and tertiary healthcare centres but we all know that it has not delivered the anticipated result because we lacked the required manpower to effectively deliver quality healthcare. In our meeting with Chief Minister, we discussed a way to create a public-private partnership (PPP) model where diagnostic units are created at every health location – it could be in a hospital or primary health centre to provide quality healthcare to the people of the state. And, also these diagnostic centres should be manned by local entrepreneurs, which we believe will be a huge job creation opportunity for the state.
We understand our young MBBS doctors are reluctant to serve in rural areas. In such a scenario where do you see the role of technology and telemedicine and how crucial it is for state like Odisha which has one of the largest populations of tribal people?
If a young doctor does not wish to go to rural India then you have to use technology to link rural India to advance centres. We must use technology to bridge this gap and that technology is eHealth. eHealth is about diagnosis, which is very important, as only through proper diagnosis you can deliver cost effective R treatment. An early diagnosis reduces the cost of treatment and will give better outcome. So in our discussion with Chief Minister we discuss the modalities of doing it and how it can also be a huge job creating opportunity to the state. A diagnostic unit manned by local entrepreneurs will create jobs and also the training given to them to use diagnostic will upgrade their skills, which ultimately benefits the healthcare centre. In the case of tribal areas, diagnostic centres can be manned by a tribal person and a basic doctor who belongs to tribal village can work in the diagnostic centre and doctor can be connected to specialist in the advance centres to talk to the patient. If we do not use the technology, tribal people will never have quality healthcare.
What could be the way forward to fulfil the global objectives for India's biotechnology industry?
Biotechnology in India has the huge potential to go global. We have shown it because biotechnologies operate in many fields. India has already become the vaccine capital of the world because of its strong biotechnology base. We have also got the product that we are developing and taking it global such as biologics, insulin, biosimilar and novel biologics. In the area of diagnostic, the devices are becoming very important, the maximum number of start-up companies in our space is in the biomedical devices. And it is very exciting because every biomedical device can deliver affordable diagnostics the world-over. Other aspects of the biomedical technology such as Genomics and Agro-Biotech, Green Technology based on Enzymes and Bio-Fuels are also becoming a big area. Agro-Biotech remained a challenged due to our regulation but it has huge potential for India. So, I think, biotech is already going global. Indian has the potential of playing leadership role in biotech provided that we have all the right policies and regulation that allow us to do that.
In one of your interviews, you said there seems to be a lot of scepticism in country – both from the investor community and from the government when it comes to R&D. Has things improved over the years?
Actually, it is very challenging to do research in India. For example there has been freeze on clinical trials and genetically modified crops, so when you have regulatory freeze, R&D become very difficult.And, it starts impacting the speed of R&D and companies start looking outside the country to do them. However I believe slowly but surely these things will get resolved.
Isn't unfair for the government to expect Industry to invest in early stage research rather than focusing on exciting projects and then commercialise them? 
I think government is actually helping companies in early stage research. In fact, I must say in India, DBT and DST is helping nascent industry to invest in early stage R&D. But the one who is not helping the sector are venture capitalist. They are finding it risk averse because of regulatory unpredictability. Unless we create a regulatory environment where these companies can take innovative ideas to the market, we are not going to see enough investments.
You are an icon to whole of India and especially to women. What challenges do you see when a women try to embark on the path of entrepreneurship?
I think women are trapped by their own diffidence to take on challenges. They somehow believe that they are not capable of doing certain things. This is nothing but the challenge of their mind. They have to break free from that mind-set, the moment you break free, you realise – it is not that difficult. Lot of women has succeeded, look at banking sector which is very tough to manage but in India, women are leading these banks, no other country in the world have so many banks headed by women than the India.