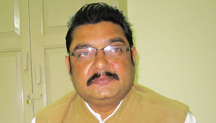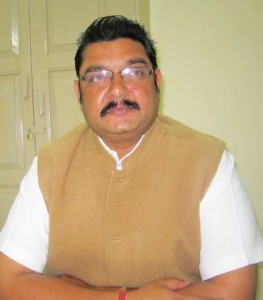 Pratap Keshari Deb,  Minister of State (Independent), Food Supplies & Consumer Welfare, Employment & Technical Education & Training, Information Technology, Government of Odhisa.
"My fundamental principle is that one should 'First Deserve then Desire'. Firstly, my government is building up a base of technically educated youth, proper infrastructure and then we will welcome everybody to invest so that by the time those investments come in we are prepared to receive them," says Pratap Keshari Deb. In conversation with Kartik Sharma
Today Odisha is regarded as one of India's fastest growing states. What is your vision for bringing development to Odisha?
Odisha is one of the fastest growing IT destinations in the country. We have divided the IT development in some stages. We are giving first and foremost importance to build a technical knowledge base at the grassroots level immediately after schools, ITI, Diploma engineering, engineering, as well as the management education. Secondly, we are introducing Information Technology (IT) in a major way into governance so that people get accustomed to it. Today almost all the departments are using IT in some or the other way. The whole process of this development started since 2006. We will be drawing curtains in 2014 and by 2015-16 we will take a giant leap in the course of IT development in the state.
Please tell us about the new ICT Policy in the state. How will this policy help Government to develop a well planned, robust and futuristic IT architecture in the State?
We had an ICT policy since 2002-03. This policy has given us immense dividends in last 10 years. Through this policy we have created an economy of more than Rs 2200 crores. In hardware sector about Rs 500 crores were generated in the last decade. Now with the new ICT policy, which we have created in 2013, we aim to take a big leap in coming 10 years. The New ICT policy is basically meant for the development of upcoming entrepreneurs. This will help these entrepreneurs to setup IT & Electronic hub in Odisha. It will have threefold benefit to the state. Firstly we will get revenue coming in the state. Secondly, there will also be creation of lot of jobs. Thirdly, it will change the entire working system and the mindset and outlook of the state. This is our basic threefold strategy behind the new ICT policy.
What is the Government's strategy for the development of IT investment in the state? Please tell us about some steps being taken for facilitating growth in new areas of IT/ITES.
For encouraging IT investment in the state we have tied up with STPI (Software Technology Parks of India). Initially we had one Infocity, which was the IT hub. Now we have expanded to two mare such Infocity projects in the vicinity of Bhubaneswar town. These two are going to be the nodal hub. We have selected four regional centers. Shortly we are inaugurating the STPI and Government of Odisha joint venture in Baleswar District. So now these sub stations like Balswar will be joined with the main hub in Bhubaneswar. This is how the growth process will pick up the pace and lead us to take big leap in 2015 as all these things are targeted to be completed by 2014 and 2015 start.
Government of Odisha has carried out many successful e-Governance initiatives, like Janasevakendra (CSC) and e-District Pilot. Please tell us about the e-Governance initiatives being taken and their importance in the development of the state.
We have introduced e-Governance in almost all the government departments. Services like transferring of benefits to students, issuing of birth and death certificates in municipalities, movement of food grains from one depot to another depot and many other services are online. And for the first time we have started e-Procurement of paddy crop in three blocks. In other general administration centers also we have moved ahead in terms of brining IT at forefront. As of today the entire government capital gets transferred online to all the district, block and Gram Panchayat headquarters.
Odisha is seeing good response as far as education is concerned. A lot of new institutes are opening up. How do you perceive these initiatives and what are measures the government is taking to usher in more universities in the state?
Initially we had Biju Patnaik University of Technology (BPUT) as one major institute. However, now we planning to diversify. From the government side we have taken initiatives to open educational institutes in all blocks, diploma education in every district. We are trying to cover the regional imbalance in the existence of engineering colleges as far as possible. We have increased seats in government institutes and planning to increase more seats in engineering as well in diploma and ITI level. This year we have slated to spend about Rs 500 crores for this cause.
What are the steps being taken by the government for ensuring that there is adequate skill development of the youth of the state?
Initially we started the process of skill development on our own in 2006, through the State Skill Development Mission. The basic idea then was to have a base of technically educated people in the state because for development you have to have a skilled worked force mainly in the form of technically educated youth base. So the mission was first aimed to create awareness about education, impart technical education and bring out people capable of self employment. From 2010 onwards Government of India also started such mission in form of National Skill Development Mission. After that budgetary provisions started coming from Government of India and Odisha both. From 2011, onwards we have gone on the mission mode and now we are tying up with various companies and service providers and diploma centers imparting training linked with placement opportunities. Around 35 thousand students have been placed directly by us. There are other placements done by private companies as well. By 2016-17, this mission will have a major role to play in the state.
Please share your vision with us regarding the development of education in the coming years. Please share your thoughts on the future of ICT in education in the state of Odisha.
The idea of promoting more IT oriented education is also there on our cards. We are in talks with Microsoft and other key players to include modern IT curriculum in Higher, Technical and School education. If the whole system is integrated then definitely the end product will be excellent. However, this is still in the discussion stage. Nothing concrete has been moved as yet.
Odisha is rich in natural resources, it also has a large pool of trained youth. Do you think the State has the potential to develop into a larger business centre?
I see Odisha as a very bright destination for investment in future, because we have surplus power, water and land. The other states that have taken the initial leap into the IT sector, states like Haryana, Punjab, Bangalore, Chennai and others, are running short of power, water and land. So, I believe that the next hub is Odisha. My entire preparation is for that. My fundamental is to 'First Deserve then Desire'. Firstly, my government is building up a base of technically educated youth, proper infrastructure and then we will welcome everybody to invest so that by the time those investments come in we are prepared to receive them. Once we strengthen our own base then we will invite more and more companies from private sector to join in the bandwagon of development of Odisha and that is how we will take the leap and there will be no looking back. Our primary responsibility is to have our own work force because there is no point in creating IT hubs and let people coming from outside taking the jobs and youth of Odisha sitting jobless. Now we have reached at the stage where for instance if 500 jobs are created in the state then at least 200 of them will be taken up by Odisha youth.