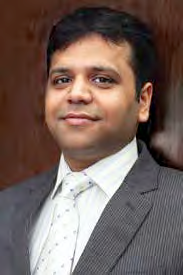 Rahul Agarwal
Founder Director, Ideal Insurance Brokers
Pvt Ltd
Please give us an overview of the operations of Ideal Insurance Brokers.
Ideal Insurance Brokers Pvt Ltd is an Insurance Management company providing Insurance Based Risk Solutions to both – individuals and businesses. Having an "Insurance Broking" license, we can deal with every insurance company and offer entire range of insurance products – Heath, life, Fire, marine, infrastructure, credit, etc. The company is headquartered in Kolkata with a presence in major Metropolitan cities like Mumbai, Pune, Bangalore and New Delhi.
What is your strategy for delivering such niche insurance services?
As an IRDA (Insurance Regulatory and Development Authority of India) licensed consultant we have tie ups with all the insurance Companies of India – Public or Private, life or General. We are the leaders in delivering niche and customized insurance services and solutions to the clients. Ideal realised that in the current market scenario clients want products and services provided by professionals with deep expertise in their industries and local markets and should be built around their unique needs. Hence, we manage the clients Insurance Portfolio by providing them expert guidance, customization, cost effective products and help with easy and speedy claims settlement during the time of reimbursements
Apart from the business activities what steps have you taken to stay connected to the society?
Ideal is a very active Social Citizen. We strongly believe in giving back to the society and have regular activities for the same ranging from Planting Trees, Visiting Old Age Homes, Building Schools, Contributing to Free Hospitals, Blood Donation camps, etc. Recently, we organised one of the largest blood donation camp on the occasion of our 8th Anniversary at all our branches across India. The camp was a huge success and Ideal Insurance managed to collect 700 units of blood in a single day.
Follow and connect with us on Facebook, Twitter, LinkedIn, Elets video