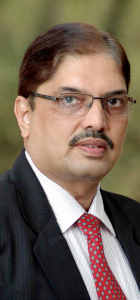 Dr Vishwas Mehta
Joint Secretary, Ministry of Health & Family Welfare
Government of India
The Indian government has been playing a stellar role in the healthcare space. Please share with us your vision for making India healthier through improvements in medical education.
India is one of the youngest countries in the World. The country is home to more than 54 crore people who are below 25 years of age. This demographic dividend can be an asset if they are properly educated, skilled and healthy, but if the young population is illiterate, unskilled and unhealthy, then the same demographic dividend becomes a liability. So the focus of the government has to be on providing education and skills to ensure accessible and affordable healthcare to all the people in the country. Therefore, NRHM was launched in 2005 to bring about an improvement in health parameters with focus on Primary Health Care particularly in Rural Areas. The basic purpose of NRHM is to ensure quality of good accessible healthcare in rural areas, where there is severe deficiency of Human Resources in healthcare.
It was seen that even after 50 years of our Independence, the basic Health Parameters like the Infant Mortality Rate (IMR), Maternal Mortality Rate (MMR), Total Fertility Ratio (TFR), etc. in India were quite poor compared to most countries of the world.
What measures are you taking to ensure that the rural areas have access to doctors?
The problem is that most doctors do not want to serve in rural areas for several reasons, some genuine some not so genuine. The incentives for rural posting have also not worked so far. So, recently Medical Council of India (MCI) has announced compulsory rural posting for doctors. Every doctor has to serve in Primary Health Centers for at least one year before he becomes eligible for the PG degree. Many doctors have protested against this decision and States have mixed response to it but it is not easy to implement this decision. How do you implement this in the states like Arunachal Pradesh, Nagaland or Andamans, where there are no medical colleges? Almost 65% of all medical colleges are concentrated in Southern & Western India, which means more graduates to be deployed per PHC in these States. But doctors' deficiency is acute in North, Central India and North Eastern States, where PHCs are located in remote, difficult areas but we do not have enough medical graduates passing out from these States.
However, one thing is clear those choosing to work in this noble profession will have to give one year of their life to work in rural India in the National Interest. Either they do it willingly or else Government has no choice but to make it mandatory in overall public interest. At times when the students graduating from Indian colleges go abroad; at least they owe one year of their life to their home country and to the society they belong.
There is a huge gap between demand and supply of human resource in Indian healthcare? What are the government's plans to overcome this challenge?
As far as Human Resources in Health is concerned, the trend all over the world shows it is difficult to bridge the gap between the demand and supply. Currently we are producing fifty thousand medical graduates from 387 medical colleges in the country. Out of these twenty three thousand are specialists. World Health Organization (WHO) has mandated a Doctor Population Ratio of 1:1000, which means one doctor per thousand of population, whereas our current ratio in India is about 1:1700.
To bring this ratio to 1:1000, we need double of this number to provide healthcare to everyone, which is indeed a very difficult task. It will take many years for us to create so many doctors at current rate of an average of 20 new medical colleges being added every year in Government & Private Sector. At this rate, even if we are adding 100 new medical colleges in next five years with investment of millions of rupees, we will still not be able to produce more than 10,000 doctors whereas we need five times more. Unlike engineers, it takes about 5½ years to create a MBBS Doctor and at least 9 years to create a Specialist.
Moreover, our current medical education is urban centric and hospital centric, which creates Doctors for Hospitals in towns & cities and not for Primary Health Care needed in rural India.
---
Medical education in India is known for its quality all across the world
---
The distribution of medical colleges and services is quite uneven in India. What is government doing to address this issue?
Yes. There are vast regional disparities and we have seen that Southern States have better health parameters than North; primarily because States like Andhra Pradesh, Karnataka and Tamil Nadu have more than 40 medical colleges each while there 65 percent of districts, i.e. 422 out of 644 districts, mostly in North and Central India, which do not have even one medical college. So, we are going to concentrate on such underserved States and Districts and financially support them to upgrade their Districts Hospitals into Medical College. This will improve quality of health care services in under-served areas.
What is your strategy to open medical colleges in the districts that already have government hospitals?
MCI norms require minimum 300 beds to start a Medical College into 50/100 MBBS seats. A majority of District Hospitals in India have bed capacity less than 300 beds, so we are going to first concentrate on those District Hospitals with 250 or more to increase their bed capacity to be eligible for setting up a Medical College. Government asked MCI to relax norms and they have agreed to allow establishment of Medical Colleges in two pieces of land 10 kms. apart. So, this will facilitate States to upgrade District Hospitals to upgrade into Medical Colleges with Hospital in one piece of land for clinical studies and teaching facilities, hostels, labs, library, etc. in second piece of land 10 kms. apart. Planning Commission has already accepted this proposal in XI Plan and financial approvals are in final stages now. This will provide a big boost to expansion of Medical Colleges in country. Fact remains that it is far more difficult to set up a new Medical College with new Hospital than to upgrade an existing Hospital into a Medical College.
How can modern solutions from ICT help in addressing the issues related to lack of resources in healthcare?
Telemedicine can bridge the huge gap between the demand and supply in the health services. National Knowledge Network (NKN) has already started providing 100 mbps and above broadband connectivity to all major educational institutions in the country.
I understand that more than 100 Government Medical Colleges have been provided nodes by NKN already. We have initiated a project called "National Medical College Network" which will provide interconnectivity linking all the Government Medical Colleges in the country for Tele-Medicine, Tele-Consultation, m-Health and Continuing Medical Education (CME). SGPGIMS, Lucknow as National Resource Centre-cum-RRC will provide the leadership and will also help in setting up five regional centres to cover the Government Medical Colleges in the entire country. Once established, Tele-Consultation will also help Doctors sitting in remote areas to consult the Senior Specialists, providing better access to health to common man.
What is your view on PPP model that is being adopted for the speedy launch of many government initiatives? Can it be beneficial for development of better healthcare infrastructure in the country?
Public Private Partnership (PPP) Model has not worked very successfully in the Health Care Sector. Somehow, the Private Sector feels that Government is not efficient and cannot provide good quality of Health Care Services. The Government on the other hand sometimes mistrusts Private Sector thinking that they work only for commercial purposes. It is possible to develop the synergy between the Government and Private Sectors in certain areas like diagnostic services. Similarly, the clinical resource available in Government Hospitals can be used for teaching purposes, provided a successful model is worked out and demonstrated. However, this has to be done at the State-level as demands and needs are different from place-to-place.
Health is one sector where Government's intervention is a must primarily because a very large number of people cannot afford facilities and treatment offered by the private sector. Moreover, private sector is mostly confined to 5000 odd towns & cities, where people can afford to pay for their health services. But the fact remains 70 percent of our population, which is 54 crore people, living in 6.5 lakh villages in India still do not have access to affordable Health Care Services. Any viable PPP Model has to be worked out very-very carefully after looking at all the pros & cons, since it involves dealing with patients and their lives.
It has been observed that a lesser number of students are opting for medical education, as compared to the earlier years. What is your take on this?
Yes. Unlike in the past, students have multiple career options now. Today, we have several occupations that pay very well. So only those who have the passion to work in the field of medicine would get into the medical services, although some do get lured to medical profession for sake of prestige and good status. It takes minimum 8 to 10 years to become a Doctor or Specialist and many more years for a successful career. There is no doubt, however, that medicine is a noble profession and since it deals with the lives of people, the best of the best should go into medicine. We must find out ways and means to attract the best in medicine.
How is IT being integrated in medical education to upgrade the syllabus as per the latest innovations?
wModels for building virtual classrooms is being developed everywhere and IITs are running successfully based on NKN connectivity. Virtual classrooms and Surgical Suites in Medical Colleges will allow students to witness surgeries being performed live in operation theatres. Instead of learning from books alone, we can see three dimensional computer simulation models, which can be extremely useful in subjects like anatomy, surgery, etc.
Several technologies are available to facilitate learning but unfortunately our regulators have not incorporated them in the curriculum of medical education. Some are of the opinion that technology can replace teachers in classrooms, which is true to some extent as far as theory classes are concerned and support for practical suites learning before getting exposed to real time on site practical training. I am personally of the opinion that modern advancement in Information Technology should be used to integrate with the general curriculum of medical education for enrichment of the syllabus.
What is your message for all those who are involved in health services?
We have to maintain high standards for delivering quality health services by producing qualified professionals. In our bid to deliver greater quantity, the quality of service should not be sacrificed. On an average, the number of seats available in medical colleges is 250 seats per college. However, it is very difficult to teach a class of 250 students. If we increase the number of seats, the quality of education imparted will certainly be affected.
Medical education in India is known for its quality all across the world. Lack of human resources cannot be solved by exponentially increasing the number of medical colleges. Those who are not passionate about this profession should not take it up. The country deploys a lot of national resource in the making of a doctor, so doctors should feel indebted towards the society they come from and must contribute their best to serve humanity instead of going abroad for lure of money and better opportunities.
At the same time, we must stop looking at Doctors for all problems concerning public health. We should develop a Public Health Cadre including a middle level Health Service Providers or Community Health Officers (CHOs) who can be specially trained to take care of common ailments like common fever, diarrhea, vomiting etc. These CHOs are not doctors but can be very effective as the first point of contact between people and doctors in rural areas, where today people have no option but to depend on quacks. Right now, there is no one to take care of people's health in rural areas except ASHA's and ANMs working in villages & Doctors working mostly in towns & cities. Young talented boys and girls with science background and belonging to rural areas can be trained to be middle level health service providers or CHOs in district hospitals and redeployed in sub-centres and PHCs in rural areas of the same district. Even mainstreaming of AYUSH and empowering of Nurses to work in rural areas can be tried successfully. Ultimately, people living in rural areas deserve to be treated by trained health professionals instead of quacks.
Follow and connect with us on Facebook, Twitter, LinkedIn, Elets video