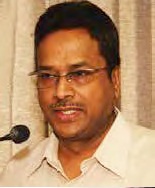 Dr Darlie O Koshy,
Director General, ATDC (Apparel Training & Design Centre)
Please give us an overview of the work that ATDC is doing?
ATDC has emerged as India's Largest Vocational Training Network for the Apparel Sector with over 150 ATDCs including 25 ATDC Community Colleges and over 150 ATDC- SMART Peripatetic Centres and Skill Camps at present in major Apparel clusters spread across 20 states. We have been appointed as the nodal agency by ministry of textile to spearhead the pilot projects related to skill development. We had a target of 48,000 people to be trained within two years, and we have already trained more than 50,000 people.
What kind of response are you getting from different states?
Our experience with the government have been fantastic, we have been able to open centres across the country. Five states, Odisha, Bihar, Rajasthan, Chhattisgarh and Tamil Nadu, have done exceeding well and have trained over 5000 people over a period of one year. The other states are also offering positive results.
Are you satisfied with the research work being done in textile sector for product innovation?
The contribution of Indian industry in research and development (R&D) is estimated to be less than two to three percent, and that is mostly in pharmaceutical and automobile sectors. Research as you have rightly pointed out, has not been given enough attention. That is why we have set-up first ATDC-JUKI TECH Innovation Centre to strengthen the Apparel Industry, especially the SMEs. Our aim is to make it easier for the companies to adopt new technologies.Textile Industry
What is your view of the kind of attention that you are getting from Indian designers?
After set-up of NIFT in 1987 and economic liberalisation policy of 90s, things have changed. We have started focusing on textile and fashion. Almost all the designers are doing a great deal to promote Indian textiles. There are many designers who on focus on Indian fashion. Things have changed because today Indian designers know much more about the Indian fashion and textiles.
Follow and connect with us on Facebook, Twitter, LinkedIn, Elets video