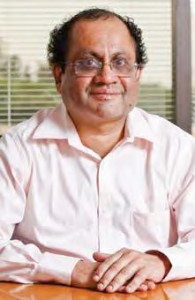 C N Raghupathi
Head, India Business Unit, Infosys

"Infosys has been processing tax returns filed online by Indian citizens since 2008. Till February 2013, the company had successfully processed more than 30 million tax filings and related refunds." says, C N Raghupathi, Head, India Business Unit, Infosys. In conversaton with Sruti Ghosal
What is your view of the overall e-Governance scenario in India?
I think the term e-Governance is little outdated. Ten years back, e-Governance would have been a very apt word, but today it is no longer relevant. This is because today e-Governance has become a very broad concept, one that covers every aspect of development. So in my opinion, e-Governance can also be referred to as a citizen service. Today large numbers of government departments are using IT to bring efficiency and transparency in their working.
Please provide us with an overview of the work that Infosys is doing for bringing more technology to the government departments?
We are working with many government departments. For instance, in the Income Tax department we have done lot of technology implementations. Infosys has set up an IT-CPC, a centralised processing centre for all IT-related processes where all the filed returns are directed, validated, scanned, digitized, processed, and printed. The TDS facility processes more than 400 million tax deduction submissions filed by nearly one million entities annually. This, as you know, has resulted in significant reduction in cost. Now more people are filing e-returns. Refunds are being issued within three months of tax filing. A call centre has also been set up for answering tax payer queries.
How secure are mobile wallet transactions?
I would like to tell you that Infosys WalletEdge is a highly scalable platform. It is capable of supporting millions of transactions annually in a secure environment. Delivered through a private Cloud, it creates a comprehensive shared services framework that allows members of the ecosystem to process payment instructions seamlessly and cost efficiently. Also Airtel ensures that transactions are done through authorised retailers. Every transaction has to go through various levels of security. This is ensured by the wide network that Airtel has. So far the response to technology is good; but the issue here is not technology, it is trust. Few other mobile players are also coming up with similar products. But there is ample room in the market for everyone to grow.
It is difficult to do business with the government because there is a cumbersome process for getting clearances, etc. What are the main challenges that you face in executing e-Governance projects?
The common challenge that every private company faces is related to lack of understanding. The truth is that understanding the government is not an easy task. So when huge projects are allocated to the private companies, they have to understand that for the government the key performance indicator can be different. A government project can be highly transformational; it often requires that the government employees pick up the knowledge of new technological systems. Another major problem in the government sector is that the government lasts for five years and the head of most departments lasts for around three years, so any change at the top can lead to confusion.
You have partnered with Airtel on the Mobile Wallet project. Please tell us about it.
Large section of Indian population is still unable to access banking and other financial services. The total number of rural banks is very small. In my opinion, mobile based systems are the best way of providing financial services to much larger section of our population. Infosys has already developed the system called Infosys WalletEdge, which is a mobile commerce platform. We have joined hands with Airtel to bring state of the art mobile banking facility to the country. Under this partnership, Infosys WalletEdge will enable Airtel's mobile wallet service to support cashless payments and settlements needs of diverse customer segments. Today Airtel money is the biggest electronic wallet in the country.
Follow and connect with us on Facebook, Twitter, LinkedIn, Elets video