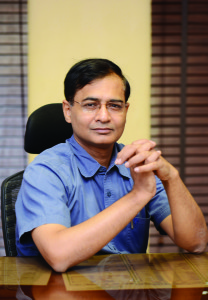 Dr Neeraj Mittal
Joint Secretary (Marketing), Ministry of Petroleum
and Natural Gas, Government of India
[LPG consumer de-duplication prunes subsidy by `1500 crore annually]
You have taken several online initiatives to bring more transparency and efficiency in the management of LPG cylinder distribution. Please provide us with an overview of the work that has been done in this area.
We have taken several initiatives to bring about transparency in world's largest supply chain, which delivers more than three million cylinders every day at consumers' doorsteps. We started off with a transparency portal in order to reduce information asymmetry between the distributor and the consumer. The portal displays information the number of LPG cylinders that are being distributed to each consumer along with booking and deliver dates. It provides information regarding cylinder distribution. Consumers can monitor pattern of LPG usage, LPG booking status, LPG refill history and place request to surrender their connection. From the purpose of social audit, one gets access to data regarding consumers with highest consumption pattern, the subsidy availed, etc. One can filter data by consumer number, consumer name and by distributors' name.
The LPG market is a near monopoly and the portal is being used to bring about limited competition through consumer rating of distributors – this has empowered the consumer for the first time. Over 50 percent distributors have been rated by consumers so far on five parameters. They can now compare the rating of their distributor with that of other distributors in the area. Another consumer empowering initiative was to make it possible for them to register complaints against deficiencies. With the launch of DBTL, the portal now also provides facility to check Aadhaar linking status and cash subsidy transfers into the bank accounts.
The Government of India has launched the DBTL scheme under which subsidies are paid directly into the bank account of consumers. Please tell us about it.
Direct Benefit Transfer for LPG consumer (DBTL) is one of the largest cash transfer programmes in the world. It has been launched with the aim of ensuring that the consumer entitlement of LPG subsidy is not siphoned away. After its success in 20 pilot districts, Government of India has decided to extend the DBTL scheme to 289 districts by January 2014 in phases depending on Aadhaar penetration. Around 90 million households, across half the country will get covered by DBTL. The scheme has already covered 23 million LPG consumers and `330 crore subsidy has been transferred through eight million transactions into the bank accounts of the LPG consumers.
In rural areas people often face problems in getting their LPG cylinders in time. What steps are you taking to reduce the time that it generally takes to supply the refills?
Earlier there was no system to rate the distributors who are responsible for distributing LPG cylinders to the consumers. But now we are in a position to rate all the 12,000 distributors in the country, based on their cylinder delivery data in the Transparency Portal. They are rated according to the transaction data, which is separate from the consumer perceptual rating described earlier. What cannot be measured cannot be improved – this maxim has been proved right in this case. A distributor is entitled to five star rating, if he distributes 85 percent of the cylinders to the consumer within two days. When we launched this rating, only 30 percent of the distributors had five star, but now more than 50 percent of the distributors have five star rating. This has brought a significant improvement in the timely delivery of cylinders in the entire country, including rural areas.
Has the transparency portal led to reduction in the diversion of LPG cylinders?
Of course. The portal has become a powerful a tool for social audit of all domestic LPG supplies. Today the domestic consumption of LPG has fallen drastically, and simultaneously there is growth in consumption of commercial and auto LPG signifying reduction in diversion. We have cancelled one billion worth of LPG imports this year, due to fall in demand for LPG.
Aadhaar will play a seminal role in enabling various government departments to verify the intended beneficiaries of various government schemes. But duplicate LPG consumers have already been identified and removed by you. Do you think DBTL and Aadhaar initiatives will help in improving the scenario further?
We identified 25 million suspect connections in a customer base of 120 million by executing a customised and sophisticated software algorithm on Param Yuva, CDAC, Pune. 6.3 million of them failed to prove their authenticity, and these connections were blocked thereby saving subsidy on five crore cylinders consumed by them every year . This single initiative saved `1,500 crore of subsidy annually. DBTL and Aadhaar based deduplication will lead to further identification and removal of suspect entries. We are already able to find around 0.1 million connections that are duplicate in the DBTL districts.
The launch Schedule for DBTL
Phase
DBTL launch on
Number of Districts
I
Over
 20
II
Over
 34
III
1 October 2013
 44
IV
1 November 2013
 46
V
1 December 2013
 40
VI
1 January 2014
 105
TOTAL
 289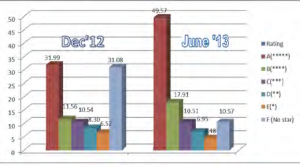 What new steps are you taking to bring about consumer choice in the LPG distribution system?
An inter-company consumer portability system for LPG will be launched shortly. With this in place, if for any reason, one is dissatisfied with his LPG distributor, then he will have the option of moving his connection to some other distributor of any oil company in the neighbourhood. This will empower the LPG consumer immensely.
These days many people are have started getting PNG connection on their homes. Will subsidy be provided to PNG users also?
As of now there is no subsidy on PNG. Users who opt for PNG have to surrender their cylinders at the time of getting their PNG connection. But now a policy change, that will allow users to keep one market priced LPG connection with the existing PNG service, is under consideration.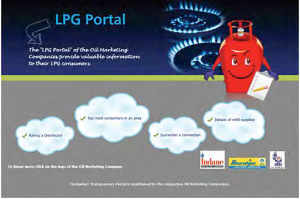 For DBTL, what are the requirements from consumers?
In order to avail transfer of cash subsidy into the bank account, Aadhaar number of the LPG consumer has to be linked to the LPG consumer number and bank account of the LPG consumer. Three months grace period from date of launch is being provided to the consumers for getting their Aadhaar number linked to their bank account and LPG consumer number. During the grace period all consumers outside DBTL continue to get LPG cylinders at subsidised rate. All LPG consumers should obtain Aadhaar number and link it to their LPG consumer number and to their bank accounts, if they wish to avail of the LPG subsidy.
Finally, in your opinion what has enabled the successful rollout of the DBTL project? DBTL is not merely a project. It represents a paradigm shift in LPG subsidy disbursement. Its successful implementation has not only required widespread deployment of IT but also to unflinching commitment from the Government at the highest level, excellent team work, effective change management, extensive business process re-engineering, deep stakeholder involvement and above all a deep sense of dedication by the OMC teams
Follow and connect with us on Facebook, Twitter, LinkedIn, Elets video