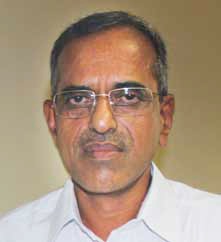 R Damodhdar
Secretary, Legal Affairs,
Government of Andhra Pradesh
"Technology catalyses hassle-free communication, transparency and accountability, and leads to good governance," says R Damodhdar, In conversation with Mohd Ujaley
You have worked as a Session Court Judge. Tell us about your experience.
The responsibilities of a Judge and a Secretary of Legal Affairs are totally different. As a Sessions Judge, you dispose civil and criminal cases. However, a Secretary of Legal Affairs is statutory post where the District Judge is deputed to provide legal advice to the government departments in the state. The Law Department is an advisor to all the departments on legal issues. Unlike other departments, we do not initiate a programme or scheme. We only advise them within the four corners of the Law, whenever asked by any government department. As far as transformation is concerned, I have enjoyed my responsibility as Session Court Judge and the assignment of Legal Secretary is equally satisfying.
Few prosecutions were withdrawn, related to crime of agitation and demand for bifurcation of the state under Section 321 of the Code of Criminal Procedure, 1973. That decision was equally appreciated and criticised by few quarters. How do you look at it?
That type of reaction is quite natural.Basically it was a policy decision of the Government of Andhra Pradesh which was implemented. It was not a decision of a particular department.The government can implement a policy provided that they do not bypass the law.Whenever, we have been asked for an advice, we strictly follow the provision of the law.
How challenging is the task of Legal Affairs Secretary, especially in the light of turmoil in the state due to various issues?
The turmoil outside has nothing to do with our job. We fulfil our responsibility of giving dvice to government departments within the four corners of law and there is no question of divergence form law. We are not affected by what is happening outside. We are very much focused on our job.

You are a commerce graduate and later on you did LLM. How do you see legal education in our country today?
A lot of things have changed today. The demand of legal education about 50 years back was quite different from what it is now. I feel legal education in our country has made tremendous progress, but there are few areas where we need to focus on. The scope and opportunities for law graduates have increased in modern time. Private companies and  big corporates are engaging young law graduate from universities. One thing I have noticed is that there is a big competition among law colleges in the country. A large number of them are excelling and also assimilating the latest development in law. Today, the real challenge and opportunity are coming from technology. It is growing rapidly and law colleges need to catch up with the latest development.
There is huge pendency of the case in our courts. How can it be reduced?
This is a huge challenge in our country and we are adding up pendency everyday. Our law colleges should churn out good lawyers and they should sincerely focus on arbitration. In arbitration, there is tremendous opportunity given to the society, where matter can be disposed of in no time. If you are able to settle the dispute quickly and in a timely manner, it gives the confidence to the people and business community. It also increases the confidence of corporates  for investment in the country's economy.
What is your view of the role that Information and Communication Technology can play for improving governance?
ICTs allow hassle-free communication and transparency and both lead to good governance. Transparency gives wealth and health to the society. Hence, technology is definitely helping the society in getting rid of some of the ailments. For example, we have Mee Seva project which is technologydriven. It directly meets the consumers through kiosks and hence, the middlemen have been wiped out. Technology has helped us to focus on citizencentric service in a systematic way. MeeSeva is one of the examples. There are various other projects and schemes where technology is playing a defining role.  
Follow and connect with us on Facebook, Twitter, LinkedIn, Elets video