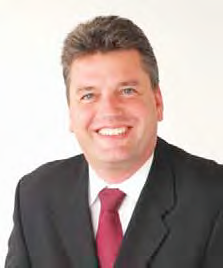 Nick Hawkins
Director, Technology Consulting Group, Polycom
---
"Video collaboration requires sufficient highquality bandwidth, this was a major challenge in the past, but now with the dawn of telecom revolution this problem has been overcome,"says Nick Hawkins. Director, Technology Consulting Group, Polycom. In conversation with Ankush Kumar
---
Please provide us with an overview of how Polycom Video Conferencing solution is doing in India?
We have seen a significant success and a wide market acceptance of Polycom solutions across India in different market segments. Purely from solution prospective, we are pleased to see that full range of Polycom solution have been adopted. Now we are also seeing significant acceptance of our admissive tele-presence that gives premium video collaboration experience. Then there is the wider adoption of mobile devices solution and desktop solutions. The thing is that people these days are looking for a higher level premium experience and that is what Polycom is providing.
Give us an overview of the work that you are doing in the area of e-Governance in India?
In India, 75 percent solutions in the government sector are being deployed by Polycom. We are associated with many varied sectors in the government such as tele-justice and DRDO.Polycom solutions are used for effective e-Governance initiatives for connecting government offices across districts, cities and states in India. The government is looking forward to enhance engagement with its citizens and streamline citizenry services through visual collaboration. We are able to extend a browser based video collaboration interface to enable citizens to have video interaction for core government services.
What do you think are the major challenges in the e-Governance space in India?
It is obvious that high quality video collaboration requires sufficient high-quality bandwidth, which was a major challenge, but now with the advent of cellular networks and 3G and in the near future 4G cellular data capabilities, this problem all set to be resolved. On the technology front, Scalable Video Coding (SVC) is helping to build a robust network. I think, the things which have been a road block in the past are now being overcome with the infrastructural development across India.
What are your key focus sectors in India?
We are successful in a number of areas in India; our key focus areas in India are healthcare, education and manufacturing. Energy also is among the top focus sectors for Polycom in India. Polycom has been able to carve niche in these areas and will continue to expand in the years to come.
What are your views on unified communication for enterprise?
Unified Communications is making collaborations between companies, their clients and employees smarter, quicker and more efficient.Collaboration in the new age enterprises is about working on mobile devices and making use of cloud to enable anytime, anywhere access so that the decision making is simplified and time-to market or service is reduced. Advances in consumer technologies such as the proliferation of tablets and other portable smart devices are compelling the organisations to enhance themselves with advanced unified communication capabilities to facilitate the major trend wave of enterprise mobility. Cloud based UC give employees the tools to collaborate and be productive anytime, anywhere.
Give us an insight into the Polycom RealPresence CloudAXIS Platform?
We believe that the standards-based Polycom RealPresence CloudAXIS Platform is a major revolution in video collaboration. It enables the enterprises to take the video collaborative experience outside the traditional meeting rooms to deliver it on mobile devices and personal computers. Polycom RealPresence CloudAXIS turns the ability to have that rich media interaction into just a browser based hyperlink. This allows us to break down the final barrier of interoperability that enables any organisation to simplify the communication process. Firstof- its-kind software solution brings contacts from all your presence-based applications into a global directory of participants that you drag and drop into a Polycom business-class video collaboration session, allowing others outside your organisation to securely join the conference via their browser with a single click.
Follow and connect with us on Facebook, Twitter, LinkedIn, Elets video