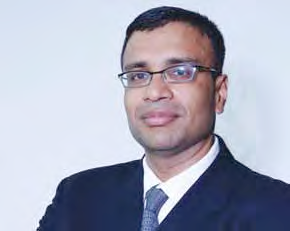 Mathew Thomas
Vice President,
Strategic Industries, SAP
"We empower people and organisations to work together more efficiently and use business insights more effectively to stay ahead of the competition,"
says Mathew Thomas. In conversation with Kartik Sharma
Tell us about some of the key governance initiatives which SAP has undertaken in India?
SAP India is the fastest growing subsidiary of SAP AG, the world's leading provider of business software solutions. SAP has started various governance projects in India. It includes delivery of hardware and software solutions for rural post offices, networking, and core SIP. We are working very closely with Department of Post where in we are providing software solutions for about 1, 55,000 post offices across the country. We are working with TCS which drives innovations at its SAP Customer Competence Center by building transformational business solutions powered by high speed applications.
We have developed software solutions for various electricity boards in the country. SAP has designed billing software systems for electricity boards. There are three major areas which are covered by SAP India. It includes citizen centricity, business development and applications for employee data management.
Please brief us on Tree Census System which was developed by SAP for the city of Pune. Pune is the sixth largest and fastest growing city in India. SAP has developed a mobile platform which captures the key information about the development of trees in Pune. We have completed nearly 80 percent of the entire project. It has helped Pune Municipal Corporation to analyse the number of trees in the city.
Do you think more government department needs such mobility network?
We are currently focusing on education and healthcare. We are working on various projects for the department of family and healthcare. We have developed a mobile application to send various information of vaccination programme to Aasha workers through mobile sms. It effectively saved almost Rs 32 crore annually which was earlier spent to send these information through inland letters.
Our higher education and research solutions help institutions to focus on spending for core areas of education and research. It helps to optimise the available resources. Software designed by SAP helps to find new sources of revenue by reducing reliance on public funding. It improves enrolment and continuity of fee revenue by understanding and focusing on student preferences.
Recently various states governments have distributed free laptops to the students. Do you think it will help in increasing the level of technology in higher education system?
The concept is definitely a good initiative to enhance the quality of technological education. But according to me, mobile technology is far much more useful. One can imagine that there can be billions of mobiles in a country of 1.25 billion people. It is good to have such exposure but focus should be to enhance remote classrooms. The bigger question is about the sustenance mode.
We can take example of our CSR initiative Lakshya Project. It was born out of the desire to help the underprivileged talented section of the country. By the end of the current year, we are planning to touch 100,000 people. We will also distribute laptops and desktops to the respective NGO's all over the country. Project Lakshya enabled us to set up computer labs in the remotest places in the country. Our primary goal is to bond with the society and help to secure the future of the people.
What are the specific focus areas for SAP?
Country's development is basically dependent on two major areas; education and healthcare. We also focus on defense, internal and external security. We provide technology solution to the defense forces in the country. We also target urban management of various cities.
Various public sector units (PSU) are also associated with SAP. We are working very closly with some of the leading PSUs like ONGC, BHEL, SAIL, BPCL, GAIL, and IOCL. We empower people and organisations to work together more efficiently and use business insights more effectively to stay ahead of the competition.
Follow and connect with us on Facebook, Twitter, LinkedIn, Elets video