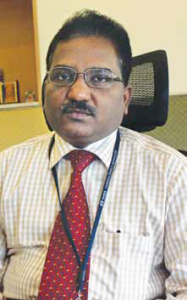 V Rajanna
President, ITsAP (IT and ITES Industry Association of Andhra Pradesh)
"ITsAP is focusing on tier-II cities such as Warangal, Visakhapatnam, Kakinada, Vijaywada and Tirupati to develop IT industry in these areas," says V Rajanna, In conversation with Mohd Ujaley
IT and Industry Association of Andhra Pradesh (ITsAP) was formed in 1991. What have been key achievements of the organisation so far?
IT and Industry Association of Andhra Pradesh (ITsAP) has strong foundation. In fact, 2012-13 was fantastic for us. We could undertake number of initiatives and execute them successfully. The first initiative was to solve some of the issues faced by the industry such power crisis. ITsAP took the lead and initiated a dialogue between power supply board and government of Andhra Pradesh, thus ensured uninterrupted power supply for industry. We have always acted as a catalyst for the growth of IT industry in Andhra Pradesh and with this objective we have taken a number of initiatives. Now we are focusing on tier-II cities such as Warangal, Visakhapatnam, Kakinada, Vijaywada and Tirupati so that industry can see what tier-II cities can offer.
---
"Andhra Pradesh has been the pioneer state in the area of e-Governance"
---
How do you look IT & ITES Industry today in the Andhra Pradesh in the light of slowdown in overall economy of the country?
According to me , Andhra Pradesh has done very well indeed. If you look at 2011-12, exports were `40,000 crore. This represents a growth of 16 percent which is slightly higher than the national average. The state is doing extremely well. The crucial differentiator for the state is infrastructure; for example, it takes only 20 minutes from airport to reach IT sector. We have the longest elevated highway of 11.6 kms in the country and now the metro is coming up. Andhra Pradesh accomodates a good number of talented people.. From past two years Andhra Pradesh has been producing highest number of engineering graduates. Third reason why Andhra is doing well is because collaboration between industry, academia and government.
You are also on the board of APOnline and MPOnline. How has been your experience working with government of Madhya Pradesh and Andhra Pradesh?
Andhra Pradesh has been the pioneer state in the area of e-Governance. If you go to any Mee Seva counter, you can get your birth certificate within 15 minutes if the data is available in the state data centre. Earlier people used to go in the office and stand in queue and it would take three to four days if not 15 days. You can recharge your SIM card; pay your LIC premium, book railway ticket. It is really fantastic. In India getting your birth certificate in 15 minutes is a big thing. The best example is APonline. Today, the success of APonline is being replicated in Maharastra through Mahaonline, MPonline and this is really fantastic.
What is the overall scenario of IT industry right now in the state?
The IT industry of Andhra Pradesh employs 3.2 lakhs in direct employment and another 10 lakhs in indirect employment. While some of the sectors are doing well in terms of employment in the state, you need more companies for manufacturing. The state has huge potential for auto and hardware industry. We can imagine Hyderabad as a country like Taiwan which has witnessed phenomenal progress in IT industry.
Follow and connect with us on Facebook, Twitter, LinkedIn, Elets video