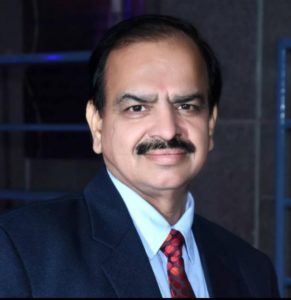 Suresh Chugh
Additional PCCF/Director, Department of Ecology Environment and Remote Sensing, Government of Jammu & Kashmir
"In India the concern for environment protection has not only been raised to the status of fundamental law of land, it is also coupled with human right approach," says Suresh Chugh
Jammu & Kashmir is well known for its pristine environment. What kind of role is the Forest Department playing to ensure that the environment is safeguarded?
You see, the mandate of the forest department in J&K is very large. Our mandate has two main components, one is environment ecology and the second is remote sensing. We are the nodal agency for the state for all remote-sensing projects. For safeguarding the environment, we work by taking we are looking after all the environmental impacts of various processes that are going on to hit the industry, healthcare, pollution and the other part is that we are also creating environmental parks. We have been rehabilitating certain areas where there is lots of degradation. In one case we have rehabilitated the mud that comes out of the project – river valley project – to a single place and developed it into a beautiful park. Similarly, we are creating another park near the river bed, the whole area is wasteland and we are developing environmental park with an educational billboard. It is different from other kinds of park.
What is your view of the status of environment in the State of Jammu & Kashmir?
Degradation of the Environment caused by polluted atmosphere has tremendous impact on our day to day life and amounts to violation of Right to life. In India the concern for environment protection has not only been raised to status of fundamental law of land, but, it is also coupled with human right approach. It is now well established that it is the basic right of every citizen to have a pollution free environment with dignity. Population is no doubt increasing and this is naturally putting more pressure on our natural resources like water, firewood, land and everything else. Despite these factors, it is still a matter of pride for us that we are able to maintain forestation at generally the same levels for past few years. This is a green state. Almost 50 percent of the state's area is covered with forest; beautiful conifer forest exists in large parts of the state. The state is blessed with wonderful climate patterns; we have tropical, subtropical areas here in Jammu and temperate areas in other parts of the state. In Ladakh we have a cold desert. So there is a wide variety in the vegetation patterns of this area.
Is illegal mining of timber a problem in the state? What kind of ICT solutions are you using to monitor the forests in the state of Jammu & Kashmir?
There is illegal cutting of timber in certain pockets. But there is no such organised smuggling. We are taking all the necessary measures to curb the menace. Lots of people have been put under bars under the Public Safety Act and Forest Act. ICT has a very important role to play as far as conservation of natural resources is concerned. We are using IT solutions based on PDAs and other systems to monitor and report on the status of our forests. There are number of challenges. The first challenge is related to the trained manpower that is required. Mostly we train people on the job, we also hire people from the outside. We are also giving training to people in other departments. For instance, we are working closely with the Wildlife Department.
---
It is still a matter of pride for us that we are able to maintain forestation at generally the same levels for past few years
---
The Forest Department has also been responsible for building a number of environmental parks. How is it different from Normal Park?
There is fundamental difference between the Normal Park and Environmental Park. The normal park is any plain area with a sheet of grass. The same thing is also there in the environmental park, but there is also an additional factor. An environmental park also has an educational component and a rehabilitation part. We are using the waste land for creating environmental parks. But if the land you have is a riverbed, then it is difficult to grow plants in that area. A riverbed can be full of boulders. It is difficult to rehabilitate such an area. Similarly, if there is pollution because of dump of river valley projects or there is tunnelling going on and they are bringing out the mud then you have  to use that mud somehow. You need to store the mud in an area where it does not come in contact with the water bodies. Later on you can use the mud to develop a park.
These days there has been rise in awareness about environment in people. Do you see similar trends regarding environmentalism in the state?
People are very conscious here because around 60 percent of people are directly concerned with the agriculture and forestry. They are growing trees on their own. Lots of trees are coming up even on the agriculture lands, so agro forestry is doing very well in the state. The environment is also being helped by the fact that the state is blessed with pleasant weather. Yes in certain areas  here are the problems. Recently we had done a study on pollution in Jammu Tawi River. The water in Dal Lake is not as clean as we would like it to be. Now we are trying to build STPs (Sewage Treatment Plants) all around the lake to prevent dirty water from entering it. Dal Lake is the most iconic part of Srinagar, without Dal Lake you cannot imagine Srinagar. Lot of construction activity, like construction of roads, is also taking place in the state. We are using GIS based systems to evaluate the impact of such construction.
Your department is also operating a Remote Sensing Wing. Tell us about the tasks being performed by this department. Also tell us about your data centre.
This Remote Sensing Wing is entrusted with the task of generating GIS Database on natural resources for developing efficient Decision Support System (DSS) for sustainable development. This Wing has undertaken about 45 projects assigned by various departments/organizations. Our Data Centre has been inaugurated recently by the CM. It is basically a DST project from government of India on a 70-30 basis. Seventy percent fund will be given by the central government and 30 percent will be given by the state government.
Follow and connect with us on Facebook, Twitter, LinkedIn, Elets video