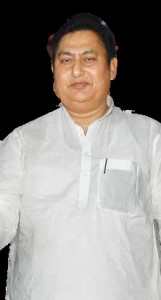 "The cabinet in the Government of Bihar has passed a bill enabling the creation of private universities," says Shahid Ali Khan, Minister of Minority Welfare and Information Technology, Government of Bihar. In conversation with Ankush Kumar"
What kinds of education programmes are you running for minorities in Bihar?
We came into Government in November 2009 and during that time the situation of minorities was miserable in terms of education, as there was no educational facility. We didn't have any environment for studies. The Sachar Committee report has also revealed that in Bihar minorities are below the Schedule Caste in terms of education. Hon'ble Chief Minister has a vision for providing better education facilities to the minorities. We started the scheme for donating money for the 10,000 matriculations then. In the first year of the scheme only 2,627 students in the entire state of Bihar qualified. After six years, the tally has increased to 20,225. This by itself is a proof of the fact that an education environment has been created. Even in Madarsa we have started several education programmes which include raining of students through computer. We have also initiated computer training programmes for parents who are illiterate. Bihar knowledge society has been very helpful in the overall development of the minorities. The overall ercentage growthof education has drastically increased as even parents have now realized that education is necessary for them.
There is still a lot of work to be done in the education of the girl child. What is your Government doing in this area?
The environment has changed as we have started from ground zero but now we are in a better position. If today a person after doing matriculation becomes teacher then we think that his son will be at-least a lecturer. If you are working for minorities then you must realise that the change will not come instantly perhaps
it will be seen in the next generation and only
then you will be successful.
Once Bihar was known as a state that gave the most civilservants to the country but don't you think  these civil servants have not done much for their own state?
Things are generally becoming better. If you go to cities like Pune, Bangalore, Hyderabad, you will find that the majority of the migrants are from Bihar. Most of the coaching institutes have teachers from Bihar. This means that their parents interest to educate their children has also increased. Our Chief Minister Nitish Kumar is also an engineer, he has always focused on education and therefore he has been leading by example. Students see him as their role model which is a big motivation to them.
What are the major schemes that the Government has initiated for minorities in past few years?
We started with the minority scholarship schemes and after seeing the result we decided that whosoever girl will come first we will give her scholarship. This has increased the rate of education among the girls. Other states have now started distributing bicycles to the girls, but this policy was first initiated in Bihar. We have been the front runner and whatever good we do for the girls other states adopt the same. We started talent programmes for minorities so the central Government adopted it.
What initiatives are planning to bringing further improvement in the state of education?
We did not have private university in the state. So now we have passed a bill through cabinet to have a private University in Bihar. We started IIT as we had just two engineering colleges, we had only 13 polytechnic institutes and now we are starting one polytechnic institute in every state. I would like to add that the girl students in the state are very bright. With the right support from the government, they can do as well as the boys. In fact, I was taught computers by my young daughter.
Follow and connect with us on Facebook, Twitter, LinkedIn, Elets video