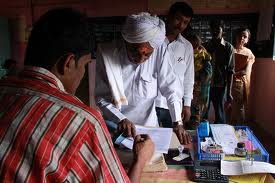 In its bid to promote financial inclusion, a Parliamentary committee said banks should open branches in rural and unbanked areas and treat them as "service centre" instead of "profit centre".
"The Committee in their earlier reports had expressed their view that the rural branches should be considered as a service centre and not merely as a profit centre," Standing Committee on Finance said in a report tabled in Parliament.
"With this perspective in view, the Committee believe that the proposition of brick & mortar branches in sparsely and unbanked areas would still be sustainable in the longer run and thus needs to be pursued earnestly," it said.
The committee, headed by Yashwant Sinha, recommended the ministry of finance to provide necessary support to the banks, PSBs in particular, to open brick & mortar branches in unbanked areas on "mission mode".