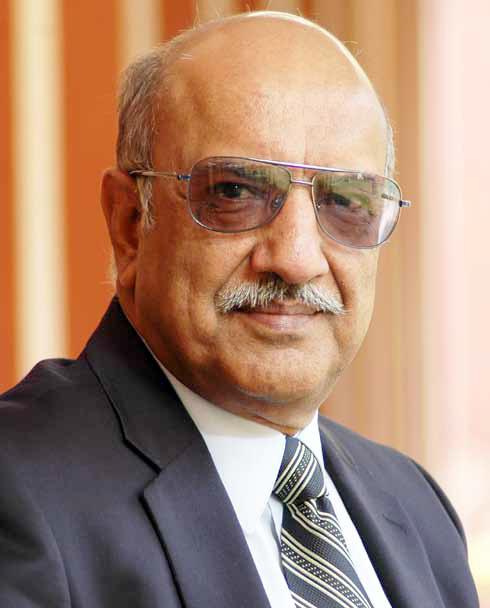 Maj Gen Dhruv C Katoch
SM, VSM (Retd), Director,
CLAWS (Centre for Land Warfare Studies)

"When it comes to developing strategies for winning future conflicts, we have to first of all endeavour to understand the future, only then we will be able to cope with it," says Maj Gen Dhruv C Katoch
What is the mandate of CLAWS? Over the years how far has CLAWS succeeded in fulfilling the vision with which it was founded?
The Centre for Land Warfare Studies (CLAWS), is an autonomous think tank on strategic studies and land warfare. This organisation is membership based and is registered under the Societies Registration Act, 1860. It is governed by a Board of Governors and an Executive Council. It covers national security issues, conventional military operations and sub-conventional warfare. We are looking into everything that is in the open domain. The information that we collect for conducting our analysis, generally comes from open sources like newspapers or books. The Centre primarily focuses on conflicts in the region and military developments in countries within India's strategic frontiers, particularly those in the southern Asian region. Our vision is to join various leading international think tanks in conceptualising different aspects of land warfare, with special reference to India and its extended neighbourhood. CLAWS aspires to attract leading strategic thinkers, defence analysts, scholars and academics and media persons to deliberate on all facets of land warfare up to the strategic level.
What is your view of the security situation in Indian subcontinent? What are the major challenges that the Indian defence forces face?
When I look at the security situation today, I think we are at a period of peace regardless of what it is mentioned in the newspapers. There might be tactical level of minor conflicts erupting at certain pockets of the border areas, but mostly we are at peace. I feel that this stability is going to continue at least till the end of this decade. As a defence analyst, I think the major challenge that the Indian armed forces face is that of budget. India's defence budget has remained reasonably constant over the years, but that is not the case with our neighbours. In case of China, the defence budget has been growing by 10-12 percent. My biggest fear is that by 2020- 2025 periods, the differential will become so large that we might find it too difficult to make up. This is a concern that needs to be factored in. The second concern is related to our own defence industries. We import 70 percent and produce 30 percent of products of our defence requirements. I accept that it is not possible for any nation to produce 100 percent of its defence needs indigenously, but ideally we should be producing 70 percent in our own country and the rest 30 percent we can procure.
Staying on the subject of budget, it is also true that some western countries are spending major part of the defence budget in new technologies, but our budget is being spent mostly on the manpower. Do you think that there needs to be more focus on the technology also?
For cutting-edge technology we already have an institution like DRDO. DRDO is a brilliant institution; it has immense talent. Many brilliant scientists are working with DRDO. Some of their work is truly outstanding. For best results DRDO should focus on cutting-edge technology only, they should not be dealing with mundane issues. The mundane issues can be left to the civil industry that is where the
public private partnership can come. When you look at the space programme or you look at the missile programme, these programmes have been successful only due to DRDO inputs. It is time that we tried to analyse where the DRDO should be, what should be their core focus area, and what kind of technologies they should be focussing upon.
Please tell us about your views on how critical ICT is in enabling success of military missions?
The question is no longer about how critical ICT can be for military missions. It is now a proven fact that ICT is absolutely critical. Without cutting edge ICT, you can't win. The question is, we don't have any alternative. We are doing quite a lot of things. But it is also true that we have a very large border, and to man this large border, we need a large armed force. So it takes lot of money to change things. However, I think it is in the best interests of the nation to start implementing new technologies at a faster pace. When it comes to developing strategies for winning future conflicts, we have to first of all endeavour to understand the future, only then we will be able to cope with it.
These days many nations in the world are facing the prospect of a cyber war being waged. Do you think that India should go in for a cyber force to protect itself from a cyber attack?
I think the talk of cyber command has already been on for quite some time. However, I am not aware of the progress being made in this
direction. But I think in due course of time the cyber commands will come in, there is no other option. The biggest problem with cyber warfare is that in this case the deniability is very strong. In many cases, the nations are unable to confirm where the attack has originated from. Your vital installations get attacked, but you can't take counter action as the origin of the attack is not known. We need to develop the capability of launching counter cyber attacks, once your enemies know that you are capable of hitting back, they will refrain from targeting you.
"For best results DRDO should focus on cutting edge techn ology only, they should not be dealing with mundane issues"
Should we be examining the idea of accessing critical information through handheld systems like PDAs and Tablets, instead of just desktops and laptops? Is there a security risk in allowing handheld systems to access defence related data?
The important thing is that all your classified materials are being processed on standalone systems. In some cases, you even remove the ports, so that no one can plug in any device to download sensitive information. Then there is complete segregation between Internet enabled systems and standalone systems. If such rules are violated, then leakage of information becomes a possibility. But we do have safeguards in place. The leaks happen due to the fact that ultimately human beings make mistakes. The focus of the armed forces is to ensure that the mistakes are kept to a bare minimum. These days we have satellites that can recognise a man on the ground even though they are hovering over the earth thousands of kilometres away. Does that mean that we are moving towards a world where there can't be any secrets? That might not be the case. After all, how can the satellites know what person to look for, how do they know what kind of information what person has?
Is CLAWS taking any stand on the internal threats that the country faces from Naxalites and other such groups?
We have done lot of research work in this regard. Internal security is an area of concern. It is indeed a fact that lot of internal disturbances in the country are being fuelled by our external enemies. Certain nations that are our rivals supply such groups with ideology, funds, arms and information. In my view armed forces should not be involved in tackling of the Naxalites. This is basically a political problem and it should be handled politically. It is a question of Maoist ideology versus Indian ideology of democracy. So we have to take the fight with the Maoists to the level of the ideology. We have to make the idea of Indian democracy more attractive than the idea of Maoist ideology. If you go through our various journals and publications, you will find that CLAWS has been looking at these problems from the angle of ideological issues, economical issues, and government issues and more importantly from the issue rights of the people in tribal areas and the marginalised sections of the society.
Follow and connect with us on Facebook, Twitter, LinkedIn, Elets video