e-Parwana, a recently launched application by the Department of Agriculture, Government of Maharashtra, was awarded at the eINDIA 2012 event in Hyderabad Nikita Apraj, ENN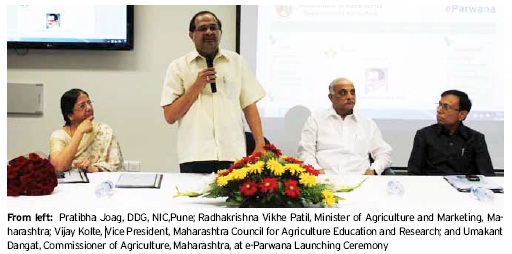 The primary aim of the e-Parwana is to provide hassle-free licenses for dealers and manufacturers of agricultural inputs namely, seeds, fertilizers and insecticides. Radhakrishna Vikhe Patil, Minister of Agriculture and Marketing, Maharashtra, is the main inspiring force behind the application. Considerable efforts have also been made by Umakant Dangat, Commissioner of Agriculture, Maharashtra and Dr. S. S. Adsul, Director (Input and Quality Control), Department of Agriculture, Maharashtra. The application has been developed by Kailash Elekar, Senior Scientist, NIC, Pune.
Not an easy way
The project is mainly targeted at rural areas where internet penetration is much less as compared to urban areas. Majority of dealer license holders are from rural area. Vijay Ghawate, Nodal Officer for the application, says, "Training of the 35 licensing authorities in areas of seeds, fertilizers and pesticides was a big task which was completed in a phased manner and today, all of them are using the application."
Other stakeholders such as dealers, manufacturers and farmers were motivated to use e-Parwana by integrating the service with m-Governance. MahaAgri SMS service provides timely information regarding license validity and application status. Online help is also being provided on the website. Helpdesk at Director (Input), Commissionerate of Agriculture, has also been set up for the stakeholders.
Bridging the gap
The application has brought transparency in the licensing process as the database is accessible in public domain. It has helped to use licensee information more precisely at same time, reducing the time required for license issuance.
Response to the project from rural andsemi urban users is overwhelming. Previously manufacturers and dealers had to travel a long distance for obtaining or renewing their license. It was a time-consuming manual process. Introduction of e-Parwana have eased the things.
Around 6,616 people have applied for license till date and 1,874 licensed are issued online.
Best is yet to come
"The department of agriculture is working on online submission of license fees through an online payment gateway. Implementation of statutory requirements like submission of monthly sales return, inspection and sampling will be done in next few months," says Ghawate.
•     MSR (Monthly Sales Return): This will be implemented in next couple of months. Once implemented, it will become easy to predict requirement of inputs well in advance i.e. before season and accordingly authorities can plan the distribution in advance.
•     Product Information: This system will help farmers get information about agriculture products. Farmers will get information about price, recommendations from manufacturer/producer of inputs. This information will be accessible even from mobiles.
•     e-Lab: The application will be integrated with State Input Testing Laboratories. e-Lab will computerise quality control of inputs (seeds, fertilizers, insecticides). These results will be made available in public domain to help farmers take informed decision.
•     e-Inspector: This application will computerise quality control works such as inspection and sampling. It will help quality control inspectors to get sample results instantly and take action within prescribed timeframe, perform their duties as per various acts, orders and notifications.
The department has created a standard set of documents required for various licenses. While formulating the standard set, redundant documents have been deleted from the essential set. Applicants need to present the documents prescribed in the set.
While e-Parwana is more business-centric, Maharashtra's agriculture department also provides a wide range of consumer-centric online applications with most of the information available in Marathi. Farmers can access information such as market rates of commodities, agricultural statistics and new technologies in the field of agriculture and horticulture.
Follow and connect with us on Facebook, Twitter, LinkedIn, Elets video