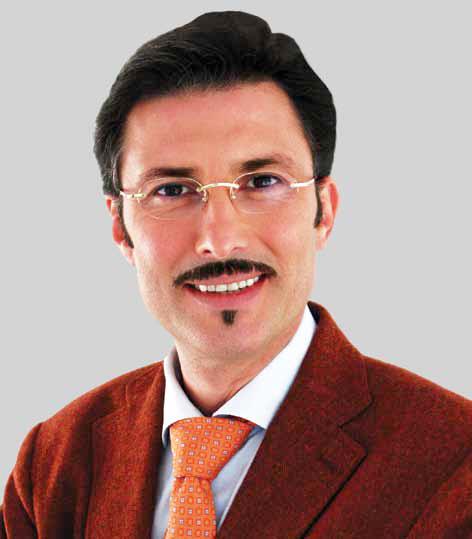 Manuel Villamayor
Director, Government & Secure Identification Segment, NagraID – Kudelski Group

"Today, with the increased mobility, diverse population, internal threats, and technology advancements, the issues of identity and service delivery have become complex. To solve these challenges, NagraID has developed a variety of smart identity solutions," says Manuel Villamayor
NagralID has been a leader in display card manufacturing. How did it begin?
Estalished in 1976, NagraID is part of the Kudelski group. Headquartered in La Chaux-de-Fonds, Switzerland, NagraID has vast experience in micro-electronics and over 20 years of experience in secure contactless technologies. Our unique display card platform solution, also known as the 'e-Service ID' display card platform is helping the government, banks, andprivate industries. For this, we have re-invented the smartcard to provide security, convergence and convenience to citizens, employees and consumers, anywhere, anytime with existingdevices and infrastructures by using a standard landline phone, police or military radio, mobile, smartphone and personal computers or tablets.
Tell us about yourself?
With more than 15 years of experience, I have interacted with governments, security partners, card manufacturers and system integrators to implement secure identification and authentication. I was directly involved on the first 25 electronic passport deployments across the globe.
How do you make your company the leader in ID?
We provide a universal smartcard platform that can be used easily by every citizen across the world, as their 'e-Service ID card.' The platform provides secured identification and authentication system to access multiple service on an anywhere and anytime basis. The access can be achieved without smartcard readers, biometric scanners or point of sale terminal readers.
What kind of benefits does NagraID bring to people who live and work in a globalised world?
First, we allow people to have an identity. This means they exist, have a nationality and become a citizen of the world. Our e-Service ID Display Card Platform helps citizens to interact with the e-World in a secure and convenient way. Armed with NagraID Display Card Platform, citizens have the freedom to use any kind of standard devices as a carrier to do transactions
or payments.
In what way has the ID industry changed during your time here?
Well, lot of things happened and helped us to be where we are today, moving from a product approach to a solutions approach company. For many years, the industry was focused on improving the security and providing electronic ID documents using different technologies like contact or contactless. This required dedicated smartcard readers to allow the  martcards to function. Today, everybody is convinced on the security part, but governments around the world have challenged the industry. They don't want to invest in developing, maintaining and upgrading the smartcard infrastructures. This also requires capacity building of employees and also mass education to the citizens. Hence, the governments are looking at solutions like, e-Service ID display card platform. The platform can work using the existing devices and infrastructures, which is compatible with the  future generations of devices.
How does NagraID see India's technology growth trajectory?
Today, we are in a global market. As an international organisation, we are contributing to Indian companies and industry by sharing our technical know-how and expertise on the latest technologies and solutions. Our motto is to ensure that Indian citizens and consumers have the same rights, opportunities, and access in a secured and easy way to all kinds of services across the country. This new model will ensure that India will have a quantum shift in this domain. The exponential growth of the middle class population will fuel the demand for our new display cards, which ensure a secured identity and access to financial inclusion for creating a strong middle class population in India.
Do you think that the emerging issues of privacy and civil liberties may cause instability in the market?
We need to consider the fact that today 50 percent of worldwide population is under 30 years and these digital natives are pushing the world to move fast towards the age of networking.
People have started interacting on the social media, like facebook, LinkedIn, etc. and everybody is looking forward to security, convergence, and convenience. They want to access e-Services everywhere, anytime… from office, home, on the move, etc. So it is clear that people are actually opening up and using social media to interact beyond the issues of privacy and civil liberties.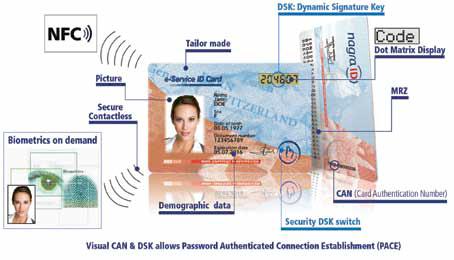 "e-Service ID provides secure identification and authentication system to acc ess multiple services"
What will happen in the area of citizen IDs in the next five years?
Like the case of smartphones few years back, convergence has also started for smartcards. This allows a citizen to use their ID for getting various services using existing devices and infrastructures, and this will be the trend in the next five years.
What is the major challenge NagraID has taken?
One of the major challenges that we have taken is to re-invent our company, from a smartcard manufacturer to a technology and solutions provider company, one that addresses the digital and secure ID Market covering government, corporate and banking world.
How do you envision the future of NagraID?
Our future strategies revolve around becoming a trusted partner for digital security and secure ID solutions. We wish to develop systems of international standards.
Follow and connect with us on Facebook, Twitter, LinkedIn, Elets video