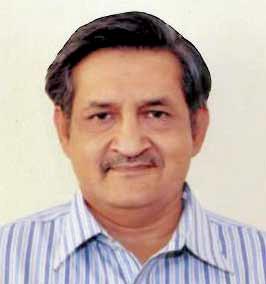 Deepak Upreti, Principal Secretary, Medical Health & Family Welfare and Ayurved Department, Government of Rajasthan.
Pahla Sukh Nirogi Kaya– this maxim underlines the value of health in our lives. Rajasthan government is committed to bring "arogya" closer to the reach of its people
Arogya Online is a landmark initiative taken up by the state government to automate hospital records and ensure better patient care. Arogya Online makes transition of paper based clinical record keeping to electronic means much easier.
A Unique System developed by C-DAC
"Arogya Online" is a modular Hospital Information Management System (HIMS) for facilitating highest level of operational efficiency in hospitals. The system is designed to handle complex tasks right from investigation and billing to bed management, admission discharge, transfer procedures, pharmacy management and related activities. With a network of computers for gathering, processing and retrieving patient information, Arogya Online aims to connect people, data and processes on a single platform. The e-health initiative has improved hospital  administration by streamlining workflow operations. With electronic management of health information, waiting time at the hospitals gets drastically reduced. Operational flexibility, efficiency and information exchange becomes a click of the mouse away.
Arogya Online is a single point solution for optimising productivity and reducing manpower costs. It not only creates a platform for information exchange, it also facilitates end to
end supply chain management. It remarkably streamlines resource utilisation and management across hospital departments.
Key Modules
Arogya Online is a modular system developed by C-DAC. It has many different modules, whose implementation is being carried out in different three different phases. The details of the phase wise implementation of the various modules are listed as under:
 

Core Modules


PHASE 1
 

Back Office Module




PHASE 2

 

Misc Module




PHASE 3

 Emergency Registration
 Stores Management System
 RTI
 OPD Registration
 Procurement & Purchase
 Health Portal
 Out Patient Management
 Central Sterile Services
 File Tracking System
In Patient Management
 Personnel Information System
 Library Mgt. System
 Enquiry
 Finance Management System
 User Management
 Bio Med. Waste/House Keeping
 Investigation
 Transport
 Billing
 Linen/Laundry
 Blood Bank
 Bio-Medical Engg. Dept. (BMED)
 Patient Medical Record
 Administrative Module
 Operation Theatre
 Appointment Management
 Pharmacy Store
 Roster Management
 (e-Aushadhi)
 Diet Kitchen
Implementation in SMS Hospital
Arogya Online has been implemented in Sawai Man Singh Hospital (SMS). Here all the core clinical and other modules have been made operational. The website (www. medicaleducation.rajasthan.gov.in) has been widely accepted and acclaimed. It enjoys a large daily traffic.
The system on an average manages about 5500-6000 outdoor patients on daily basis and approximately 15,000 daily investigations. Till date more than 40 lakh patients have been registered; a total 83 lakh investigations have been covered. All the financial transactions in the hospital are being done through the system, the total collection being in the range of Rs. 4.50 to Rs. 5.00 lakhs on daily basis.
The integrated solution manages hospital's Central Lab, OPD, IPD, OT's, Drug Store and Blood Bank. It also covers the treatment modalities offered by more than 44 clinical and
non clinical departments as well as more than 70 wards and over 2500 beds.
The Central Lab of the hospital is now connected with internal software that facilitates fast and accurate data on patient's medical test reports. It also prevents the chances of any errors, since the reports directly go from the machines (like EU400 and immulite2000)  installed in lab to the main system's database. The system of free medicine distribution has also been integrated with Drug Warehouse module (e-aushadhi) used by Rajasthan Medical Services Corporation under Arogya Online. Blood Banks are almost the lifeline of a hospital. With automation, updated information about total daily blood or component stock, total blood requisitions and information regarding donors is now available in blood banks
Benefits to Hospital Staff & Patients
Any kind of automation at the hospitals regrelieves patients of the trouble of carrying their medical record. The highly advanced information system enables practitioners to access patient history uploaded on a secured network.
Planning of budget and assessment of costs and resources is also more transparent thanks to actual statistics available online. Patient care has definitely improved following computerization and the e-library has further enhanced the SMS medical college library.
Long queues at registration and admission counters, central lab, outdoors, report collection centres in hospitals will now be a thing of the past. With computerisation, the first and foremost benefit has been gross reduction of waiting time for patients.
It has been possible due to automation facility in virtually all the important wings at the Dhanwantri OPD block of SMS hospital be it the OPD or, admission, billing, sample collection or free medicine distribution to BPL patients.
While the patients can access their reports online at www.medicaleducation.rajasthan.gov. in, the investigation report of admitted patients and bed management is also available in the ward's computer. The new initiative has led to seminal improvements in the operation of blood banks.
Replication of Arogya Online
The SMS Hospital, Jaipur is the model for HIMS; this automation has been also extended to about 15 district hospitals as well with more than 27 lac registrations through the system till date.
These include Government Hospitals at Sriganganagar, Kanwatia Hospital Jaipur, Alwar, Bhilwara, Beawar, Bangar Hospital Pali, Banswara, Sikar, Barmer, Dungarpur, Baran and Dholpur.
'Arogya Online' is now being customised and replicated across all medical colleges. The successful model will be replicated at Dr. S.N. Medical College, Jodhpur, RNT Medical College, Udaipur, JLN Medical College Ajmer, S.P. Medical College, Bikaner and Govt. Medical College, Kota along with attached hospitals of SMS Medical College, Jaipur.
The e-health initiative is proving a boon to patients, doctors and hospital administration alike. With safer, more efficient and quality health care ensured by Arogya online, the road
to recovery may not be very far.
Follow and connect with us on Facebook, Twitter, LinkedIn, Elets video