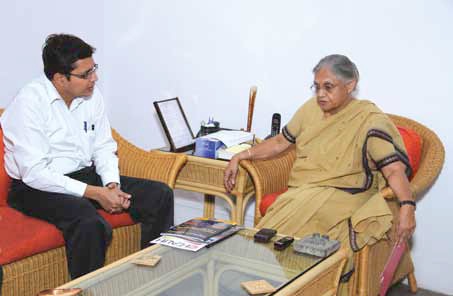 Sheila Dikshit, Chief Minister of Delhi, spoke to Dr Ravi Gupta, Manjushree Reddy and Rozelle Laha, on the major initiatives taken by the Delhi Government to bring improvement in the quality of life in the national capital region

Born on March 31, 1938, in Kapurthala, Punjab, Sheila Dikshit is the eldest of three sisters. She started her historic third term as the Chief Minister of Delhi on December 17, 2008. She served her first term between 1998-2003 and the second term between 2003-2008. She represents New Delhi Constituency in the Legislative Assembly. Appointed President of the Delhi Pradesh Congress Committee in May 1998, she led her party to a sweeping victory in the Delhi Assembly elections for the first time in November that year
Few other states in India seem to be doing lot more in the field of IT as compared to Delhi. What are your plans for giving further impetus to the IT sector in the national capital? Also, tell us your plans for e-Governance.
We might not be at the top of the IT space in the country, but there are enough e-Governance ideas being implemented in Delhi. Citizens of the capital enjoy access to systems like e-Registration, e-Certificates and online stamp duties. We are bringing e-Governance in different areas with a view of dealing with the problem of multiplicity of authorities. The online tax collection system in Delhi is now much better than elsewhere in the country. The thing is that Delhi has such a large population density that without having electronic systems in place we might not be able to serve the needs of everyone. IT is a necessity for the city. We have plans to make even larger section of the population digitally literate; this will go a long way in curbing the digital divide.
Do you have a timeframe during which, let's say 100 or 200, new e-Governance services will get launched?
A substantial number of e-Governance systems are already in place. Many departments have been provided with deadlines in which they have to start providing electronic services to the citizens. If the deadline is not adhered to, the officers in the concerned department can be fined.
In your opinion, how well is the move towards e-Governance working?
I think we are making a good amount of progress. You can now get the registration of your cars done in four days. If there are delays you can file complaint against the officials. We have about 100 electronic services already in place for the citizens. You see, e-Governance is still a new idea and so the bureaucracy and also the general public will take some time to get used to the new electronic interface.
Much of the IT industry in Delhi seems to have moved into the areas of NCR, Gurgaon, and Noida. This is primarily due to land issues. How are you going to deal with that?
You need to keep in mind that both Gurgaon and Noida are part of NCR, so the movement of IT industry to these areas does not matter. We don't have the land, the NCR areas have it, and that is a fact. Industries that are based in NCR also make extensive use of resources that are available only in Delhi. In fact, Delhi is the epicentre to which Noida and Gurgaon are inextricably linked. There seems to be a large mismatch between demand and supply when it comes to quality healthcare.
What strategies is the government following to provide better healthcare to the citizens?
We are constantly upgrading the health facilities in the national capital. It is not as if we are not doing enough. Many new public and private hospitals have come up. The facilities at older hospitals have been upgraded. But the thing is that we have tens of thousands of people migrating to Delhi from all parts of the country. So in a way Delhi is catering to the healthcare needs of the entire country. That is why our healthcare systems are feeling pressured. According to some estimates about 34-35 percent of patients in our government owned hospitals are from outside Delhi. It is not as if we don't welcome patients from outside the capital, we do welcome them. But it is also a fact that our resources keep getting stretched due to the influx. We are taking the PPP route for creating healthcare facilities, so people will have access to better services in times to come.
Dr Ravi Gupta, Editor-in-Chief, eGov magazine (L), in conversation with Sheila Dikshit (R)
The Metro has become immensely popular with the citizens of Delhi. What further developments do you have in mind for the Delhi Metro?
We are constantly looking for ways for improving the services of the Delhi Metro. When we started the Delhi Metro project, no one could have believed that it would one day cover about 192 odd kilometers of area. In the next phase of expansion, which will be executed in 3-4 years, we have plans to layout another 300 Kms. We are also planning a Monorail Project and some smart bus chains to serve various parts of the city. The public transportation needs of the city are constantly evolving and we are trying our best to keep pace. Delhi has wide roads, but we also have the largest number of vehicles, so the roads are crowded. Efficient public transportation is needed.
Singapore is a very small country as compared to India, and yet they have been able to project themselves as a health hub. People from all over the world come to Singapore for treatment. Can we have a similar quality of healthcare in Delhi?
The healthcare facilities in Delhi are quite good, and we are trying our best to make it even better. There is health tourism happening in Delhi also. Lot of foreigners come here for treatment.
What would the indicators be like to make Delhi more investor friendly?
Delhi is basically a service city, 97 percent of the services are available here. However, Delhi is not growing only due to its industry and services, the growth is also happening because the NCR areas have a lot of land, where large companies are setting up their manufacturing hubs. Housing is a big industry by itself, and there is a large boom in the construction space.
How do you rate Delhi in terms of Human Development Index?
The quality of life is much better today. The problem of power has been resolved more or less. Most citizens are now enjoying access to 24 hours electricity. We are also able to provide enough water to all areas of the city. Many new roads and flyovers have come up. The infrastructure is much better now. The Delhi Metro is serving millions of people. The Monorail study is currently on and we might soon be executing the project. We will create more BRTs in the city to enable a faster movement of buses in which bulk of the population travels.
What is your view about providing better broadband connectivity to the citizens?
Broadband connectivity is already there. Many people in Delhi, in fact, I would say a large number of people, today have smartphones, through which they can access the Internet. 3G is here. Government organisations are also using latest online systems to provide better services to the people. We are also enabling government schools with connectivity tools through which the teachers and students can access new learning material and exchange ideas.
During the past few years many new initiatives have been taken by the government to bring about an improvement in the quality of education that is being offered in our institutions. Please tell us about the nature of the initiatives that have been taken by the Delhi government.
We have taken several steps. The right to education has served as a big boost to the education. It is enabling many youngsters from financially weaker sections of society to access quality education. We have also made a study of why government schools are doing badly. The pass percentage of students is fairly low, even though we are spending reasonable sums of money on the education of every child. We have setup the Vidyalaya Kalyan Samiti (VKS), a School Welfare Committee, which caters to the needs of the children in the neighbourhood who are going to government run schools. The Committee ensures that the teachers are present in the classrooms and the students have access to quality reading material like textbooks, and that their uniforms are clean. The Committee also receives funds from the government to take care of minor renovations of the classroom infrastructure like repairing of windows, toilets, etc. We are also having schemes for providing children with free uniforms, free books. There is also a scheme for providing scholarships to students of SC/ST background.
Can you enumerate the reasons due to which the ICT infrastructure in government schools is not quite up to the mark?
I agree that the infrastructure can be made much better. The Delhi government is funding the deployment of ICT in schools, but we are not able to achieve the best possible results as the teachers are not well trained. So we are now trying our best to educate the teachers in the usage of new technologies. We are working hard on this issue, and we are going to succeed in creating the best possible ICT infrastructure for our children. The Delhi government is also trying to rope in private companies through PPP models for the installation of ICT in our institutions.
Follow and connect with us on Facebook, Twitter, LinkedIn, Elets video