A K Purwaha
Chairman & Managing Director, Engineers India Ltd
"The cornerstone of EIL's growth strategy are made out of not only research and innovation, but also from the highest levels of corporate governance and transparency in all areas of operations," says A K Purwaha, Chairman & Managing Director, Engineers India Ltd
Tell us about the role that Engineers India Ltd (EIL) is playing in the hydrocarbon space and other sectors.
Engineers India Ltd. (EIL) came into being in 1965, which is more than four and a half decades ago. During this period the company has acquired a large knowledge pool in many different sectors. Today we have 22 refineries operating in the country, out of these 19 have got the footprints of EIL. We have done practically every kind of a job in the refineries sector. There are today 8 petrochemical plants operating in the country, out of these seven have been designed and built by EIL. Basically EIL is an engineering and consultancy company providing Design, Engineering, Procurement, Construction and Integrated Project Management  services. It is principally focused on the Oil & Gas and Petrochemical industries in India and abroad. EIL also works in other sectors including nonferrous metallurgy and infrastructure.
The company specialises in providing end-to-end services, including preparation of project feasibility reports, technology selection, project management, process design, basic and detailed engineering, procurement, inspection, planning and scheduling, construction management, and commissioning. EIL also provides specialist services such as heat and mass transfer equipment design, environmental engineering services, specialist materials and maintenance services, energy conservation services, plant operations and safety services including HAZOP and HAZID studies. EIL is the only Public Sector consultant that is authorised by Government of India for carrying out EIA Studies and was selected from among 265 organisations. The company has strategically positioned itself as a single-window solution provider for EPC projects
(Engineering, Procurement and Construction). EIL undertakes EPC contracts wherein it takes single point responsibility for managing  all elements of project execution – basic and detailed engineering, procurement, plant erection, construction and commissioning.
What is your vision for EIL? How do you plan to bring further growth to the company and enhance shareholder value?
EIL has plans to diversify into business segments where EIL's existing competencies can be leveraged and which would offer promising growth potential for the next decade. The growth momentum achieved by Hydrocarbon, Power and Infrastructure sectors during the past is expected to continue and will be the key drivers of economic growth of the country in near future. These are the sectors, which, we envisage are future growth drivers for our business along with metallurgy sector. Oil and Gas will continue to play a pre-eminent role in meeting India's energy requirements and will offer enormous business potential. Leveraging its cost and geographical advantage, India is also well set to emerge as an export oriented refining destination of the region with refinery expansions and grass root refineries planned in near future. Power generation is another potentially high growth sector with enhanced focus on nuclear and renewable energy front which would entail an investment of around $16 Billion in coming years in solar power alone. Infrastructure sector, with proposed investment of $1 trillion during 12th Five Year Plan, will also prove to be another key growth driver for the Indian economy. EIL while consolidating its leadership position in Hydrocarbon sector will focus  on these high growth sectors and will look forward to leverage its significant engineering and technology capabilities to provide its services to clients in these sectors.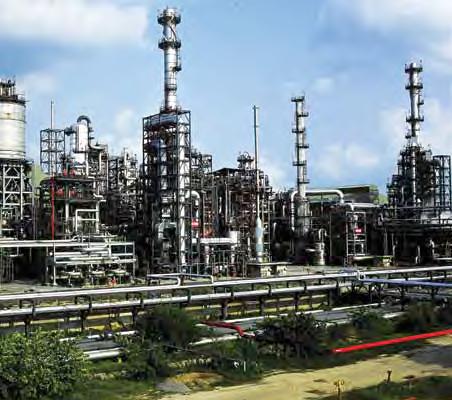 Engineers India is providing engineering and related technical services for petroleum refineries and other industrial projects. Please give us an overview of your scale of operations.
Engineers India, since its inception, has a core focus on hydrocarbons across its value chain. Today, to EIL's credit, it has been involved in 19  out of 22 operating refineries in the country including 10 grassroot refineries. In fact, HPCLMittal Refinery, which is the 10th grassroot refinery designed & engineered by EIL, was completed in record time of 42 months in 2011, creating an industrial benchmark. Engineers India is probably the only company in the design engineering and project management consultancy segment which have more than 59 large refinery projects to its name. In the petrochemical segment, there are 8 completed plants, 7 of which were built by EIL, with three more plants with dual fuel capabilities are in the construction phase.
With increase in crude prices, residue upgradation became an inevitable option for the refineries. EIL has been associated in setting up residue processing facilities at all the refineries. Further when we started building India's refining capacity, there were no Euro emissions standards, but today practically all the refineries operating in the country have been upgraded to either Euro 3 or Euro 4 standards. EIL repeated its success with refineries in the gas-processing sector. All the C2+ recovery facilities in the country today passed through the offices of Engineers India, and today we are putting those facilities in place. We have also had admirable success working on LPG recovery facilities.
In the midstream segment of hydrocarbon value chain we have been associated with more than 12,000 km of pipeline projects. We have provided our services for more than 205 projects in upstream segment while working for almost all the major clients in this area. Currently we are working with GSPC, one of the major operators in the KG basin after Reliance Industries, in order to build up their facilities there. EIL is involved in the project as project management consultants, providing jackets, well platforms, a processcum- residential platform, offshore pipelines, and onshore processing facilities.
In your opinion what is the key advantages that EIL offers when it comes to the refinery sector?
EIL has an extensive track record of working on key projects with various Indian and international energy majors and we believe that our leadership position across the entire value chain in the hydrocarbon industry in India and longterm relationships with our clients is a competitive advantage. Our qualified and professional employee base, together with our engineering and technology capabilities enable us to successfully integrate sophisticated design and engineering methodologies with project management practices. The key advantage of EIL, when it comes to construction of refineries, is that we are a technology neutral company. This means that we are not attached to A, B or C technology. We plan and build a plant according to the needs of the clients. The idea is to provide optimal technology solutions to the clients. During the last few decades we have worked with each and every technology that is used in the refinery space. We have the best practices from many different verticals of technology. The value proposition that EIL brings on the table, has became all the more palpable in the construction of the HPCL-Mittal Energy Limited (HMEL) refinery in Bathinda. Our technological expertise resulted in a saving of around `350 crores for the refinery.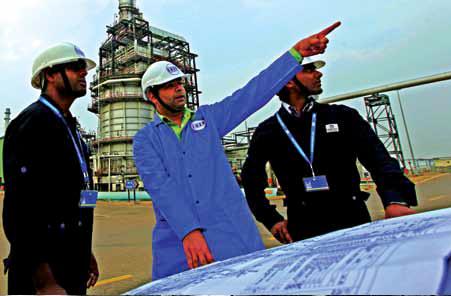 Today's generation has become quite aware about environmental issues. We are also having considerable amount of talk about corporate responsibility and sustainable development. Tell us about the ways by which you are focusing on these areas.
The environmental technology basket with EIL is quite diverse. In the recent past on standalone basis and along with our collaborating partners we have developed number of technologies that have improved the environmental performance of the process plants. Some of these technologies includes Diesel Hydrotreating technology which is used to upgrade quality and reduce sulphur –reducing emissions, Sulfur Recovery, Oxygen Enrichment; CATDEGAS technology is utilised to recover sulphur and reduce atmospheric emissions; DeNOx & DeSOx is for reducing NOx and Sox emission to the environment; Spent Caustic treatment is for reducing water and land pollution; Food Grade Hexane for upgrading quality and reducing Benzene content of the product and Oily Sludge Treatment technology is to reduce contamination of soil– land and associated environmental degradation.
land and associated environmental degradation. At EIL we are consistently endeavouring to ensure that the agenda in the philosophy of sustainable development is met during the implementation of any new project. We are focused on meeting the present day needs of a growing energy sector in a way that does not compromise the needs of future generations to meet their own needs. This requires the reconciliation of Social, Economic and Environmental Demands – the Three Pillars of Sustainability. At EIL the sustainability mandate is not just about giving money to a good cause or complying with environmental regulations but about operating its business in a manner that is responsible and transparent to all its stakeholders and to the society at large. EIL's CSR program aims to assist socially and economically weaker segments of society, as well as to project EIL as a socially-responsible business organisation to its employees, clients, local communities and other stakeholders. The CSR projects of the Company target various activities   in education, healthcare, drinking water and electrification of rural areas through solar power. EIL also focuses on environmental protection and women empowerment as strategic areas for its sustainable initiatives.
EIL is reputed to have a very transparent and effective system for e-Registration. Please tell us about it.
Being a technology driven organisation, EIL is fully conscious of the value of leveraging technology for enhancing the efficiency & effectiveness of its systems and processes across its operational functions. In a typical refinery project, the procurement function constitutes about 2/3rd of the project cost as well as the project cycle. Even a small improvement in the efficiency & effectiveness of the procurement related processes can result in major savings on the projects. On procurement front, EIL is amongst first few CPSEs to have implemented e-Tendering and Reverse Auction process in the country. We have been successfully carrying out e-Tendering and Reverse Auction for projects of various Clients being executed by us, be it on EPCM, Turnkey or Depository mode in addition to our in-house jobs.
In addition to e-Tendering and Reserve Auction we have over the years, also taken number of initiatives towards achieving improved transparency and fairness in the system including Implementation of e-payment and e-receipt in 90 percent of total transaction, Implementation of 'Bill Watch System' with 'First-in-First-out' methodology to enable the vendors/contractors to know the status of their bill/payment, facility for online registration of vendors along with the rules & procedures, Online Complaint Handling system to name a few. These initiatives have increased transparency and fairness in the system in addition to realisation of operational benefits to the clients and suppliers.
Tell us about some of the new innovations that have been conducted by Engineers India.
EIL is a technology driven organisation and we have been successful in the commercial application of various process technologies developed by us, including technologies for vis-breaking, delayed coking, aromatics extraction etc. EIL currently holds 13 patents and has 16 pending patent applications relating to various process technologies and hardware developed by the Company.While we strive to provide the best technology, engineering and project management solutions to our clients it's our continuous endeavour to identify the latent needs of our clients and offer them solutions that are more effective, efficient and economical. In addition to our Research & Development efforts we visualise the complete project value chain and continuously identify the solutions that add value to the systems and processes.
Follow and connect with us on Facebook, Twitter, LinkedIn, Elets video