"Smart and Intelligent have now become the buzz words for Indian Power Sector," says Nandan Nilekani, Chairman, Unique Identification Authority of India (UIDAI)
---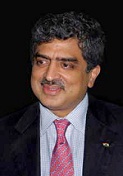 In 2002, the Ministry of Power set up an IT Task Force to develop synergy between the information technology (IT) and the Indian power sectors. This task force was chaired by Nandan Nilekani. The report presented by the task force discussed the challenges of the power sector and presented many important ideas through which a confluence of  technology, policy and regulation in the power sector could be engineered. New ways of developing information technology as a catalyst and consumers as change agents were presented.
The Key takeaways of report from the IT Task Force were as follows:
While digital technology provides a framework for an efficient system through the technical design of a Smart Grid, it cannot impact supply and demand, tariff structure and power quality.
Utility companies can effect a business transformation by adopting technologies such as Geographical Information System (GIS), Customer Information System (CIS), Advanced Metering Infrastructure (AMI), Maintenance and Material Management System, and Network Management System.
New models of consumer participation must be explored as the consumer is at the center of this transformation.
Open architecture can effect a transformation in the power sector and insulate it from evolution in technology.
Distribution companies must take a holistic and top-down approach; while creating a business strategy to drive the technology roadmap.
This transformation can be catalyzed by setting up a national institution that will work along with stakeholders from across the industry, to implement these plans in an accountable and methodical manner.
---
Smart Grid Technology
eGov magazine caught up with Nandan Nilekani, Chairman of the Unique Identification Authority of India (UIDAI), to discuss the implementation of Smart Grid systems in the country. Excerpts…
What is the importance of Smart Grid in India?
Smart and Intelligent have now become the buzz words for Indian Power Sector. Deployment and adoption of latest technologies will help it to leap forward into a new orbit. The Smart Grid will bring the Communication, IT and Power Technologies in unison and establish a comprehensive power infrastructure. Now that we have started focussing in a big way on many different resources for power, renewable sources like wind, solar and hydro, the role of Smart Grids become even more important. It is only through the use of smart IT technologies that we can bring efficiency to the transmission and distribution of power collected from different geographies.
What is your view of the cyber security threats that a Smart Grid may face?
Anything that has technology and networking will obviously face cyber security threats. So you have to manage that. The thing is that the Smart Grids of tomorrow will have millions of consumers logging onto the system and to a certain extent managing their own electricity requirements. The system will lead to immense benefits. However, the cyber security system needs to be flawless.
---
Follow and connect with us on Facebook, Twitter, LinkedIn, Elets video