Nandkishor Desai, Group Head – Business Development & Strategy, Trimax IT Infrastructure & Services Ltd, shares his views on the implementation of  several ICT solutions for transportation in India

---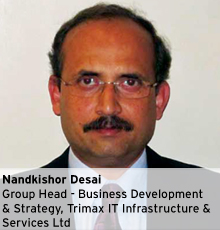 Many intelligent technologies are being deployed in the transportation sector. Please tell us about the benefits that can be had from such technologies.

Indian states have started deploying intelligent solutions for managing all kinds of transportation related issues. Any intelligent transport system has many components and can be useful in a number of scenarios. The State Transport Undertakings (STUs) are looking for technologies that can help them manage the burden that the commuters face every day. The STUs are aware of the advantages of going electronic, and they usually begin with adoption of component technologies in the overall basket of intelligent transportation technologies (ITS). The e-ticketing solutions have become quite popular, as they can arrest revenue leakage and are easy to use. The entire data of daily transactions can be obtained by the click of a button.
Tell us more about your e-ticketing solutions.

The e-ticketing solutions usually come with either the hand-held machine or an online web-based system. A combination of both is also available. We also have RFID applications, which can facilitate cashless transactions. We have issued more than one million RFID-based bus passes as of today; this gives the commuter and ticketissuer the flexibility of choosing destinations, routes and modes of transport according to his convenience. We have also developed Vehicle Tracking System (VTS) and Passenger Information System, which provide information on stoppages and route-details through display boards and speakers within the vehicles. The main goal of any STU in adopting a technology is to bring down the cost of operation and improving the efficiency of the unit. The major cost centre for any STU is mainly the fuel consumption and salary. We have also introduced a Fuel Management Solution that can store all the data regarding fuel stock on a central server.
Tell us about your transportation solutions that have been deployed in Maharashtra?

In Maharashtra we are playing a major role in transportation space. We are working with the Maharashtra State Road Transportation Corporation (MSRTC) for implementation of online reservation system and the deployment of 28500 electronic ticket issuing machines (ETIM). We are also participating in the development of software, supply servers, establishment of connectivity across 248 depots and 324 ORS centres. We are part of the plan to set up a data centre at Mumbai and a disaster recovery site at Pune. Our solutions are being used by MSRTC to manage 60 lakh passengers per day in 18,500 buses. We are also having a role in training of more than 35,000 conductors, and we have IT resources spread across the entire state. The overall budget was of nearly `200 crores over 6 years and we are generating more than `150 crore tickets per annum. On an annual basis, `4200 crore in revenues have got generated through the ETIM and ORS systems with 100 percent accuracy.
What about deployment in other states?

We are also having a successful association with Rajasthan State Road Transport Corporation (RSRTC) where we started with the integration of existing ETIMs of RSRTC with ORS and procurement of GPRS module in existing ETIMs. We have also done designing, development, testing and implementation of the web based online reservation system (ORS), vehicle scheduling and online MIS. We have won mandate to implement integrated transport solutions for Brihanmumbai Electric Supply & Transport Undertaking (BEST), which is the largest city transport body in India with 40 lakh passengers travelling each day, Navi Mumbai Municipal Transport (NMMT) among other city corporations.
Tell us about the benefits of investing in ITS. What new innovations can we expect from Trimax?

The overall benefits that State Transport Undertaking can accrue from ITS adoption include commuter convenience and arresting of revenue leakages. These systems can also enable ordinary commuters to choose the most viable travel option after taking into consideration factors like cost, route and time of travel. Such information is easily available today for airlines and trains; however, the surface transportation sector is plagued by lack of information. Things will change in the surface transportation space, once intelligent solutions get deployed. We are also in the process of developing modular ERP modules for the transport authority to choose from. We can have systems like integrated ETIM-online reservation system, e-pure with automatic fare collection and common mobility card, VTS, MIS, Fuel Management system, Passenger Announcement System (PAS) and PIS. In addition, we are also developing business intelligence and analytics for the management as a dashboard. Today we are generating more than hundred MIS reports for the STUs and these are becoming difficult to manage. We have taken a step forward to bring-in analytical data of overall performance, scope of improvements, load factors on routes, utilisation of routes, traffic congestion details, etc. We should be ready with launch soon; this will be the next phase of expansion in terms of technology delivery platforms.
---
"Our solutions are being used by MSRTC to manage 60 lakh passengers per day in 18,500 buses"
---
Tell us about the cloud platform as medium of application and delivery of services for the transport sector?

In times to come we will have much higher instances of deployment of cloud based services as SaaS, IaaS and PaaS models. The data centre is an infrastructure that may pose variety of challenges if owned and managed by the transport authorities themselves. However, they can now avail the same services and applications and maybe some more on a secured cloud platform. Telecom networks have made connectivity and accessibility easy and with no infrastructure of the data centre to manage STUs will be saving a lot on capex and will also see cost reduction as a result of the same. Management and maintenance of DC, back-up and firewalls all are managed at our end and this brings down the cost for the user in a big way.
Tell us more about your growth plans and key focus areas for the coming years.

The government of India is very pro-active and has envisioned the use of technology in the transport sector for a long time. They have a number of progressive and encouraging schemes and policies to support technology adoption across all spheres of transportation in India. Technology is ever evolving. Our technology solutions have become quite popular in the surface transport sector. In times to come we are planning a focus on other modes of transportation, including railways, shipping and airlines. Applications like VTS and PIS systems and even ERP can be applied across all modes of transport. We are launching ERP and business analytics over cloud in the near future. Overseas market is also our focus area. As far as non-transport sectors are concerned, we are known for our data centre facilities; we have currently installations in Bangalore and a new data centre will be inaugurated very soon in Airoli, Navi Mumbai. This will give lot of boost to our cloud based services for Enterprise and Small and Medium Business (SMBs). We have also entered into an exclusive partnership with BSNL for offering managed network services on SLA basis to the customers.
Follow and connect with us on Facebook, Twitter, LinkedIn, Elets video