Dr Mahesh Chandra, Deputy Director General, National Informatics Centre (NIC), talks about the innovative solutions that NIC has developed for bringing efficiency and transparency to the management of transport related infrastructure and services in the country
---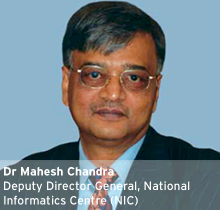 Tell us about the work that National Informatics Centre (NIC) is doing for the computerisation of RTOs in the country.
The National Transport Project, which envisages interlinking of about 975 RTOs/DTOs across the country, has been conceived by Ministry of Road Transport & Highways. The project has been implemented across the country by the Ministry in consultation with National Informatics Centre. This is a Mission Mode Project under the National e-Governance Plan (NeGP). The RTOs in the country are responsible for issuance of Driving Licence,  Registration of motor vehicles and also for providing other kinds of services to the citizens. Before the National Transport Project came into being, the RTOs had been working mostly in isolation and there existed disconnect between RTOs in different parts of the country. This led to misuse of the system, as it was possible for someone to submit different kinds of data at different RTOs. That is why it was decided that we must do away with the manual processes at the RTOs, in order to have uniformity and standardisation in the processes for various services being provided throughout the country. Provisions were made in the Central Motor Vehicles Rules 1989 for issuance of smart card based Driving Licence and Registration Certificate. After that the Ministry of Road Transport & Highways decided to develop the standardised software in consultation with NIC. This software has been made available to all the RTOs in the country.

Tell us about the beneficial aspects of the software that NIC has developed?
The software has been customised to suit the needs of different states. The aim of the National Transport Project was to computerise all the RTOs and facilitate standardisation in their operations. So we now have computerised systems for issuing of Driving Licence and Registration Certificate, we also have enablement for smart cards and the National Register. The software has already been successfully rolled out in 33 States/Union Territories. As of now more than 97 percent of the RTOs are computerised. In majority of the States and Union Territories, Smart Cards are being implemented. With the incorporation of a robust technological architecture, the project has reached the stage where it has the capability for preventive maintenance, high availability and scalability.
Tell us about the Vahan and Sarathi solutions developed by NIC.

Vahan is a one stop solution for vehicle registration (RC). It is a highly flexible and comprehensive system and it brings immense amount of efficiency and transparency into the burdensome activity of vehicle registration. Through this software solution routine tasks like Vehicle Registration, Fitness, Taxes, Permits & Enforcement that are performed at every RTO get fully computerised. Sarathi is the other one stop solution for Driving Licences (DL). Through this solution there is computerisation in the issuance of new driv-ing licences, learning licences, duplicate licences, renewal of old driving license, change of address of licence holders. The Sarathi solution also facilities traffic management tasks like revocation of DL, notifications, disqualification of DL, and cancellation of DL. A range of Sarathi related services can be accessed on the website at https://sarathi. nic.in. The details of Vahan can be found on the website at https://vahan.nic.in.
Tell us about the uniform design of smart card based RC and DL?
It was envisaged that the look and feel of smart card should be uniform across the Country and for this purpose the data content of visual Inspection Zone (VIZ) of smart card based DL & RC has been designed by National Institute of Designing (NID) after consultation with NIC, various State Transport Departments and Ministry of Road Transport & Highways (MoRTH). Dr. C.P. Joshi, Hon'ble Union Minister (RT&H), MoRTH has unveiled the SCOSTA compliant unified visual design of smart card based DLs/ RCs to be used by all the States/UTs. The draft gazette notification for adoption of unified design of smart card based DLs/RCs by all the States/UTs are being published by MoRTH.
What are the alternate service delivery channels?

The vision of the transport project is "To Make all RTO related Services accessible to the common man, through common service delivery outlets and ensure efficiency, transparency & reliability of such services at affordable costs to realise the basic needs of the common man". To fulfil the vision of transport project, various alternate service delivery channels like schools, colleges, CSCs, internet, mobile, etc. are being implemented. Various informational services like DL information, vehicle registration information, information about tax validity, fitness validity, National Permit validity are available through SMS. Various types of information like expiry of tax validity, fitness validity are being sent to the applicant, if their mobile numbers are available in the database.

Are DLs being delivered to the applicant at their doorstep?
Yes, our vision is to provide every service at the citizen's doorstep. All Driving Licences, either fresh or renewed, are being delivered to the applicant's residential address through courier/India post. The motive of doing this is to cross verification of applicant's residential address as well as to control forgery.
---
VAHAN Services
1. Vehicle Registration
2. New Vehicle Registration
3. Renewal of Registration
4. Transfer of Ownership
5. Change of Address etc.
Permit
1. Issue of National & Interstate Permit
2. Renewal of Permit
Taxes
1. State-wise tax calculation & Payment
Fitness
2. Issue of Fitness Certificate
3. Renewal of Fitness Certificate
Enforcement
1. Issue of Challan
2. Settlement of Penalty Amount
---
Tell us about the National Register (NR) project.

The National Register is an ambitious project that envisages the creation of a central database of all the vehicles and all the driving licences in the country. The National Register is based on the State Registers (SR) and is located in NIC Data Centre at Hyderabad. The system is developed in such a way that information regarding any vehicle or DL can be accessed by all the states and RTOs for quick verification. This will weed out multiple driving licences across states. Earlier errant drivers had been evading prosecution as they possessed multiple DL, now that kind of activity can be curbed. A police man on duty anywhere in the country can use his registered mobile phone to send an SMS and check up the antecedents of any vehicle or DL. With its massive search capabilities, the National Register is now evolving into a worldclass business intelligence system. It can provide information based on SMS and it also facilitates integration with banks for financial services, web based applications. It can also be integrated with UIDAI database, and with smart card based applications. In times to come, the range of services that are being provided through the National Register are only going to increase. States like Bihar have already started using NR to provide information to citizens under the Right to Services act. In July 2011, the NR and SR related web services were unveiled to the public. It can be accessed at: http://parivahan.nic.in/.
---
"In national registry the details of registered vehicles can be seen by sending an SMS"
---
What are the parameters based on which stakeholders can view the information on different vehicles?
The details of Registered Vehicles can be viewed on the basis of Registration Number, Chassis Number, Engine Number, Body Type, Fuel Type, and Colour. It can also be viewed on basis of the Name of the Manufacturer, Make or Model, etc. Ordinary citizens can also use the system to search for their own vehicles by providing full registration number and last five digits of chassis number.
What kind of solution is NIC using to facilitate transport related data transfers from one RTO to other?
There has been a phenomenal growth in the data traffic due to the integration of all the isolated RTOs and other stakeholders. To manage all the data we have come up with a robust solution based on Oracle Data Integrator (ODI). The ODI enables data extraction from a multitude of sources. The extracted data gets suitably transformed as per the business process and consolidated into the State Registry and National Registry. The architecture of NIC Data Centre at Hyderabad has been designed for high availability, reliability and scalability. Also the SR-NR are connected through high availability NIC Network (NICNET). High availability network supports the real time data replication from SR to NR.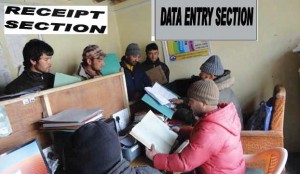 What is the procedure for getting National Permit, if transporter is not equipped with internet banking?

An agreement with SBI has been signed for online transfer of fees as well as collection of cash for NP authorisation. Transporter may access the National Permit System i.e. https://vahan.nic. in/npermit/ and may select the payment mode either by cash or internet banking. In case of payment by cash, the transporter will get a printout of automatically filled Challan generated through NP System and may deposit the cash to anybranch of SBI. SBI will hand-over the stamped copy of receipt to the transporter. Then SBI needs to upload the confirmation of cash received by SBI in maximum T+1 days and once SBI upload the same transporter may get their NP.
What is new National Permit System?

New National Permit System was conceived in accordance with the Central Motor Vehicle (amendment) Rules, 1989, notified in May 2010. It envisages the automation of the grant of National Permit for goods vehicle. New National Permit System was developed by NIC and has been made operational since September 2010. The website of National Permit System is located at https:// vahan.nic.in/npermit/. Here there are resources for online issuance of National Permit for Goods Vehicle. National Permit System is also integrated with SBI payment gateway for online payment of fees against issuance of National Permit. This system is integrated with SMS Gateway for providing SMS based services like, NP validity information, authenticity of the permit etc. Enforcement agencies may also verify the authenticity of national permit through SMS. This system provides anytime-anywhere basis services to all transporters, citizen at large, departments, and enforcement agencies etc. This project caters the needs of urban as well as rural public and eases the functionality of the department itself. This system has brought efficiency to the complete process of issuance of National Permit for goods vehicle and has enhanced the face image of department in eyes of their stakeholders and citizen. With the implementation of the National permit System, the Transport Department is able to provide services like Issuance/renewal/transfer/cancellation of National Permit on the same day.
---
SARATHI

A comprehensive system for all the activities related to issuance of Driving License by RTOs, Sarathi is based on 3-tier architecture as well as platform & database independent software, customised to cater to the needs of individual States. Services to be delivered through Sarathi include:
• Driving License
• Conductor's License
• Driving School License
• Fees
---
Is access to NR/SR available to other stakeholders?

Yes. Access to NR/SR has been provided to all other States/UTs Transport Department, State Crime Record Bureau (SCRB)/ National Crime Record Bureau (NCRB), Police Department, Mumbai ATS, and other enforcement agencies through National Transport Portal. For this purpose user id and password has been created for all the above-mentioned department and they may view the information related to vehicle and driving licence, after login into the system i.e. https://vahan.nic.in and https://sarathi.nic. in . Similarly access to Insurance Companies, Bankers, SIAM and Research Institution etc. are also being provided. It is being planned to integrate the insurance data available with IRDA with NR-a Centralized Database of RCs & DLs, so that insurance related data may be updated at NR and may be shared with enforcement agencies for compliance of State Motor Vehicle
Rules/Central Motor Vehicle Rules.
Tell us about UP Check post System?

As per State Motor Vehicle Taxation Rules any commercial vehicle (either passenger or goods) which desires to come in Uttar Pradesh (for a limited period) from other states has to deposit the tax. It was being collected at tax collection counters established at border by Department of Transport. The vehicles keep on entering in the state day and night and this requires UP transport Department to open its tax collection counters 24×7. It was quite in-secure to have government money (in cash) transaction at border locations during night. Department of Transport took an initiative to automate the tax collection process. To cater this requirement a web based On Line Tax Collection software solution (https://vahan. up.nic.in/upcheckpost) has been developed by NIC. Through this software the transporter/travel agent (other state's vehicle owner) can deposit On-Line Tax using the Internet Banking facility. The software calculates the Tax amount based on the parameters of vehicle. Once the payment is made through internet banking a receipt is generated, which can be printed by user and kept for record purpose. For checking the authenticity of receipt, the transport department officials/enforcement agencies can see the payment details of vehicle through the above said system. Information of any tax payment is also send through SMS to the applicant's mobile and authenticity of the transaction/ receipt etc. may also be verified through SMS
Follow and connect with us on Facebook, Twitter, LinkedIn, Elets video