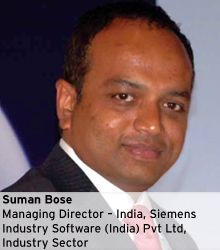 Suman Bose Managing Director – India, Siemens Industry Software (India) Pvt Ltd, Industry Sector
Tell us about your plans for the Indian market. What is the next milestone for Siemens as far as the Indian operations are concerned?

There is of course a very large play of Siemens in India. The company has been in India for over 100 years. We at Siemens India, think of ourselves as an Indian company with German roots, rather than as a multinational operating out of India. We are divided into four sectors – we have software, we have healthcare, there is infrastructure and cities, and we have energy. Each one of these divisions has multiple different divisions for focussing onto some niche areas of business. Overall, Siemens has a very large operation in India. We have a large technology centre in Bangalore where we are doing some cutting edge R&D. In fact, most of the groups within Siemens have their own R&D centres. Siemens also operates a software development centre in Poona. In fact, Siemens has come a long way from having product development in India to products being developed in India. The overall view of Siemens in India is very bullish, despite the global recession that we are witnessing. The story for India remains robust.
What are the areas where Siemens is primarily focussed on for investing for better growth in India?
We are investing in many different areas. But one area where we think there is going to be large amount of growth is the field of automation. The automation solutions that we are offering are fully geared to take out massive inefficiencies from the system, which has to happen in every manual process. It also brings larger economic opportunities. For instance, we have seen village chaupals to become efficient. Similarly through automation you can identify and remove myriad inefficiencies, leading to a better managed organisation. There is increased amount of transparency, and lowering of costs. This by itself triggers a new set of economic factors and provides impetus to a new kind of growth. We believe that system automation is one of the biggest economic opportunities in India. Another sector where we are focussed on is education. Today India has a very large young population. Unfortunately a large chunk of this young population is unemployable. Even if they have the education, they lack the skills. We believe that development of solutions that lead to actual skill development is a great opportunity for Siemens and we are taking lot of initiatives in this sector.
What would be the most profitable sector for Siemens in India?
For Siemens profits get calculated over a period of a lifecycle. We are not the kind of company, which sells a product today and then packs its bags and leaves. We prefer to develop relationships with our customers that can last ten years and beyond. There are customers who have been with us for more than twenty five years. The longer the lifecycle of a particular product or solution, the longer we can stay associated with the customer. That is how we look at profitability. For instance, there are the aerospace solutions, most of which would have lifecycle of 25 to 30 years. Defence solutions also have similarly long lifecycles. We have huge presence globally in this space. There are also the automotive programs, which too have really large lifecycles. Then there are areas like shipbuilding, energy, etc.

"through automation you can remove inefficiencies, leading to better managed organisation"

Any new areas where you are planning to enter?
There is lot of action happening in areas like pharmaceuticals, healthcare, retail, apparel.These are also the areas where people have started adopting Siemens solutions globally. So we believe that in India also we have huge potential to expand into these areas. As the country becomes richer, there is going to be tremendous growth in pharmaceuticals, healthcare, retail and apparel based on domestic consumption. We are also keen to provide solutions to the government. If there is a road being laid, then we have the solutions to provide better programme management. There are many areas of governance, where Siemens solutions can lead to more efficiency and transparency.
Tell us about the core areas in which your division, Siemens PLM is providing solutions globally and in India.

Siemens PLM Software currently provides out-of-the-box industry-specific solutions for a wide variety of industries, including aerospace and defence; automotive and transportation; consumer products; government, education and services; high tech and electronics; machinery and industrial products; life sciences; energy and utilities. These solutions typically leverage a robust PLM innovation platform capable of addressing multiple aspects of the product lifecycle. Siemens PLM Software offers the broadest scalable portfolio of software solutions on the market today for both large enterprises and mid-market companies. By providing a digital environment for collaboration across different organisations, these solutions help the government and private entities to innovate more, innovate faster and optimise their operational resources.
Advantage automation
Siemens PLM Software, a business unit of the Siemens Industry Automation Division, is a leading global provider of product lifecycle management (PLM) software and services with nearly six million licensed seats and 56,000 customers worldwide. Four unique advantages of Siemens PLM Software are as follows:
Open: A open-by-design architecture protects PLM investments while facilitating interoperability with other best-of-breed systems.
Scalable: The highly scalable and robust technology enables organisations to seamlessly expand their implementations from 1,000 to 10,000 to 50,000 seats.
Flexible: The innovation platform is extremely flexible, enabling organisations to deal with ongoing change and increasingly complex product lifecycles. Proven: The solutions have been proven time and again in the real-world marketplace. The average tenure of the top 100 customers is 18 years.
Can you tell us about the defence related solutions that Siemens is providing globally and in India?

Globally Siemens has a huge presence in defence sector. Siemens PLM Software tailors its industry-leading product lifecycle management (PLM) capabilities to deliver a full range of IDE (integrated digital environment) capabilities that support the entire defence acquisition management framework. These capabilities enable defence services and agencies to achieve all kinds of mission critical objectives. Siemens IDEs facilitate systems engineering by enabling programme teams to understand the defence acquisition management framework from a holistic perspective. The end result is optimised programme that balances multiple mission considerations, including systems cost, performance, manufacturability, safety, disposability, standards based compliance, usability, maintainability and total quality. There is a lot that Siemens IDEs can do, including improving of supply chain performance by managing inventory requirements derived from configuration changes and establishing feedback loops between suppliers and service teams.
Follow and connect with us on Facebook, Twitter, LinkedIn, Elets video