A P Hota, Managing Director & CEO, National Payments Corporation of India (NPCI) spoke to eGov about the major intiatives that NPCI is taking for creating an efficient system of retail payments in India

---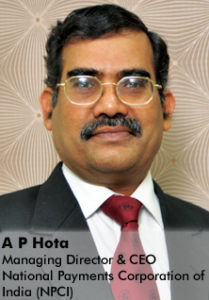 Tell us about your vision for NPCI.
NPCI as an organisation was envisaged by RBI way back in 2005 as the umbrella  organisation for all the Retail Payment Systems in the country. By, "umbrella organisation" I mean RBI expects that NPCI to build the central infrastructure for  inter-bank settlement of all kinds of retail payments in the country except the RTGS system  which is usually operated by the central bank. With the efforts of Indian Banks Association  and support of RBI, NPCI started operations in January 2010. Since then, the organisation has grown rapidly with four distinct lines of payment services – ATM switching, Mobile  Payments, Cheque Truncation System and RuPay domestic card payment network. Three  more lines of payment services are under execution – Automated Clearing House (ACH),  Aadhar Enabled Payment System (AEPS) and Touch & Go Contactless Payment System. We at NPCI have been working with the goal that in the next five years, every Indian citizen will be able to use one or the other electronic payment  service from NPCI at least once every month. We aim at digitisation of payments and we encourage customers to move away from cash and cheques.
Tell us about the initiatives that NPCI has undertaken for creating retail  payment systems for rural areas.
Among the many services that we are planning, the one that is ruralfocused is the Aadhaar Enabled Payment System (AEPS). This Payment system has two components – one for crediting the accounts of bank customers in rural areas for government benefit transfers (like NREGA payments ) and the other for day to day access to bank accounts for cash deposits, cash withdrawal, balance enquiry and remittance. In both the components of AEPS, Aadhaar number and the bank account number are linked and the biometric signature is used for authentication of the account holder. Money transfer from one UIDAI number to another is also seamless, easy and secure.The UIDAI server and our server are already connected to facilitate seamless operation of AEPS. The implementation of AEPS has started in Jharkhand state, where NREGA payments have been made through this system  in three districts. We aim to reach out to all sections of retail payment systems in the  country.
Another payment service with rural focus would be the issuance of RuPay branded  debit cards by the Regional Rural Banks (RRB) and Kisan cards by all the banks. At  the instance of Ministry of Finance, Government of India, all public sector banks are  gearing up to empower their kisan credit card holders with a debit card (to be called Kisan  Card) which will be accepted on all ATMs and POS terminals in the country. NPCI will  provide inter-bank settlement service for the card transactions.
Is RuPay card only for Rural areas? In what way is the RuPay different from other payment networks?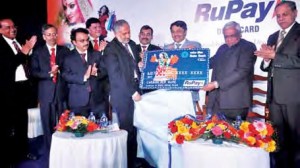 In plain terms, RuPay is the domestic equivalent of Visa and MasterCard. This project originally conceived by RBI was taken forward for implementation by Indian Banks'  Association. After setting up of NPCI, the task was legitimately passed on to NPCI for making  it a reality. It is argued that for a country of India's population and growing  volume of economic transactions, it will make eminent sense to have a card payment  network where banks in India will have full control and the payment service can be availed of at a cost efficient price in rupee terms. The Card payment service can also be made available to banks of all sizes and structures whereas the internal schemes are focused on mainstream banks. Currently, RuPay is focused on co-operative banks and regional rural  banks. Mainstream banks have also started issuing Kisan cards to their customers in rural  areas. But, the goal of RuPay is to be a universal card scheme with full range of services  meeting the needs of all banks and offering products for various segments in the society.  Orientation would, however, be "domestic" compared to international orientation of other  Schemes. RuPay cards would be accepted on all ATMs and Point of Sale Terminals in the  country. RuPay cards can also be used for e-commerce online transactions on internet.
Tell us about your Interbank Mobile Payment Service (IMPS).
NPCI is also playing a vital role in facilitating mobile based money transfers. Launched in November 2010, Interbank Mobile Payment Service (IMPS) is now available to customers of 44 banks. A few more banks are in the process of joining the service. Using the IMPS  platform of NPCI, banks are in a position to offer interbank electronic fund transfer service  through mobile phones. Customers with ordinary handsets can also access their bank  customers and make remittances through SMS based instructions. Remittances can be  made instantly even on Sundays and holidays and the beneficiary can utilise the funds  immediately. Recently, RBI has permitted remittance between bank customers to mobile wallets issued by non-banks and vice versa. IMPS, is also getting channel neutral with  permission  of RBI to make IMPS remittance from ATMs and internet. The primary requirement for a bank customer to avail of IMPS facility is to register his/her mobile    number with the bank and get a number called Mobile Money Identifier (MMID). Nearly 33 million customers have already registered for this service.
Of all the services which NPCI is offering, which one has stabilised ?
ATM switching is the stabilised service of NPCI. In January 2010, we started with 37 member banks with a daily average transactions of 2 million. Just last week, the number of member banks reached 100 with daily average volume of 5.5 million. Nearly 90 percent of  all inter-bank ATM transactions ( customer of Bank-A using the ATM of Bank-B) are routed through NPCI. The number of ATMs in the country is around 1 lakh and nearly 99,500 ATMs are part of NPCI's ATM network.
Tell us about your role in cheque clearing system in the country.
Currently, cheque clearing is done in three ways – through Cheque truncation system at New Delhi and Chennai, through automated sorting system ( called MICR Clearing ) at 64 major centres and through a manual sorting system at the remaining 1100 locations in the country. RBI plans the whole country to move to Cheque truncation mode by the end of next year. The task has been entrusted to NPCI. Once cheque truncation system is fully  implemented, the cheque will not move beyond the branch of first deposit. Clearing will  take place on the basis of cheque images. NPCI implemented cheque truncation in Chennai  and is in   the process of rolling out to all clearing houses in the states of Tamil Nadu,    Karnataka, Kerala, Andhra Pradesh and Puducherry by March next year. RBI plans to have clearing houses in the country on a Grid mode at Chennai, Mumbai and Delhi. It will transform the cheque clearing process in the country and would facilitate faster clearing,   automated reconciliation and electronic processing of paper based system which can in due course be made fully electronic.
What kind of response is RuPay seeing from domestic and foreign banks operating in India?
Response has been positive. Currently we are targeting only those sections of the banking community, which are not using the card payment system. So at this phase of our  operations we are going only to the areas that have been neglected by the card payment  networks so far. Access to RuPay's domestic network is free of charge, and this is only going  to increase its appeal with people and entities who cannot afford the highly-priced networks  of Visa and MasterCard. Any bank can start initiating RuPay based transactions, if they are  under core banking solutions.
In your opinion what are the broad challenges to financial inclusion? How can NPCI help in overcoming these challenges?
Our work in financial inclusion space consists mostly ofAEPS and Kisan Cards. AEPS is a bank led model which allows online financial inclusion transaction at PoS (MicroATM)  through the Business correspondent of a bank using the Aadhaar authentication. Currently  the AEPS services can be availed by customers at their respective bank business  correspondent outlets. The Interbank Mobile Payment Service (IMPS) from NPCI can also be  an excellent solution for financial inclusion, as it can enable many people in rural areas to  conduct secure banking transactions using their mobiles. Another way by which NPCI can  help financial inclusion is by supporting inter-operability of transaction processing by the  business correspondents. RBI has recently permitted inter-operability at BC level for the purpose of cash deposits, cash withdrawal, balance enquiry and remittance. We provide  interbank clearing and settlement. But transactions are yet to take place in a big way. Pilots are being run to experiment the idea.
Follow and connect with us on Facebook, Twitter, LinkedIn, Elets video