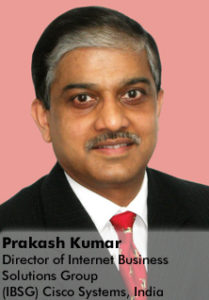 Tell us about the e-Governance solutions that you have developed?
We have been involved in the government sector and are constantly looking for innovative and effective technology solutions that will boost the  operational efficiency and productivity of the Public Sector. We have contributed significant amount of technology applications for sales tax in Delhi, land acquisition management, and management of land records. We have also worked closely with government entities for development of customised solutions for driver's license and ration cards. We are also developing solutions for electricity billing and payment systems, employment exchange registration and renewal. It is an ongoing journey as we explore new challenges of the public sector and innovate for better practices for governance.
What is your response to the e-Governance policy that is currently active in the state?
Tell us about your expectations from the government. While most of the states in India have an ICT infrastructure in place, the related applications are yet to be fully rolled out. Service delivery as expected has not yet started on a  pan-India scale. Hence, there is strong need to concentrate on application development. As a step forward, we right away begin to replicate success stories of applications from other states for service delivery models. Taking into consideration the progress made by states in implementation of SWAN, I look forward to seeing the states move towards horizontal con nectivity so that all field offices are connected to the SWAN. Another upcoming technology platform that we cannot ignore is the use of use of mobile as an alternate mode of service delivery. The state governments should make the most of the high penetration of mobile and telecom services.
What new trends in e-Governance are you witnessing?
The telecom revolution has transformed the way the people in the country communicate and connect with each other. Today, the reach and penetration of mobile phones has touched new benchmarks. As governance is about citizens, the future models of citizen-centric service delivery systemes in India will be based primarily on mobile platforms. India is an exciting country, considering the scale and diversity of population, and my dream project will be those that will make it possible for people to get services using their phone. With changing landscape of technology, similar trends are being reflected across many different e-Governance projects worldwide. In India, the path breaking technologies include mobile based apps and phone based service requests for certificates/patta, so that these can be downloaded on demand. Newer developments in ICT have radically changed the world.
What kinds of developments do you see ahead?
In this connected world, the scope for collaboration has increased vastly. People are using social media to work, play and learn. Bring your own device (BYOD) has become one of the most influential trends that has or will touch each and every IT organisation. It has started making slow and steady inroads
into the government sphere. It is changing the paradigm of productivity and mobility. Another upbeat technology trend is in the field of cloud based service delivery, especially with big data and storage concerns. By adopting a
cloud-based IT strategy, governments will fundamentally change the way IT services are delivered and how they are consumed while at the same time realising tangible operational and financial benefits, such as reducing costs, improving organisational agility, and transforming government service delivery. And, of course, mobile devices will transform servicedelivery platforms and video will arrive as the next mode of interaction after success of voice.
"By adopting a cloud-based IT strategy, governments will fundamentally change the way IT services are delivered"
What are the main challenges that you face while implementing new e-Governance projects? How are you planning to come up with solutions for the same?
There is a dire need for the government to invest on capacity building of personnel. A dedicated person is required at the senior level – Single Point of Contact (SPoC). This will improve the decision making process of government departments and projects will get implemented at a faster pace. Some key officials can be empowered to take decisions quickly. The guidelines for implementation of new projects can be made clearer. We can also have a system of CIOs, basically a support team, to support mission leaders in e-Governance projects. This will help in addressing many challenges that often come in the way of smooth implementation of projects across myriad states. The field of ICT is highly competitive, with new innovations continuously coming into the fray.
How do you ensure that your products and solutions continue to remain in demand?
Technology is changing the ways by which we lead our lives, conduct our business and are governed. Government officials around the world are exploring new ways of doing things in order to cope with the challenges of globalisation, economic uncertainty, emerging technologies, and a more connected citizen base. Innovation is at the heart of aspirations for good government as it envisions entirely new ways of achieving the public outcomes
for which those systems were established. We, at Cisco, have been ahead to identify the market transition before others can do. We believe that a successful innovation strategy lies at the heart of every successful business. The technology solutions that we provide to governments around the world are constantly getting upgraded and bettered.
Please tell us about Cisco's solutions for education and healthcare segments?
In the healthcare segment in India, the ecosystem is currently facing many challenges. This includes the huge shortage of doctors, especially in the North East states. Some significant trends include absence of surgeons from Community Health Centres in states of Mizoram and Manipur. Similar shortage trends are being seen in case of gynaecologists and paediatricians. Overall, there is marked scarcity of trained medical professionals, IT can be used to provide healthcare remotely. Globally regulation is driving automation in healthcare and this process has already begun in India with the formation of an expert industry body to study feasibility of automation. The availability and reach of doctors can be addressed by telemedicine.
We have solutions available that can connect doctors to patients in any part of the world through mobile based solutions. Cisco is using the network as a platform to help bring remote healthcare and education services to a number of villages in the country. Tell us about your views on providing digital education. Public-private partnerships will play an important role in the transformation of global education systems. E-Schools initiative to help bridge the digital divide by providing technical skills training to primary and secondary school students, teachers, and administrators. Cloud-based video and collaboration technologies are helping India's youth prepare for life and jobs in the global workplace. Cisco is working with the Indian state of Karnataka to deliver curriculum-based teaching to five government schools using a platform called Cisco Education Enabled Development (CEED), which is based on technologies such as video and WebEx collaboration.
Follow and connect with us on Facebook, Twitter, LinkedIn, Elets video