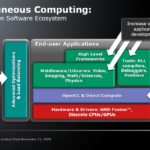 Four major technology giants — Advanced Micro Devices (AMD), ARM , Imagination, MediaTek, and Texas Instruments (TI) have formed a consortium to promote an open approach to heterogeneous computing. This is to unlock the performance and power efficiency in Graphic Processing Units. They announced the formation of the Heterogeneous System Architecture (HSA) Foundation at the Fusion Developer Summit in Seattle.
The primary goal they claim is to make it easier for software developers to write and programme for the parallel power of Graphics Processing Unit (GPUs).
The HSA Foundation's founding members are giving developers an open standards body that is powered by accessible and powerful processing architectures to leverage as a resource, when developing next generation computing solutions.
The Heterogeneous System Architecture (HSA) Foundation will provide an open hardware interface specification under which program execution can be easily offloaded to other processing resources available in servers, PCs and mobile devices.
Members of the HSA Foundation plan to deliver robust development solutions to drive innovative content and applications with developer tools, software developer kits (SDKs), libraries, documentation, training, support and more.
Follow and connect with us on Facebook, Twitter, LinkedIn, Elets video