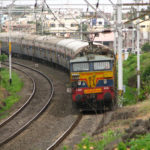 Locating a train is made easier than ever as now trains can be tracked via mobile phone. A joint team of railways and IIT-Kanpur has developed a technology – the real-time train running information system – which enables a mobile user to access information about the exact location of a train.
One has to type the train number and SMS it to 09415139139 or 09664139139 for knowing the exact location of a train on real-time basis. The service is currently available for 36 pairs of premier trains, including Rajdhani, Shatabdi and Duronto.
The facility would be extended to all major trains in the next 18 months and the railways has allocated Rs 121 crore for the project. It will cost about Rs 50,000 to install a receiver on the locomotive for making the system operational. There will be a centre at New Delhi for receiving data from across the country. It is expected that that by the end of 2013, all mail and express trains will have the system.
Railways had obtained permission from ISRO to operate the system through satellite for the pilot project. CRIS, the technology arm of Railways, will sign an MoU with IIT-Kanpur shortly to execute the project.
Besides mobile phones, the facility provides the precise location of trains through interactive mode on laptops, thereby eliminating the need for a telephonic enquiry.
Railways is also working towards providing broadband- based Internet and multimedia facilities and high quality train information displays and information boards at stations to improve the quality of passenger service.
Follow and connect with us on Facebook, Twitter, LinkedIn, Elets video